Dominique Ferguson issues a Facebook warning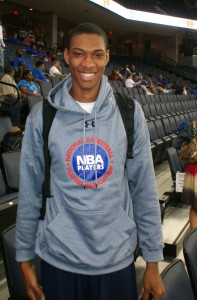 We've all been there.  As Facebook has evolved from a tool for college students to get in touch with their peers into some sort of weird meeting place for grown people to act like fools, we've all felt that sinking, "I'm so embarrassed of you"feeling at some point or another.  Collectively, as a fan base, we can share in this feeling today through Dominique Ferguson's Facebook status:
"I really wish the UK fans would hop off my page and move on wit their lives cmon now most of you r grown men tlkn crazy to me I dnt wanna have to delete everyone frm Uk……"
If you're reading this and laughing or getting ready to log in and say "I think he's talkin' to me!", then don't.  Just go delete your Facebook account and start serving your UK fandom suspension.  And, if you are over 30 and you use Facebook for anything other than professional networking or keeping in contact with long, lost friends and family, then delete your Facebook account.  And, for the love of God, if you're attacking a teenager over his choice of school, then just go jump off a bridge.  Or cheer for U of L.  I can promise you that you're embarrassing the rest of us.
***As a side not, if my parents could stop polluting my Facebook page with corny one-liners, I'd appreciate it.  Happy Saturday.