Did UofL fans listen to Strong's advice?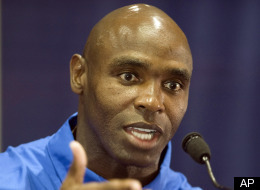 – That's quite a nice blue shirt, Chuck –
In early December, Louisville's head football coach Charlie Strong was the center of a ton of controversy. For one, Strong told UofL fans that they needed to be more like UK fans:
"Kentucky can travel with the Big Blue Nation, they go take over. We should have that same passion here."
This struck a chord with Card Nation State City Neighborhood (I kid, I kid). The best thing to happen to their football program since Brian Brohm goes public saying that the Cardinal faithful aren't faithful enough, and that they need to take some notes from their hated brothers in blue. If there is one group of people that UofL fans claim they are 'so different' from, it would be us Cat fans.
Next thing you know, Coach Strong is rumored to be taken the Tennessee coaching position. The bird-lovers probably felt slighted and disrespected after his recent comments and worried that Strong would leave them high and dry. However, ol' Chuck metaphorically bent over the entire UofL administration and had his way with them – he played his cards (no pun intended) better than anyone has in a while, and got absolutely PAID for it. I can't blame him, as capitalism and the cut-throat sporting world force people to strike when the iron is hot and get their money while they still can. I applaud him for that, but also understand the fans' perspective.
The point of this rambling is this: Recent events show that UofL fans may have truly taken Strong's advice to heart and are trying to be more like UK fans. Big Blue Nation does set the example nationally, but you won't find a Louisville fan who will admit that they need to be just like Cat fans – but after their coach said they ought to mimic us, there has been a newfound enthusiasm and excitement about the Cardinal lovers. Here are a few examples:
– After keeping Strong and joining the ACC, UofL fans have amped up their football excitement and embraced the idea of supporting your conference, as we do with the SEC. To be fair, it was pretty hard to get excited about Big East football.
– I did some tactical espionage with friends this past week in New Orleans (aka taking advantage of no open container laws), and I witnessed UofL fans totally outnumbers Florida fans in NOLA. However, they were also much bigger a-holes than the Florida fans.
– Yesterday, James Quick committed to Louisville and he was quickly trending worldwide. Well played, Cards fans. I'll give you that.
This fall/winter has been to good to the red and black team. Combined with the UK basketball loss to UofL (damnit, that still stings), this all could be construed as signs of the apocalypse. Or at least evidence that we've moved into a parallel universe.
All in all, having both fanbases being as passionate as possible is great for the for college sports and for the commonwealth as a whole. I'd like to thank the Cards fans for realizing that Chuck was right – you need to be more like UK fans. So don't get this post twisted:  I don't mean to make this seem too nice or congratulatory – just to remind everyone that "imitation is the highest form of flattery."