Dakari Johnson versus Emmanuel Mudiay on ESPN 2 this afternoon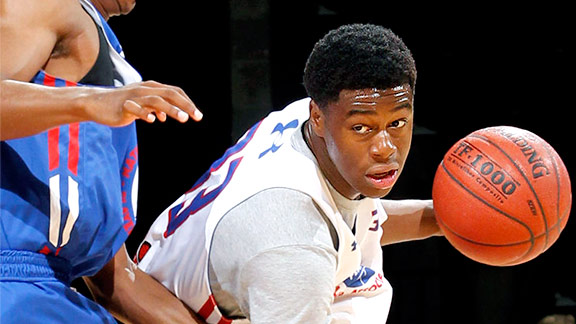 Emmanuel Mudiay is the top-rated point guard in the 2014 class and he'll be going up against a potential future college teammate in Dakari Johnson this afternoon. Johnson's second-ranked Montverde Academy will face Mudiay's third-ranked Prime Prep at 2:30 p.m. in the semifinals of the National High School Invitational. The game will be televised on ESPN 2.
Mudiay struggled in Prime Prep's quarterfinals win yesterday, so he'll be looking to rebound today. "I'll bounce back quick," he said after the overtime win over (12) Blanche Ely.
Johnson, on the other hand, had a strong performance in yesterday's win, also an overtime game, with 17 points, 13 rebounds and seven blocks.
It'll be a fun one to watch if you can make your way to a television this afternoon. Mudiay and Johnson could end up being Kentucky's starting point guard and starting center in the 2014-15 college basketball season.
Go Cats.