'Cats In "The League" (Midseason Report)
It's NFL Sunday, you know what that means? NFL Football is on, trick question. There are 9 former Wildcat football stars who are active on NFL rosters this week, but here's the run-down for all the former Wildcat players in the league and how they're doing as we  hit the halfway mark of the regular season.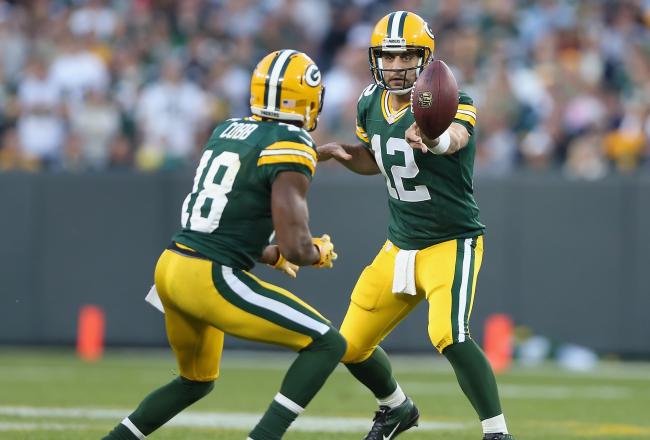 Randall Cobb WR, Green Bay Packers — Everybody loves Randall. Ever since returning a kick-off a then-record 108 yards back for a TD in his NFL debut , the former Wildcat Quarterback Running Back Wide Receiver Kick Returner Punt Returner Football Player has emerged as one of the league's up and coming young stars. Capitalizing on a solid rookie year, Cobb's skills are on full display in the Green Bay offense this season racking up 42 receptions for 463 yards and 4 TD's, nearly double his receptions total from 15 games of his rookie year. Especially so in the last 4 games, games that Randall has amassed 26 catches for 339 yards. The Packers, and especially returning MVP Aaron Rodgers, have been very vocal about Cobb's development as an NFL player, which has led to much more playing time, and more opportunities to get the ball on the field.  The game records show Cobb as having played 59 snaps last week vs. the Jaguars, a number which has slowly risen from 44 in Weeks 5 & 6. Cobb's versatility on the field has led him to become the NFL leader in total yards (running, receiving, kick & punt returns) with 1,161, which projected out to a 16-game season would break Ahman Green's current Packer record for total yards which has stood at 2,250 yards since 2003. Plus he has those beautiful, blue eyes you can't look away from.
John Conner FB, New York Jets? — Sad story in Terminator news. Conner was waived by the New York Jets on October 17th after he had been battling knee and hamstring issues throughout the preseason and early regular season. But don't worry about the Terminator, he signed an injury settlement with the team that will make sure he and his family are still well-off for the time being. Coach Rex Ryan on Conner being waived said that "There's a possibility (Conner) could be back with us, quite honestly, we needed to get the spot." Due to the settlement however, it would have to be towards the latter parts of the season if we do get to see Conner back with the J-E-T-S. But for his sake, let's hope someone signs him away from that circus in New York.
Winston Guy SS, Seattle Seahawks — In the offseason, Seahawks Coach Pete Carroll raved about 6th round selection Winston Guy, and not only said that Guy would more than likely make the final 53-man roster (which he did) , and that he would compete for playing time as a rookie. Guy began the season as the 3rd safety in what Seattle calls their "Sub Bandit" package, but after an injury he lost that spot in Week 2, and received his first playing time since Week 1 last week against the Detroit Lions.
Steve Johnson WR, Buffalo Bills — Johnson, along with Randall Cobb, continues to be another young star at the WR position in the NFL. After "Stevie Got Loose" for 158 catches for 2,077 yards and 17 TD's the past 2 seasons, the former 7th-round draft selection got paid this offseason to the tune of a 5-year, $36.2 million extension and has not looked back. Johnson's numbers are slightly below his past 2 years' pace but he continues to be the #1 receiving target for Buffalo this year, racking up 32 catches for 387 yards and 4 TD's in his 7 games this season. 
Tim Masthay P, Green Bay Packers — The Ginger with the Golden Leg is living up to the reputation of "Punter U" in the NFL. Masthay is averaging 41.4 net yards per punt, good enough for 10th in the NFL, and he also leads the league with 21 punts downed inside the opponent's 20-yard line. Very impressive, not to mention his 1-2 passing for 27 yards and a TD on the season as well, which is good for a 135.4 passer rating. MVP. Most Valuable Punter.
Corey Peters DT, Atlanta Falcons — In his first 2 years in the league, Peters became a valuable part of the Atlanta Falcons defense, amassing 59 total tackles and 4 sacks while starting 30 games. However, a serious stress fracture in his foot prevented him from participating in any off-season activities and the first 6 games of the season. Peters was activated before last week's game against Philadelphia, but only played a few snaps and admitted himself that even though he had been training, he wasn't in what one would call "game shape" quite yet. Peters is way too talented to be kept off the field for long though, so I expect to see him work his way back into the starting rotation for the undefeated Falcons.
Myron Pryor DT, New England Patriots — In the 3 years prior to the 2012 season, Myron Pryor played a small, but significant role on a New England Defensive Line that was fairly weak for Pats standards. On the bad news side, this season was over before it started for Pryor as he was placed on the IR in September while he recovers from a torn pectoral muscle. 
Jacob Tamme TE, Denver Broncos — Tamme has picked up right where he and Peyton Manning left off in 2010, a breakout year for the former Kentucky TE that saw him assume the #1 TE spot in Indianapolis as the replacement of injured Dallas Clark and catch 67 balls for 631 yards and 4 TD's. This year, the connection that he and Manning have as teammates for the entirety of  Tamme's 5-year career is still the same in Denver, as Jacob has caught 26 passes for 235 yards and 1 TD so far in 7 games. Tamme has been used as a mostly a safety valve in the Bronco's offense this year and with the attention drawn to receiver's like Eric Decker and Demaryius Thomas, Tamme has been the one reaping the benefits of Peyton's ability to avoid pressure and dump it off at the last moment.
Danny Trevathan LB, Denver Broncos — Trevathan gained praise from the coaching staff, and Defensive Coordinator Jack Del Rio this week after collecting 3 tackles playing alongside fellow Wildcat LB Wesley Woodyard in the teams Nickel packages. Trevathan played a career-high 38 snaps combined between defense and special teams against the Saints last week, and spent most of his time on defense trying to contain Saints All-Pro TE Jimmy Graham. Danny seems to be moving his way up the depth chart lately as he has recorded 11 tackles this season, with at least 1 in each of the last 4 games after recording none in the first 3 games of this season. 
Wesley Woodyard LB, Denver Broncos — The defensive shining star of former Wildcats in the NFL this year, Wesley Woodyard has become one of the main components of the Bronco's defense, especially after being named a Team Captain at the beginning of last season. Pretty cool for a guy that tons of NFL scouts thought was too small to play LB in the NFL. Woodyard is on pace to break his previous career-high of  97 tackles which he set last season, with a solid 61 through 7 games this year. Wes also has 1 Forced Fumble and 2 INT's on his stat sheet this year as well. Also, according to his Wikipedia page, he is known as "The Lumberjack". I've never heard that nickname before but I'm extremely interested in how it came about.
Garry Williams LT, Carolina Panthers — Garry Williams has carved himself a nice spot in the league as the Carolina Panther's Left Tackle, for most of the time. Williams started 10 games at Tackle for the Panthers in 2010 before being sidelined the entire 2011 season  after breaking his left ankle in the team's final preseason game. Williams has started 3 of the last 5 games for Carolina this year, attempting to derail Cam Newton from going into a full blown depression by keeping him off his backside.
— Follow me @WillTottenKSR if you feel like discussing my 3-5 record in Fantasy Football this year