Catch Andrew Wiggins in Kentucky Tomorrow Afternoon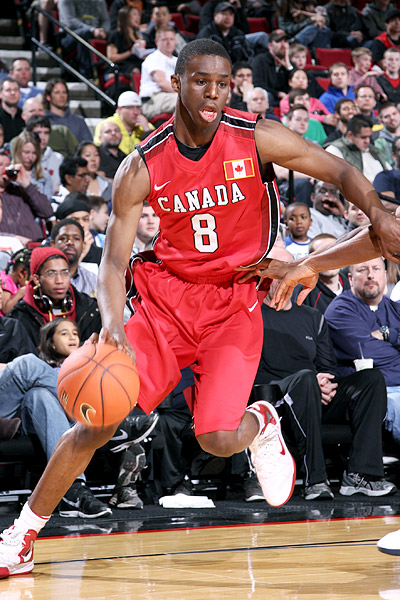 Hopefully not for the last time, either. The best high school player in the country will take his Huntington Prep team to Scott County tomorrow at 4 pm to face Christian Faith of North Carolina. The game location was a strategic choice on the behalf of his high school coach Rob Fulford: "We know that Kentucky is going to be involved until the end. And the idea was that we could have a game up there. It gets Andrew in front of the fans up there. It gets us in front of a crowd, which we don't get here. So I think it's a win-win. It should be a good atmosphere for a game."
Huntington Prep also played a game earlier this month at Alice Lloyd College, a school so off the grid that I (a Kentucky resident of 22 years) don't even know where it is. Cats fans managed to find their way there, however, filling the gym with echoes of "C-A-T-S" and doing everything in their power to show Wiggins just a glimmer of what his life would be like as a UK player.
Wiggins may have recently reclassified to the class of 2013, but don't expect another big announcement any time soon. The Toronto native, who's also considering Florida State, is apparently going to take his time choosing where to go to college. His coach says that Wiggins avoids phone calls, texts, tweets, and interviews with ESPN, preferring to focus on his current basketball season instead of the pomp and circumstance regarding college recruiting. He may not be big on being in the media' spotlight, but if he's big on wanting to play in the NBA after one year, I think I know the best college choice for him.
As impressive as Wiggins' mix tapes and highlight reels are, we've heard from everyone (including Matt and Drew) that he's even more beast-like in person- by all accounts, the top pick of the 2014 NBA draft will be playing in Scott County tomorrow, and any Cats fans in the area should definitely make an effort to go watch. Can I request a "Come on down, Wiggins" chant from anyone in attendance? Please and thank you. Go Cats.
@KristenGeilKSR