Cards Against Humanity's Saturday News and Views
That was the most appropriate example I could give without offending someone when I google image searched "Cards Against Humanity." Those cards shown above would be considered "tame" for that game. What is that game, you might ask? Well, imagine Apples to Apples with an edge. If Apples to Apples got slapped by Amanda Bynes on one cheek and Howard Stern on the other, you would have "Cards Against Humanity." If Apples to Apples took a shot or two of Bourbon, or spent an evening at Tin Roof with Drew Franklin and Stone Cold Willow, the result would be "Cards Against Humanity." Got the point?
As popular as the game Apples to Apples became across the country, Cards Against Humanity is just that much better. If you're like me and my friends who have played Apples to Apples, you had certain cards you deemed "Trump Cards." A trump card was a card that no matter when you played it, it was a guaranteed victory. Examples: Helen Keller, Oral Surgery, My Body, My Love Life, etc. Those cards are tough to beat when they are thrown down. The original game of Apples to Apples has about 10-12 trump cards. In Cards Against Humanity, every card is a trump card. Not kidding. If you are at a Bachelorette party, birthday party, having a game night with a group of adults, etc. it's the perfect game. You will be surprised by the inappropriateness and sick sense of humor of AT LEAST one of your friends. And it's usually someone you least expect. Leave your propensity for political correctness at the door, and you will be entertained for hours with this game.
And now, on to the news and views as we plunge forward into the weekend…
—- Nearly 24 hours have passed since the conclusion of one of the most bizarre drafts in NBA history. In the wake of the morning after, just about anyone and everyone has taken a turn in trying to dissect, understand, and analyze the events of last night. We'll get into that in just a moment. In case you've been living under a rock though, the most important information you need to know is this:
1) Nerlens Noel was drafted to the 76ers with the 6th overall pick in the NBA draft, via a trade with the New Orleans Pelicans
2) Archie Goodwin slipped in at the last moment in the 1st round, being selected 29th overall by the Phoenix Suns, via a trade with the OKC Thunder and the Golden State Warriors
3) I don't know if LeBron James is as good of a basketball player as Michael Jordan, but I could almost guarantee that he would make a better GM than Michael Jordan. I said it last night and I'll say it again…when Michael Kidd-Gilchrist heard that Cody Zeller was the player the Bobcats were using a top 5 pick on, he stopped smiling for the first time in his entire life.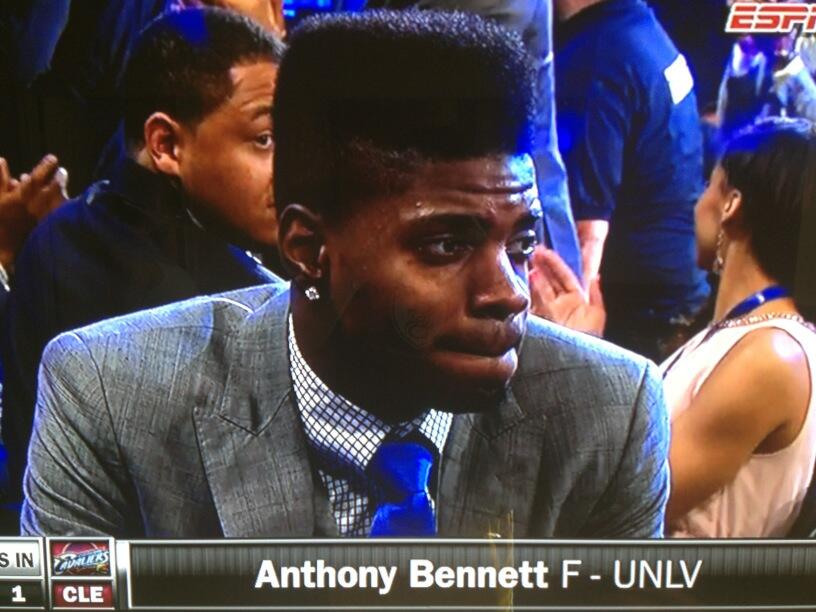 —- We've already talked about it some on KSR today, but the "fall of Nerlens Noel" that we all watched unfold last night on national television was nothing short of painful to watch. Between watching Noel go to battle each night when he put on the blue and white, to seeing him suffer a gut-wrenching injury, to watching his kind nature toward a young child named Kelly with cancer (among others), to hearing him constantly talk glowingly about his time as a Kentucky Wildcat– we all feel a connection to Nerlens Noel. Everyone in the Big Blue Nation watched last night, hopeful that a tough and early end to a college career would somehow be made a little better by being selected as the #1 overall pick. Not that being picked #1 would make everything right, but it would have been a nice silver lining to what has been a difficult road for Noel.
Big Blue Nation collectively felt the pain in Noel's face as he quickly realized that he was not going to fulfill his dream to be the #1 pick. As the names continued to roll by, without hearing Noel's called, a twinge of anxiety began to build. Just how far was Nerlens going to fall? Finally, finally… Noel was selected with the #6 pick. Noel will end up a Philadelphia 76er. Anyone who knows anything about Noel knows that he will not be discouraged by the fall, but perhaps be motivated instead. Falling from the #1 pick was not a devastating blow to Noel or his NBA career. As the kids say, "a minor setback for a major comeback."
—- Kyle Tucker of the Courier-Journal was able to catch up with Noel in New York in the hours following the draft. Noel took the fall from #1 in stride, clearly using the emotions as fuel to drive him moving forward. "When I'm established in the NBA, I'll say this is the night that gave me the motivation I needed. As hard as I was working, I'm definitely going to do everything with a bigger chip on my shoulder."
—- It would be foolish to ignore the financial side of things, especially when talking about the NBA, a major business at it's core. Although Noel's fall from 1-6 may not change his NBA career path too much, Forbes says that the draft slide could cost him $10 million dollars.
 "That's a tough pill to swallow for a 19-year-old kid who has spent the last few months being told he was the draft's top pick. And the earnings dip doesn't necessarily end after those 4 years–his team's max qualifying offer will be $5.8 million when his contract expires in 2017. Bennett, who went first overall to the Cavaliers, will have a max qualifying offer of $9.5 million."
—- Archie Goodwin on the other hand, should be feeling very pleased with his position as a first round draft pick. Following a month of uncertainty that had him slated to fall anywhere from 20 to late in the 2nd round, Goodwin landed right at the end of the 1st round. Translation= Guaranteed money.
—- Goodwin and the Phoenix Suns feels like a good match on both parts. Goodwin seems happy and comfortable following workouts, and the Suns really wanted Goodwin. He may not have been the "best available player" when the Suns drafted him, but the Suns did their homework. The Suns were the only team to bring Goodwin in for a second workout. "He is a guy we feel like has great potential," Ryan McDunough said about the Suns' first round selection.
—- Goodwin spoke about his emotional high following the news, "Seeing my family happy made me happy. I'm going to get started working right away. This is the team I wanted to play for. I feel really comfortable with here."
—————————————-
—- In the aftermath of the NBA draft, the various analysts combed through the results, sharing their thoughts on the whole evening.
 [Gary Parrish on who went too high and who went too low ]
5 Players Picked Too Low

6. Nerlens Noel: Noel has long been considered the top prospect in this draft, and I'm not sure how or why that changed so drastically. His knee is reportedly fine. So it's not that. In short, I think, people made mistakes here. Noel should have never fallen out of the top five.
[ Matt Moore of CBS grades each of the draft picks ]
#4  D+  Charlotte Bobcats select Cody Zeller, PF, Indiana

He's going to get blocked all the time. His level of aggressiveness near the basket is not where it needs to be. He's going to have problems with guys that are more physical. Does he have the skill to overcome that?

#6  A  Pelicans (76ers) select Nerlens Noel, C, Kentucky

The only reason it's not an A+ is the knee issue. I really like his ability to block shots. He's instinctive. When he starts learning some veteran tricks, he can be dangerous.

#29 B+  Thunder selecte Archie Goodwin, SG, Kentucky

The pick wins up in Phoenix via trade. I like this pick a lot. It gives the Suns a significant upgrade on the wing.
[ Jeff Goodman says Nerlens' slide may have been a blessing in disguise ] 
"Noel thought he wanted to go first overall, but he didn't want that label. Nobody in this draft is prepared to handle those expectations…

The fall certainly cost Noel a few bucks in his first contract, but the second deal is the one that truly matters. Now Noel has a chance to be far more marketable in a city like Philadelphia than in Cleveland. He'll also come in with a chip on his shoulder again, similar to when he arrived at Kentucky a year ago with no shortage of skeptics."
— In an interesting post-draft tidbit, according to Eric Crawford, the NBA Draft averaged a 7.1 rating in 4.5 hours in the Louisville market, which was the largest in the United States. It's fairly impressive that Louisville was able to outdraw all of the cities who have actual NBA teams residing in them. Between the Kentucky fans in Louisville, and the Louisville fans watching for Gorgui Dieng and Peyton Siva (genuine congratulations to those 2, by the way), a ton of interested eyes were focused on the draft last night.
—- While this year's NBA draft for Kentucky fans wasn't quite as rich as some of the ones in year's past since Calipari's arrival, next year's draft for Kentucky could be nothing short of epic. Kentucky promises to be THE story line of next year's draft, and I wouldn't be surprised if another record is broken by the Wildcats.
—- One NBA scout told Chad Ford the following about Julius Randle, "In a normal, non-Wiggins year, he would easily be the number one pick."
—- Gary Parrish came out with a set of waaaaay early draft predictions for the lottery picks in 2014. It should come as no surprise that Kentucky players were sprawled out across the list. Kentucky had 4 players projected in the lottery. With that type of talent, Tom Crean could definitely win the Maui Invitational.
1. Andrew Wiggins, Kansas
2. Julius Randle, Kentucky
3. Aaron Gordon, Arizona
4. Jabari Parker, Duke
5. Marcus Smart, Oklahoma State
6. Willie Cauley-Stein, Kentucky
7. Andrew Harrison, Kentucky
8. Mitch McGrary, Michigan, 9. Mario Hezonja, Croatia, 10. Isaiah Austin, Baylor, 11. Glenn Robinson, Michigan, 12. Montrezl Harrell, Louisville, 13. Aaron Harrison, Kentucky, 14. Semaj Christon, Xavier.
—- Speaking of the future of college basketball, the Harrison twins (Andrew and Aaron) have officially arrived in Lexington. The arrival sparked a mob scene with fans ooh-ing and aww-ing over the arrival. H/T Kyle Tucker for the picture below: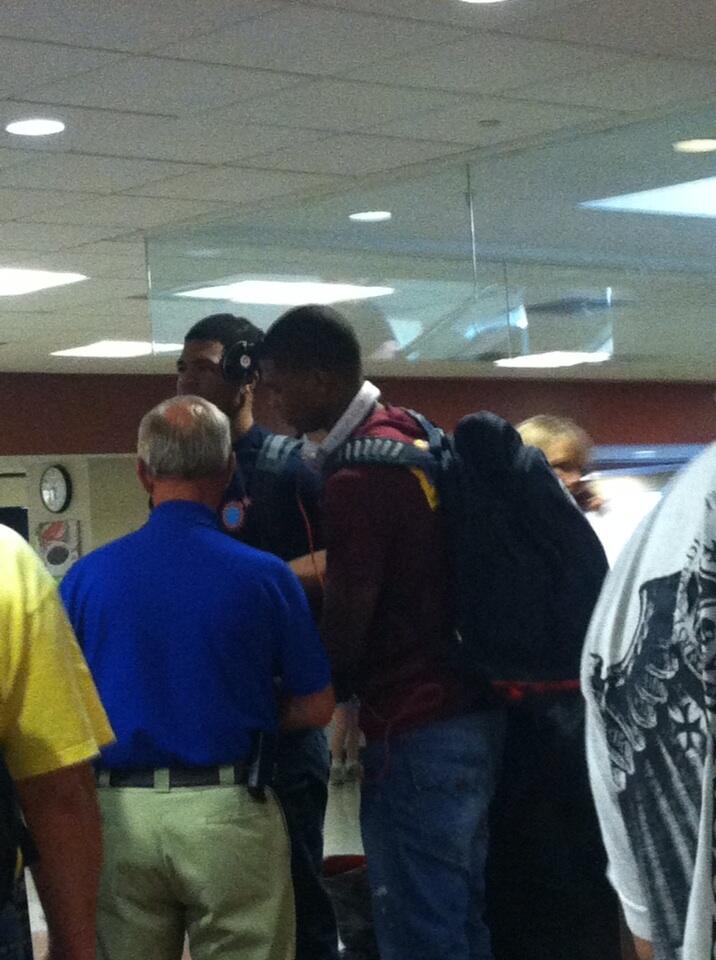 —-  With the Harrison twins' arrival, and the conclusion of the 2013 draft, it's time to start looking ahead to the future. But before we do, let's take a quick look at one astounding statistic: Kentucky has had 17 draft picks, including 13 first-rounders, over the last 4 years under John Calipari.  #KentuckyEffect
—- The other big news of the day was first whispered by KSR's very own Matt Jones. Word on the street is that a potential "Alumni Game" featuring the 2010 Kentucky team vs. the 2012 national championship Kentucky team is in the works. DeWayne Peevy gave some steam to the idea with this tweet tonight…
—- We might be able to finally put to rest the age old debate of which team was better, John Wall's team or the national championship team? I have a feeling that the "friendly exhibition game" might just bring some heat from both teams, filled with highly competitive players who have on multiple occasions made claim that their team was better. Perhaps oddly enough, I put my money on the 2010 team. They weren't the first group under Cal to win a title at Kentucky, and I think a part of that burns them up inside. I genuinely think they believe they were the best Kentucky team. Look for them to go all out proving that if the game happens…
—- Biggest question though… WHO DOES DARIUS MILLER PLAY FOR?
—- Some unfortunate news broke tonight in regards to Vanderbilt's football team. Four players on the Vandy football team have been suspended amid a sex crimes investigation. Law enforcement is keeping a tight lid on the details, but keep an eye out for more news as the weekend goes on.
—- And last but certainly not least, stay tuned folks… Joker Phillips and his Twitter account are at it again…