Can Coach Cal Break Through At Bud Walton?
Coach Calipari has accomplished nearly everything a coach can accomplish in the Southeastern Conference. Multiple unbeaten seasons? Check. Multiple conference tournament titles? Check. But with Coach Cal's many honors and accolades there is one task that has eluded him as head coach of the Cats. That is to leave Fayetteville, Arkansas with a win.
Three trips and three losses. That's Cal's record inside of Bud Walton arena. Need a refresher? Let's take a walk down memory lane:
2011: Arkansas 77 – Kentucky 76 OT
Coach Cal's first trip to Arkansas was an absolute barn burner. Former Cat, John Pelphrey, had a Razorback team that had lost 10 in a row to Kentucky, dating back to 2001, and needed a win against the Cats to have a shot at keeping his job. Rotnei Clarke did his best to make that happen with 26 points to lead all scorers. Brandon Knight's desperation 3 fell short and the Cats fell to 1-6 on the road in the SEC. It would be Kentucky's final loss until the Final Four.
2013: Arkansas 73 – Kentucky 60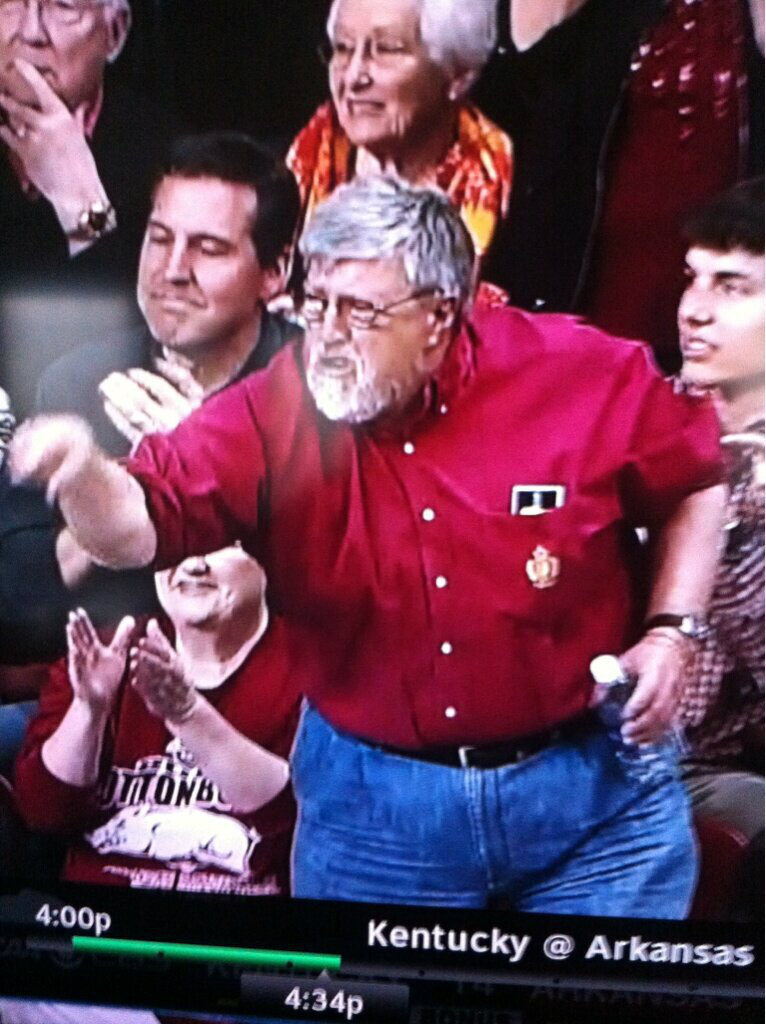 This is the game where the wheels came off on Kentucky's 2013 season. Prior to this one the Cats had responded to the loss of Nerlens in Florida and an embarrassment at the hands of Tennessee with a three game home stand that had them back in the NCAA Tournament. Then the Cats entered Bud-Walton arena, turned the ball over 17 times, gave up 19 offensive rebounds, and Ryan Harrow quit the team. The season was all but over from there. As 2013 and 2014 demonstrate, trips to Arkansas can either break or make a team:
2014: Arkansas 87 – Kentucky 85 OT
Man, this one still hurts. First, you have the unbelievable play that Alex Poythress makes with 15 seconds remaining. The one where he comes from the opposite block to sky over 3 Razorbacks and make the play only Superman could make. Then Andrew Harrison, who drilled a three to force the first OT, makes a desperation heave to a wide open James Young and he evens the game. It was a foreshadowing of the Refuse to Loseâ"¢ mentality and late-game heroics that would come to define the 2014 team.
Unfortunately a second overtime wasn't in the cards. James Young takes the final play off and whiffs completely on the box out when Michael Qualls finishes the game with authority. It's a tough way to lose but maybe one that paid dividends when the Cats had to finish games against Wichita St, Louisville, Michigan, and Wisconsin.
So now Coach Cal and the Cats have another chance to break the Bud Walton curse. Like most years, Kentucky will once again they will have the more talented team. But also like the other years, Arkansas is desperate for a season defining win and will put an 8-1 home record on the line. Kentucky needs to pick up another SEC road win as the schedule only gets harder after Thursday. Do you think this will be the year Coach Cal breaks through at Bud Walton?