BTI's Rants and Ramblings: Random Guys Killing Kentucky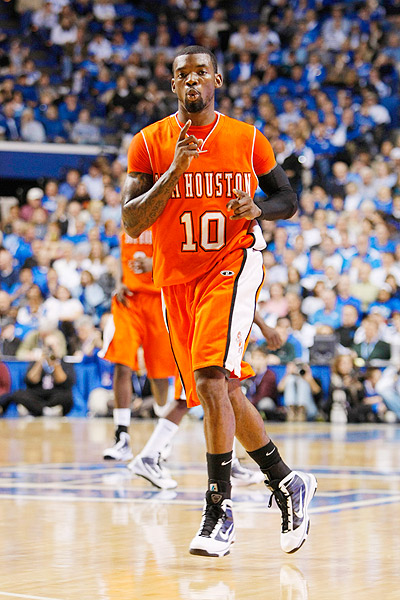 Something that seems to happen a strange number of times against the UK basketball team is those random guys who seems to kill Kentucky.  I have used Jon Scott's website to target some of them from the past decade, but I want to hear what some of your memories are of guys who should never have dominated the Cats the way they did. 
Corey Almond (Sam Houston St.): 2009
37 pts, 11-16 3FG
What happened: Allmond did average 15.7 ppg last season, but never hit more than 6 threes in a game.  But on this one night in Rupp Arena, he set the record for 3's in a game and basically kept a HUGE upset in the works.  He is now dominating the YMCA in rural Texas.  
Nick Winbush (Miami, OH): 2009
26 pts, 8-10 3FG
What happened: Winbush averaged 9.6 ppg for the RedHawks last season, only scoring over 20 points once more in the season.  He also didn't hit more than 5 threes in any other game.  But he always has said that Corey Allmond was his hero, and thus turned in an Nutty Allmond performance (yes, lame) in a game the RedHawks probably should have won. 
Robert Vaden (UAB): 2007
33 points, 7-11 3FG (UAB
What happened: He was a very good player, but only scored more than 33 points once in his career, and he beat Kentucky by himself in Freedom Hall that day.  Ah Billy Gillispie, way to make an defensive adjustment.
Reyshawn Terry (North Carolina): 2005
25 points, 7 reb, 7-15 FG (UNC 83, UK 79)
What happened: Terry, a 7.3 ppg career scorer, poured in 25 in Rupp Arena to shock the 10th ranked Wildcats.  Terry would go on to NEVER score that many points again, and he now plays in Europe. 
Robert Jackson (Marqutte): 2003
24 pts, 15 reb, 10-16 FG (Marquette 83, UK 69)
What happened: People remember D-Wade's triple-double, but Jackson's double double was just as impressive as he dominated Marquis Estill is the post, something that didn't happen often that season.  Jackson is now running a Mexican comedy club…..sorry I meant he is a mechanic.
David Bluthenthal (Southern Cal): 2001
27 pts, 7-13 FG, 6-9 3FG (USC 80, UK 76)
What happened: UK had a chance to meet Duke once again in the Elite 8, but they overlooked this USC team and got trounced in the first half.  They made a run in the 2nd half, but Bluthenthal hit 3 second half 3-pointers and made 5 free throws in the last minute to get the win.  I more remember that current Boston Celtics mascot Brian Scalabrine was the starting center on that team, making it that much more embarrassing now.
Joe and John Crispin (Penn St.): 2000
Combined: 57 pts, 20-38 FG, 13-23 3FG
What happened: I remember the headline like it was yesterday: "Burnt to a Crispin".  People forget, but that Penn St. team actually made it to the Sweet 16 that year.  And for that one night in Rupp, those two brothers put on the best tandem show since Macy-Thomas at Big Blue Madness.