BTI's Rants and Ramblings: Playcalling Breakdown for Florida Game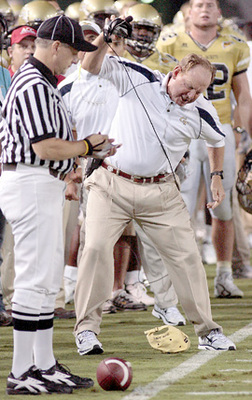 1st down (30 plays)
Run: 14 rushes for 38 yards
Pass: 9-16, 62 yards
Recap: For the first time this season, UK THREW the ball more on first down than they rushed it.  And amazingly, it was successful in the first half.  At one point in the game, Morgan Newton was 8-9 on first down passes.  It seemed to keep Florida guessing and getting the Cats some manageable 2nd and 3rd down situations.  Of course, they then proceeded to jack up those situations, but overall, I really liked the play calling one first down for the first time this season.  The running attack is still very anemic on first down.  Now for the season, the Cats are averaging just over 2 yards per carry on 1st down.   
Season Combined (102 plays)
Run: 58 rushes for 137 yards (2.3 ypc)
Pass: 20-39, 247 yards, 1 TD, 1 INT, 5 sacks (-37 yards)
________________________________________________________
2nd down and 7 or less (12 plays)
Run: 8 rushes for 31 yards (1 lost fumble)
Pass: 3-4, 26 yards, 1 TD
Recap:  This has actually been a generally successful spot for UK to be in all season, but in Saturday's game, it was the situation that had the biggest play of the game, and that was the Clemons fumble.  It was also in this situation where UK scored its only touchdown, but overall, UK didn't have many plays in 2nd and short spots.   
Season Combined (34 plays)
Run: 21 rushes for 188 yards, 1 TD (1 lost fumble)
Pass: 10-13, 48 yards, 1 TD
_______________________________________________________
2nd down and 8 or more (16 plays)
Run: 5 rushes for 36 yards
Pass: 6-9, 64 yards, 2 sacks (-9 yards)
Recap: Well, much like the 2nd and short plays, Kentucky had some success in these situations, but when they messed up, they messed up big time.  Newton was sacked and fumbled in this situation, a fumble that was returned for a touchdown.  But overall, UK averaged over 7 yards per carry and over 10 yards per completion in 2nd and long situations, so maybe the offense is slightly improving.  It's just those huge mistakes that killed them in this game. 
Season Combined (56 plays)
Run: 20 rushes for 90 yards
Pass: 18-31, 211 yards, 2 TD, 1 INT, 5 sacks (-33 yards)
______________________________________________________
3rd down and 7 or less (11 plays)
Run: 3 rushes for 38 yards
Pass: 3-6, 8 yards, 2 sack (-7 yards)
Recap: The rushing number is inflated by a 31 yard Newton scramble in the 1st half, and beside that play, UK was pitiful in these situations.  The 8 times they dropped back to pass led to 3 incompletions, 2 sacks, and 1 completion for negative yardage.  Florida just dominated UK on 3rd down.  And as Nick Saban always says, the 2 biggest keys to any game is 3rd down and red zone defense. 
Season Combined (25 plays)
Run: 11 rushes for 92 yards, 1 TD
Pass: 11-21, 79 yards, 2 INT, 4 sacks (-25 yards)
______________________________________________________
3rd down and 8 or more (6 plays)
Run: 1 rush for 7 yards
Pass: 0-5, 0 yards, 1 INT
Recap: Wow.  That is just beyond terrible.  Honestly, I can not say whether or not this actually has anything to do with coaching and playcalling, or is just execution.  Because they called passes on 5 of the 6 3rd and long plays, but if Newton and Co. can't complete a pass, then I don't know what the coaches are to do.  Whereas on 1st and 2nd down, UK was actually pretty good on Saturday, on 3rd down they were about as bad as a team could be.   
Season Combined (24 plays)
Run: 9 rushes for 98 yards
Pass: 4-12, 42 yards, 1 INT, 2 sacks (-20 yards)