BTI's Rants and Ramblings: Keith Bogans, Where is the Love?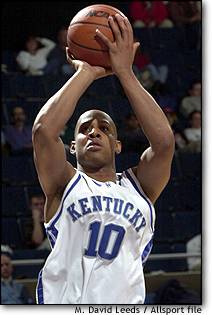 Keith Bogans will be headed back to Lexington to play in the now much heralded game against the Dominican Republic, and it gives me a chance to bring up something that is one of my biggest pet peeves as a UK fan: Why doesn't Bogans get the love that other UK legends do?  Certainly there are some people who do love Keith Bogans, but I would think that if you rated favorite UK players since 2000, Bogans would rank behind Tayshaun, Chuck Hayes, Wall, Cousins, Knight, and Kanter.  And that is BEST CASE SCENARIO.  I think some people would argue that Magloire was more loved, Erik Daniels was more loved, and Ramel and/or Joe were more loved. 
But, in terms of actual careers, none of those guys had the career that Bogans had.  NONE. OF. THEM.  Just a quick refresher of what Bogans did in Lexington:
-4th all-time in points
-35th all-time in rebounds
-14th all-time in assists
-12th all-time in steals
-2nd all-time in 3-pointers made
-101 total wins
-8 NCAA Tournament wins
-4 SEC East Titles
-2 SEC Tournament Titles
-Captain of only undefeated SEC season in history
This guy played 4 years in Lexington, had one of the greatest freshman seasons and arguably the best senior season in UK history when team success is included.  And after a small dispute in his first year, he did it all while being a leader on the team with no off the court problems.  Oh, and on top of all of that, he continues to play in the NBA, something Daniels, Fitch, Bradley, or Crawford can say.  Remember, Bogans was a STARTER on the best team in the NBA last year (until the playoffs).  I truly don't know what else Bogans can do, or has done, to sway UK fans in large numbers.  But I still would call the overall fan opinion of Bogans lukewarm.
And don't tell me that he never made a Final Four.  Again, Prince, Hayes, Wall, and Cousins never made a Final Four either.  So, what is it?  Why doesn't Bogans get the elevation to LEGEND status that some of his counterparts in the decade get?  Does his coming back for this game help his cause.  When you bring up which modern players should have their jerseys retired, Bogans often gets overlooked.  I would argue he should be the 2nd choice behind Delk.
When the player announcements are made during the game in Lexington, I truly hope the one for Bogans is as loud as any.  But, if fan opinion of him over the last 5 years tells me anything, I worry that will not be the case.  Which is sad to me, because Bogans produced more than almost anybody at Kentucky.  Bogans represented the program better than most and Bogans has continued to represent the program well in the NBA.  So count me as a person who says the player I am most looking forward to seeing again is Keith Bogans, the man, the myth, the legend, and the damned sprained ankle.