BTI's Rants and Ramblings: Don't give me Experienced Leaders, Give me Star Leaders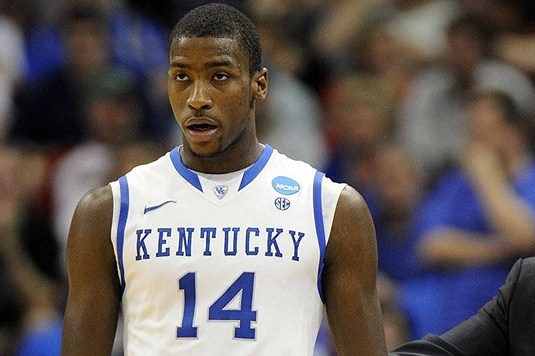 Who was actually the leader of the 2012 team?  The freshman or the senior?
I know with all the talk about Kyle Wiltjer maybe staying, maybe going, many people argue that the 2013-14 UK team needs Wiltjer to stick with the team because this team needs an experienced player that can be a kind of leader/role model for this talented group of freshman.  I'm here to tell you that I think that is a load of hogwash.  What separates truly great teams from good ones is not the presence of experienced leaders on the team, it's the presence of that team's star players taking control and being the leaders.  I don't understand those who believe the 7th guy in the rotation who is a junior has just as much sway with the other players than the star player on the team.
Take John Calipari's first Final Four team.  Yes, Deandre Liggins and Josh Harrelson were key figures in that team's run through the tournament.  But was it their "leadership" or just their good play that was more important?  If I remember correctly, it was Brandon Knight who took control of that team, especially in March.  It was Knight who took the big shots (admittedly Liggins hit a big one against UNC), it was Knight who was the floor leader and NOBODY was more important than Knight down the stretch.  In that case, a freshman leader was the case.
In 2009-10, Patrick Patterson was a gigantic force on that team.  But it always seemed to me John Wall had as much of a leadership role, if not more, than Patterson.  And I love it.  I don't want a guy that plays 15 minutes a game trying to motivate his teammates and guide them.  I want the guy who is out there 30-35 minutes.  Patterson was certainly important to that team, on and off the court.  But you could make an argument that team makes the Elite 8 with or without him.  You can not, under any circumstance, make that case without Wall.  And that has as much to due with Wall's leadership as his talent.
The 2012 national champions were led by who?  Darius Miller?  Didn't seem that way to me.  Miller was always a bit more passive on the court than most.  Which is fine.  It was Michael Kidd-Gilchrist who became the leader of that squad.  Darius Miller, role player.  MKG, star player.  Team wins the national title.
Sometimes, teams get lucky and their older players are their stars.  UCONN saw that in 2011.  Kemba Walker encompassed both qualities.  UL saw it last season with Peyton Siva and Russ Smith at the helm.  But I don't think it gave those team any extra advantage those players were juniors and seniors compared to MKG as a freshman.  The 1996 and 1998 UK championship teams also had senior leaders, but that was also a different era of basketball.
Leadership is rarely learned.  You either have it or you don't.  At this point, I am not sure if I saw the leadership gene in Jared Polson or Jon Hood.  Maybe some think those guys should become the leaders of this team.  I certainly do not.  I will take Aaron or Andrew Harrison, Julius Randle, or Dakari Johnson as the leaders.  Those are the guys who will have the ball in their hands the most, and I want the other players on the team to see those guys as leaders, and have the full confidence in them to excel in the most pressure packed moments.
The tough part is that freshman often come into college passive to try and take over a team.  Juniors and seniors have the confidence to do that more often than not.  BUT, that is not always the case.  Miller was a perfect example.  And sometimes you have teams without key players in the junior and seniors classes, as this 2013 team appears like it will have.  Maybe Cauley-Stein or Poythress step in and take control of the team.  I don't know.  But what I hope is whoever takes on the leader role on this basketball team also is a star player on the team, not just one of the oldest.  I want my leaders to take charge, and sometimes that has to be a freshman.  Last season, Julius Mays tried to take control of the team, but it just didn't work.  There is no Mays on this team.  It rests on the freshman most likely, and let me say, I kinda like that.  Your thoughts?