Bryan the Intern's Picks to Click (Thursday crappy edition)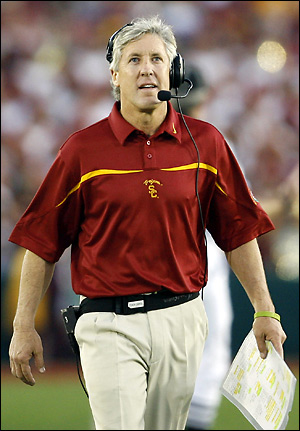 As I do every Thursday, I am hitting the links (no pun intended) today, as I must now work a little harder knowing that Kenny Perry has wrapped up a spot on the Ryder Cup team.  All I can say is when they ever choose Shawnee Golf Course as the site of the Ryder Cup, I will know every bump on that course.  But, as will become a Thursday staple on the Picks to Click, I will give a list of something that I have discussed or argued with someone over the course of the last week.  Today's topic is "If you want to build a college football program, who do you choose as the coach."  I want to preface this by saying that I would at first thought put Bobby Petrino on the list, for the sheer fact that he is an offensive genius and was able to take a mediocre Louisville program to the Orange Bowl.  But, the fact that he would leave like a coward means he actually is not good at "building" a program.  So, he's out, but these 10 guys are in:
1) Pete Carroll: 2 national titles, the only coach in the country who is in the national title hunt EVERY year, great recruiter and more importantly his teams always (sans Stanford) come prepared to play, maybe the best bowl coach in history.
2) Urban Meyer: Great recruiter, forms his teams around his talent, seems to be a clean coach, has had great success at 3 schools on different levels
3) Jim Tressel: Gotta love his consistency, great game planner, despite his last 2 national title game embarassments, does have a national title against a VERY good Miami team
4) Rich Rodriguez: Lets not underestimate how difficult it is to win at West Virginia, great practice coach, teams come prepared, also seems to be very good recruiter
5) Bob Stoops: Was #1 on my list 5 years ago, but recent bowl struggles make you wonder if they pick on a sometimes weaker Big 12, great recruiter, teams usually have a shot at national title, and he won one in 2001
6) Nick Saban: has been a big winner at 2 different schools, top level recruiter and has a national title, but has some loyalty issues and always seem to be a cheater to me
7) Les Miles: Got a national title with 2 losses last year, which means he got a little lucky, I question his play calling but it worked last year, awsome recruiter and the fact he stayed at LSU shows he does have some loyalty to his school.
8) Mark Richt: For all the talent to roll through Athens, the fact they havent played for a national title is a knock on his record, decent recruiter compared to the other guys on this list
9) Mack Brown: OK, he does have a national title but we all can admit he has Vince Young to thank for that, and he does recruit big but we all can admit that he has the state of Texas to thank for that, my question is where is the consistent national power in Austin, that being said he wins 10 games every year and that slips him on the list
10) Howard Schnellenberger: The former UK great won a national title at Miami (turning that program around), went to a "BCS" bowl with Louisville (turning that program around), and now started a program from scratch to win a Division-1 conference last year, if I didnt think he might pass away, he would be higher, but this guy truly knows how to "build" a program.