Bryan the Intern's Picks to Click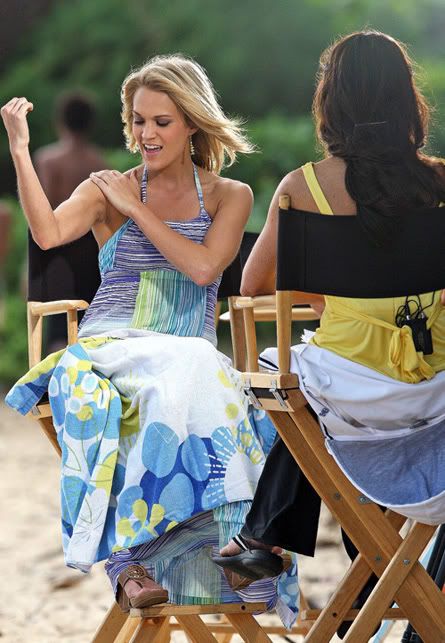 Carrie Underwood in the beginning stages of the John Wall Dance
Today is the first day of Lent for Catholics, which is a lead-up to Easter and also a chance for people to give up something for 40 days.  So, in that spirit, here is the question I am asking you today:
If you could give up one thing for this UK basketball team, what would that be?
For me, I would want to give up dribbling through double and triple teams.  It seems to me that Wall and Bledsoe tend to try and split traps rather than pass out of them too often, leading to careless turnovers.  They are incredibly talented, and often times are able to regain their dribble, but the principle is fairly simple: when you have two defenders on you, there is someone else that has to be open.  I understand this is being very picky, but I worry that a team that puts alot of pressure on UK (i.e. Missouri), could hurt the Cats big time.  So, what would you like to give up from this team?
________________________________________________________________________ 
1) If you want to have some fun with Mississippi St fans, here is one of the many message boards, which claim that UK paid the refs, and our players were taunting the fans therefore deserved to have cups thrown at them…blah blah blah. 
2) Dennis Dodd does an extensive interview with Joker Phillips, at the time of reading this was the top story on cbssports college football page.  Very impressive. 
3) Say a big thanks to Craig Stouffer (Washington DC), Gary Laney (Louisiana), and Michael Rothstein (Michigan), who were the three AP voters to put the Cats #1 in this week's poll.  Say a big Booooo to Dave Jones (Pennsylvania), who puts UK 4th on his AP ballot, behind Kansas, Nova, and Purdue. 
4) Kentucky has been ranked 49th in the happiest states in the country.  Which sucks, there is no doubt.  But, I get a little bit of happiness out of the fact that we still rank ahead of the dumpster fire that is West Virginia.  It's truly a miracle that a wonderful guy like Patrick Patterson came from a pitiful state like that. 
5) Compilation of figure skating falls.  For the lady readers, of course.  And LouisvilleFanCraig.
6) We heard it non-sto against South Carolina, and some against Mississippi St.  One of the most annoying arena songs imaginable.  The name of the song is "Sandstorm".