Bryan the Intern's Picks to Click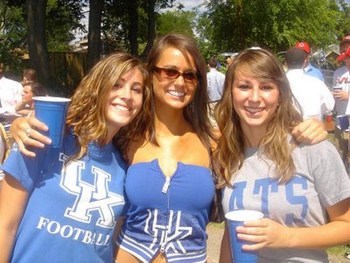 Bleacher Report has put out a list of the 40 hottest college fanbases.  Let me give you a little preview:
36. Ole Miss
35. Arkansas
33. Georgia
32. Mississippi St.
28. Kentucky
25. South Carolina
23. Alabama
18. Tennessee
6. Florida
4. Auburn
1. LSU 
That's right, every team in the SEC (minus Vandy of course) is on this list.  If the LSU pic wasn't so iffy for a public website, I would have used them.  But, I went with UK's pic instead.   
Sad news: Rafael Little has been cut by the Titans.
Here is a preview of opening weekend games, which is amazing, not only because we have finally reached this season, but that there are about 10 games worth watching.  Oklahoma St-Georgia and Virginia Tech-Alabama will show if the SEC is still strong this season.
Senior citizens don't play around in Austraila when it comes to muggers.  They grab them by the ear and use their accent to kick some ass. 
If you want to see why schools like LSU and Florida have a recruiting advantage in football, take a look at the facilities in Baton Rouge.