Bryan the Intern's Picks to Click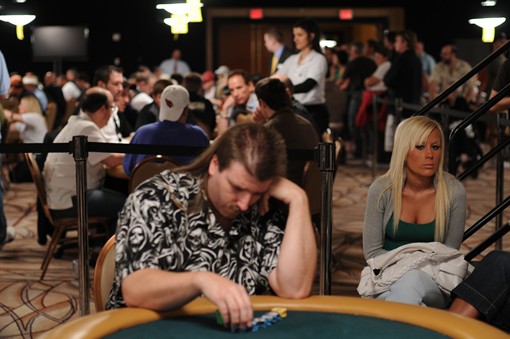 What caught your eye first: The guys mullet or the hot chick? Actually, this picture was taken last night at Caesers where I was celebrating my birthday. The real question is which KSR writer is that? Discuss.
1. BTI Rant of the Day: There is a reason that baseball (in my opinion) has become this country's 3rd major sport…MARKETING. Seriously, what was the last really great baseball advertising campaign? My thought was the "chicks dig the long ball" with Greg Maddux and Tom Glavine. And that was in mid-1990's. Now, when you think about the "faces" of baseball, you basically think about steroid users. Does anyone really know what Raul Ibanez looks like or Adrian Gonzalez. How about Russell Martin? Or Travis Hafner or Evan Longoria or Carlos Quentin or Zach Geinke? Basically, baseball does a PITIFUL job of showcasing its stars of today and the future. But who does the NFL highlight the most: Peyton Manning, Tom Brady, and L-Tomlinson, its three biggest stars. It doesn't highlight Shawn Merriman or Plaxico Burress. As for the NBA, we have been inundated with these Kobe-Lebron puppet commercials, which I think are mediocre at best but have been better than listening to Roger Clemens or A-Rod or Sammy Sosa talk. People call baseball "America's Pasttime" or I think the key portion of that phrase is PAST, because its time as a legitimate top sport in this country is past.
2. The new CNNSI mock draft is out and still no Jodie Meeks in the first round.
3. Keep an eye out for J.B. Holmes this week at the U.S. Open. As this article points out, the course is going to be VERY wet, making it play VERY long, which certainly favors Holmes. Although Holmes has not played well this year at all, he has contended in a major, so he should be OK to handle the pressure. Also, how about Matt Jones, who comes into this years open for the first time. After finishing up on Sunday, Matt will be heading out to Vegas to play in the Main Event of the World Series, then off to Jacksonville for some Jaguars training camp and also some obsene coccaine use.
4. I typically don't believe in magic or aliens or organic foods, but this minor league baseball player has magical powers. There is no question about it.