Bryan the Intern's Picks to Click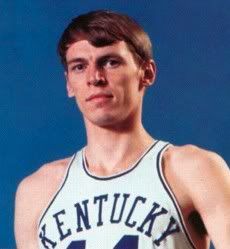 The Mt. Rushmore of Kentucky Basketball
The argument was brought up at work between myself and a Louisville TV personality about where exactly Patterson and Meeks will rank all-time at UK when it's said and done.  So, for argument sakes here, let's limit your "all-time greats" to the Top 10.  I would say there are 4 SLAM DUNK guys in UK's Top 10:
Dan Issel
Jack Givens
Kenny Walker
Jamal Mashburn
I would say there is NO WAY you could argue against any of these guys.  Now, who the other 6 spots go to is the question.  Here are the guys that I think are in the running (with my 6 in bold):
Tony Delk
Tayshuan Prince
Ralph Beard
Cliff Hagan
Frank Ramsey
Patrick Patterson
Kevin Grevey
Cotton Nash
Alex Groza
Keith Bogans
Pat Riley
Winston Bennett
Kyle Macy
Louie Dampier
Mike Casey
Sam Bowie
Jodie Meeks
Ed Davender
I think most people would put Delk, Prince, and Beard in their Top 10, but it's those final 3 spots that were so hard to decide on.  Frank Ramsey was a 3-time All-American and is in the Basketball Hall of Fame.  Cliff Hagan was a 2-time All-American and is also in the Hall of Fame.  And then I settled on Patterson.  I think that Patterson will become this decade's Jamal Mashburn if the Cats make a Final Four this season.  He came to Kentucky when the program was down, and was an absolute stud both on and off the court.  And if Patterson miraculously stays 4 years, then he will  jump into the Fab 4 Slam Dunk guys.  BUT, I think Patterson really needs alot of team success this year to hold his spot in the Top 10.  It's the one glaring weakness in his resume, and without it, especially at a place like UK, it bumps you down a few notches.  So let me hear it UK fans, who is in your ULTIMATE UK TOP TEN.  Does Patterson or Meeks slip in there?
1. Why is there such a hypocrisy when it come to steroids in the NFL and steroids in the MLB?  For instance, Roger Clemens has only been accused of taking steroids (as has Mark Mcgwire), yet both players are basically despised by the baseball community, and unlikely to get into the Hall of Fame.  Shawn Merriman actually tested positive, and still goes to the Pro Bowl with very little public scrutiny.  Sammy Sosa never tested positive, and has completely disappeared from the Earth.  Rodney Harrison tested positive and yet is getting a job in TV.  Why is OK for NFL players to take steroids without public scrutiny and not MLB players?  Why?
2. Who do you think was/is the NFL team of the decade?  Was it the Patriots, Steelers, or Colts?  The obvious answer is Patriots BUT when you throw in the video cheating from a couple years back, it brings Pittsburgh and Indy into the mix.  CNNSI is still going with the Patriots.
3. A website called "The Redshirt Files" is starting a contest looking for the best college bar in the country.  If you have your favorite UK bar you would like to submit, send it to [email protected].  For more on how the contest will work, you can check out more of the details.
4. The Minnesota Wild are struggling so bad to find a head coach, they are interviewing kids in the 4th grade.  Oh, hockey, you will always be the 4th major sport in my heart.