Bryan the Intern's Picks to Click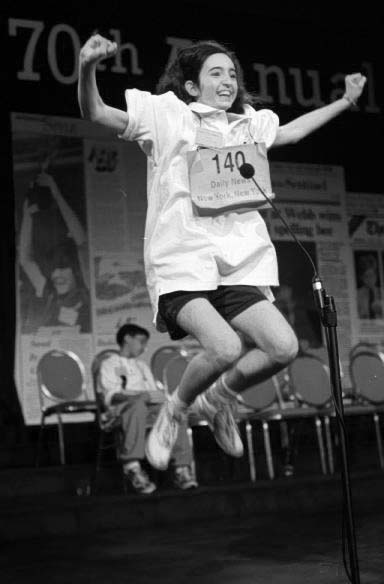 Fight for the BTI Live Blog.  One hour: Me vs You.  It can happen if you push for it.  Oh, and Matt agrees to it. 
1. Luke Winn of cnnsi.com pairs together two very attractive words: Kentucky and Unstoppable. 
2. Winn also highlights Mississippi St. and says that if it weren't for Kentucky, the Bulldogs would have been the top story of the summer.
3. Most boring sport to watch on television:  Soccer, Hockey, or Baseball?  Let's even go further and say which sport's premeire event is more boring to watch:  Champions League Soccer Final, Game 7 World Series, or Stanley Cup Game 7?  To be each sport's "Super Bowl", they are fairly not entertaining to watch.  And I DID watch the entire soccer match yesterday, and it was worse than watching a spelling bee.  But, if hockey insitutues these new rule changes, the sport could quickly become much more exciting!
4. Speaking of a spelling bee, did you know that the National Spelling Bee finals are tonight on PRIMETIME TV!!!  Has there been a more ridiculous idea than putting the spelling bee on prime time tv?  Although, I gotta admit, watching the awkward children try and spell has it's funny moments.  Those kids are so strange they make me, Matt, and Beisner look like the Rat Pack cool.  Anywho, here are some of the funniest spelling bee moments, my favorite being the kid who thought he was being asked to spell "numnuts".
For those of you would like to follow high school sports in Kentucky, both the baseball and softball playoffs are in full force, so I thought I would give you a rundown of who are the teams to beat heading towards the state tournaments.  Also, if you are not able to follow your alma mater, maybe this can give you a chance to see how you school is doing.  First up is baseball:
State Baseball Top 25 (Defending champ: Pleasure Ridge Park)
1. Lexington Christian (Eliminated by Henry Clay in 11th region semifinals)
2. Tates Creek (Eliminated by Lexington Catholic in 1st round of 43rd district tournament)
3. Apollo (Eliminated by Grayson County in 3rd region semifinals)
4. Eastern (Eliminated by Ballard in 7th region semifinals)
5. Pleasure Ridge Park (********)
6. Covington Catholic (Eliminated by Beechwood in 9th region championship)
7. Lexington Catholic (WON 11TH REGION CHAMPIONSHIP)
8. Male (Eliminated by Ballard in 7th region quarterfinals)
9. Franklin County (Eliminated by Lexington Catholic in 11th region semifinals)
10. Trinity (Play Ballard in 7th region Final tonight)
11. St. Xavier (Eliminated by Manual in 25th district tournament)
12. Henry Clay (Eliminated by Lexington Catholic in 11th region quarterfinals)
13. West Jessamine (Eliminated by Danville in 12th region quarterfinals)
14. Western Hills (Eliminated by Woodford County in 41st district tournament)
15. Bullitt East (*******)
16. Henderson County (Play Christian County in 2nd region Final tonight)
17. Central Hardin (Eliminated by Elizabethtown in 5th region championship)
18. Daviess County (Eliminated by Owensboro in 9th district tournament)
19. Grayson County (Eliminated by Owensboro in 3rd region final)
20. Elizabethtown (WON 5TH REGION CHAMPIONSHIP)
21. Madison Central (Eliminated by Bryan Station in 11th region quarterfinals)
22. Manual (Eliminated by Trinity in 7th region semifinals)
23. Bourbon County (Eliminated by Scott in 10th region quarterfinals)
24. Greenup County (Eliminated by East Carter in 16th region semifinals)
25. Owensboro Catholic (Eliminated by Apollo in 9th district tournament)
State Softball Top 25 (Defending champ: Greenwood)
1. Christian County (WON 2ND REGION CHAMPIONSHIP)
2. Owensboro Catholic (Play Hancock County in 3nd region semifinals tonight)
3. Ballard (Eliminated by Mercy in 7th region final)
4. Allen County-Scottsville (Play Warren East in 4th region championship tonight)
5. North Laurel (WON 13TH REGION CHAMPIONSHIP)
6. Mercy (WON 7TH REGION CHAMPIONSHIP)
7. Scott County (Eliminated by Franklin County in 11th region final)
8. Anderson County (Eliminated by Simon Kenton in 8th region quarterfinals)
9. Manual (Eliminated by Ballard in 7th region semifinals)
10. Meade County (**********)
11. Western Hills (Eliminated by Franklin County in 41st district tournament)
12. North Hardin (WON 5TH REGION CHAMPIONSHIP)
13. Heath (Play Hickman County in 1st region quarterfinals tonight)
14. Lafayette (Eliminated by Franklin County in 11th region quarterfinals)
15. Reidland (Eliminated by Marshall County in 1st region quarterfinals)
16. Warren East (Play Allen County-Scottsville in 4th region championship tonight)
17. Clark County (Play Montgomery County in 10th region Final tonight)
18. Greenwood (Eliminated by Allen County-Scottsville in 4th region semifinals)
19. Woodford County (Eliminated by Scott County in 11th region semifinals)
20. Marshall County (Play Ballard Memorial Friday in 1st region semis)
21. Muhlenberg North (Eliminated by Grayson County in 3rd region quarterfinals)
22. Male (Eliminated by Mercy in 25th district tournament)
23. Franklin County (WON 11TH REGION CHAMPIONSHIP)
24. Pulaski Southwestern (Eliminated by Garrard County in 12th region semifinals)
25. Butler County (Eliminated by Owensboro Catholic in 3rd region quarterfinals)