Bryan the Intern's Picks to Click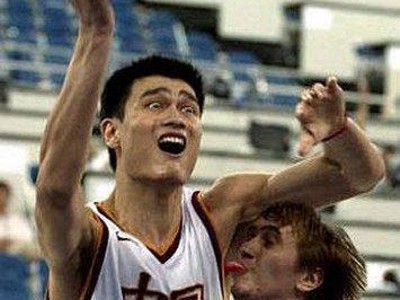 SHAQ: Yao, tell me how pit tastes. 
Let me tell you a little story.  In early 2008, a local buisness was floundering.  The owner cried all the time, because he loved his work and didn't know what the problem was.  And then he saw a statement I made on this website and gave me a call.  A year later he has a Fortune 500 company.  That buisness is Boone's Butcher Shop.  Don't miss out on expanding your buisness by advertising with KSR.  Discounted prices are available.  Contact me at [email protected] for more information.  All kinds of ads are welcome, and if you just want to say "I love you" to your wife or girlfriend for Valentine's Day, that option is available as well.  DO IT!!!!!
It's never too early for a little bracketology.  Joe Lunardi is widely known as the best and in an ironic twist, he has UK slated to play Marquette in a 6-11 game.  Other teams of note:
Louisville: 4 seed
Minnesota: 6 seed
Tennessee: 7 seed
Florida: 8 seed
Miami: 10 seed
VMI: 15 seed
Only 3 SEC teams. Pitiful.
It's also never too early to look at the RPI, which has finally begun to take shape.  Kentucky is currently 75th in the RPI, with a strength of schedule of 115.  Not the kind of stats you might want going into a weak SEC schedule where only 3 teams have a better RPI, none of which is higher than 21st.  UK, in my opinion, needs a 3 out of 4 set with Tennessee and Florida to feel comfortable going into selection Sunday.  12 SEC wins, thats the goal.
NBA Recap:
Azubuike battling flu, doesn't play in Warriors loss