Brandon Knight and Stacey Poole Visit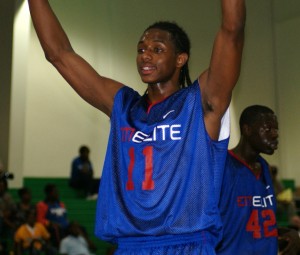 In addition to the big win against the Cards, yesterday was also important on the basketball end of things. No, I do not mean that Calipari got a chance to meet Muhammad Ali and send out twitter messages about everything he was doing, even as UK was losing. Rather, Brandon Knight and Stacey Poole were on their UK visits and the excitement in the crowd was obvious. Nearly every person I saw at the game asked me (a) why do you still let BTI write and (b) how are the visits with Knight and Poole going. If the pictures are any indication, the visits went well. I returned home last night to at least 20 pictures of the players with current UK players and fans, as everyone seemed to recognize them and speak to them. It is an NCAA violation for us to run the pictures, but you will just have to take my word that if pictures with hot UK blonds are any indication, both players (especially Stacey Poole) enjoyed the game.
As for the actual visit, the UK student section led a "Bran-don Kni-ght" chant during the game and he waved to the crowd. But more importantly, all indications are that the visit went well. Poole expressed his preference to more than one person that he would like to see himself in UK blue and Brandon Knight told at least one source of mine that UK was "an amazing place." Does this mean that the kids will end up here? Not necessarily, but as least as it pertains to Poole, a decision should be coming very soon. He has said that he hopes to have a decision by Tuesday, so news could leak at any point. We hope to have some comments from Knight very soon to share on the blog, and Dustin is staying on top of all of this today.
It is movement time in recruiting and these next few weeks are huge. But if the visits yesterday was any indication, things are off to a very good start for Cal and the Cats.