Brad Stevens' Thursday News and Views
(That was our reaction too, Brad…)
While we all applauded Brad Stevens for passing up on various college coaching vacancies over the past few years, saving up for the pick of the litter, Stevens went and threw a major curve ball at all of us. Stevens wasn't waiting to take over the Duke position, or Indiana, or Louisville, or even Kentucky. Stevens was waiting for … THE NBA? Whether or not that was his plan all along or if Danny Ainge approached him with an offer he couldn't refuse out of the blue, college basketball sent one of the good ones out the door this evening. Butler's darling of the big dance made the jump from the world of college basketball to the business of the NBA, taking literally everyone by surprise. It's impossible to turn a blind eye to the shades of Rick Pitino leaving Kentucky for Boston. Butler is not Kentucky, but Stevens will be inheriting a similar type of clean-up job in Boston. Boston is at the end of an era of competing for championships. The Celtics have been dismembered and brought to the ground, desperately in need of a major rebuilding effort starting from the rubble. Stevens is the guy they plucked to try his hand at the job. Stevens is as fresh-faced and young as they come at the age of 36. He's also one of the most promising young minds in the game.
The big question: Will it work? Some have been quick to jump to one conclusion or the other. The truth of the matter is that we simply don't know. Stevens is as good with x's and o's as anyone in the game. He's also the master of getting the most out of a group that may lack superior talent. Considering he will be starting from the bottom with a potentially young batch of inexperienced players, he will need to work that same type of magic initially with the Celtics. Much like Pitino's turn in Boston, the answer to the "will it work?" question might lie in the unpredictable and often very unkind lottery order. The Celtics will certainly be in play for the top pick in next year's draft. Pitino didn't get so lucky in receiving that highly coveted #1 pick. Maybe Stevens will have better luck. Most importantly though, RIP Butler basketball. It was fun while it lasted.
And now on to the news and views from the day…
—-  The most talked about news of the day UNTIL the Brad Stevens hire revolved around the Harrison twins and James Young. Andrew Harrison, Aaron Harrison and James Young were all in Lexington this past weekend. How do we know? Well, because of the hundreds of pictures you sent us here at KSR and because guys like DeMarcus Cousins and Eric Bledsoe were tweeting about how good the 3 of them looked while playing pick-up against them.
The good news: The Harrison twins and James Young WERE in Lexington and they DID receive rave reviews for their play already on the court.
The bad news: They aren't quite in Lexington to stay. YET.
The bottom line: The twins and James Young graduated high school after the summer session for classes started at Kentucky. Because of that, they were unable to enroll for the summer session. Since they aren't yet enrolled, they can't simply live on campus like the rest of the guys. Calipari and Kentucky don't seem alarmed by any of this, and Cal even mentioned it during the SEC teleconference, saying that the 3 will have to spend long weekends in Lexington until they can stay for good in August. He said, and it deserves repeating, "they're fine." Until Cal starts worrying, I'm not worrying. And neither should you.
—- First we heard DeMarcus Cousins call Julius Randle a beast. Today, Chad Ford said that Julius Randle could be the #1 pick over Andrew Wiggins. While Wiggins is still the overwhelming favorite in most people's eyes to nab the top spot in next year's draft, don't be so quick to count out Randle. The two have been said to be much closer in talent at the end of the spring than ever before. Here's Ford's exact words when asked on an ESPN chat earlier today:

John (Kentucky): Any chance Randle beats out Wiggins for the No.1 pick?

Chad Ford: Sure. In any other draft, he'd be the consensus No. 1 pick. He's a beast of a low post player– blessed with strength, athleticism, and a very polished inside/outside game. As long as Calipari can convince him not to fall in love with his jump shot, he's got a chance to be the most dominant big man in the country. Teams always covet players like Randle and if Wiggins stumbles, they'll jump.
—- Even with a guy like Randle to lead the #1 recruiting class, along with a host of strong returning players, at least one person is not convinced that Kentucky should be the #1 team in the country at the start of next season. That one person is Mark Gottfried, the head coach of NC State. "I can't imagine anybody else being picked No.1 in the country than Duke," Gottfried said.
I guess the good news it that he might not have to use his imagination at all. Google search 2013 pre-season men's college basketball polls. No imagination necessary.
—- We can now count 2 of the top players in the class of 2014 in for Big Blue Madness this year. 5-star point guard Emmanuel Mudiay and 5-star small forward Stanley Johnson will both be in Lexington for the big event. The two are arguably Kentucky's most important targets in the class of 2014, and both are very high on Kentucky at the moment. The two would add a great piece to a 2014 class that already includes talented big man Karl Towns.
Emmanuel Mudiay had some good things to say about Calipari and Kentucky to Mike Gandolfo of the Kentucky Derby Classic.
On how UK is recruiting him: "Coach Cal, he's big on point guard and people say that's the main focus of the team, what makes the team go. It's a blessing to be recruited by them, I thank God for the opportunity. He's a great coach, it's a great program."

On who recruits him from UK the most: "Coach Cal, I hear from him almost everyday."

On what is important in a school: "I've gotta build a real strong relationship with the coach, that's first off. My family's gotta love that coach, family's a big part of it. Just a great atmosphere to be around, great people to be around."

On UK fans: "I hear they're crazy…they're unique fans, there's no fans like them."

On visiting Lexington: "I'm probably going to go for the (Big Blue) Madness."
—- In other news, the #6 ranked player in the class of 2014, center Myles Turner, tweeted out today that he trimmed his list of schools from 60 to 25 today. 60 schools? That's almost an NCAA tournament's worth of teams. Do you think all 60 of those schools even knew they were actually in consideration? Anyway, Kentucky made the cut while 35 other schools didn't. Phew. Turner says he plans to cut his list down to 10-12 schools by the end of July.
—- We told you to keep an eye on the Australian-bred Dante Exum, who will pick a college after the first semester this season. Kentucky is rumored to jump into the mix if Kyle Wiltjer ends up transferring and a scholarship is freed up. Exum had a solid day today for Team Australia in the FIBA U-19 World Championships. Exum finished with 20 points, 6 assists, 3 steals and 2 rebounds in a 78-61 win over Russia.
—- Earlier this evening, Matt tweeted that Brad Stevens being hired away to the Celtics was the first step toward him becoming Kentucky's head coach in 2019. One of my first thoughts (with the help of a friend and KSR fan Daniel Porter) was what about Orlando Antigua to Butler? Now, let me say that this is all just purely speculation. Antigua has not been mentioned or rumored for the Butler opening. But I think Butler would be foolish NOT to make that phone call and at least test the waters. Why would the combination make sense?
1) It's only a matter of time before Orlando Antigua takes his first head college basketball head coaching job (He's already got his first head coaching gig with the Dominican National Team)
2) Antigua has already been in the mix for a few other openings, but hasn't made the leap. Why? Part of it probably has to do with some advice Calipari has shared before about making the jump: Don't worry about going to a big time conference. Worry about going to a team that usually finishes in the top tier of their conference, even if it's a mid-major or lower level conference. Butler would fit that description.
3) Antigua is an excellent recruiter and has proven this for year's under Calipari. Indiana is a state with a history of having good home-grown talent. Antigua could go head-to-head right away for the local talent with guys like Tom Crean.
—- And in your "where in the world is Marshall Henderson and what is he doing?" news of the day… Ole Miss' SEC champion rings are hideous…right?
—- And last but not least, Tom Crean tweeted out a picture from the Indiana front office. What Indiana is trying to do is cute…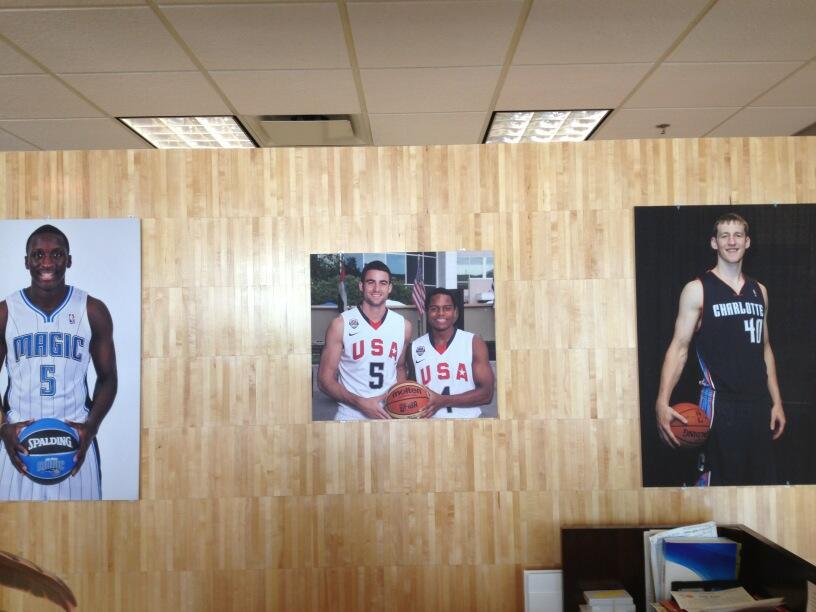 We just do it a little bigger and a little better…