Brad Stevens is a smart man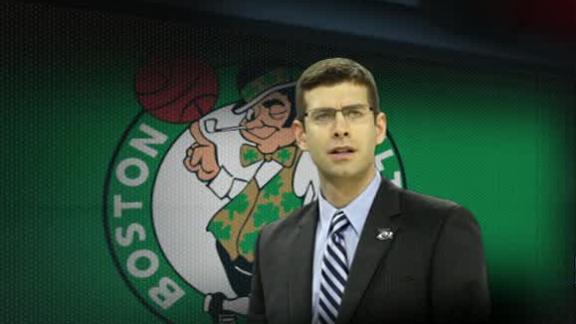 You heard it first from Matt Jones on the day of the announcement: Brad Stevens' hiring to the Boston Celtics is the first step to his becoming the head coach at Kentucky.
Looking back at the last handful of coaches that have made the leap from the college ranks to the NBA, it doesn't seem bode well for Stevens. The prime examples from right here in the Bluegrass, Rick Pitino and John Calipari are reason enough for citizens of the Commonwealth to shake their heads in disbelief. Since 1993 eight coaches have made the jump, and none have made a dent in the face of the NBA.
1994-97: P.J. Carlesimo (Seton Hall to Portland Trail Blazers): 136-109
1996-99: John Calipari (UMass to New Jersey Nets): 72-112
1997-2001: Rick Pitino (Kentucky to Boston Celtics): 102-146
1998-2002: Tim Floyd (Iowa State to Chicago Bulls): 49-190
2000-01: Leonard Hamilton (Miami (FL) To Washington Wizards): 19-63
2000-03: Lon Kruger (Illinois to Atlanta Hawks): 69-122
2004-06: Mike Montgomery (Stanford to Golden State Warriors): 68-96
2007-09: Reggie Theus (New Mexico State to Sacramento Kings): 44-62
That is a combined winning percentage of .383 with a collective 3-12 playoff record in 22 seasons. The average tenure of the eight coaches was just 2.75 years.
Stevens leaving Butler after turning down so many solid college destinations over the last few years is a head-scratching decision but certainly not one that was short sighted. Despite facing tough odds of success, Stevens is a winner in the long run no matter what.
The more you think about the timing of his leap to the NBA, the more is starts making sense that this is a win-win move for the future. Either he rebuilds the Celtics into a championship team while floating along on this six-year $22 million contract, or he gets the same treatment his predecessors have received in three or four years and he becomes the leading candidate for any NCAA coaching job available… Including Kentucky.
We all know John Calipari won't be the coach of the Wildcats forever. He has publically stated he doesn't plan to coach well into his 60's. He is 54 right now. That gives the Cats the possibility of at least five more years, just around the time Stevens might possibly be on his last legs in Boston.
Even if Kentucky is not Stevens' end goal (but what kind of crazy man wouldn't have UK as a destination job?) he will be able to pick and choose his next job even more so than he did while at Butler. After all, he did turn down UCLA. Add the massive pay upgrade and the possibility of a buyout if he is fired, Brad Stevens will be in the comfiest driver's seat imaginable.
In five or so years Brad Stevens will be on the cusp of legendary status regardless; resurrecting a franchise on life support into NBA Champions, or poised to become the next NCAA coaching great at a blue-blood program. Either way, he can probably get used to living that life.
After all of his success in Lexington, it is hard to imagine a coach other than John Calipari leading the Wildcats onto the court, especially when a 2014 title is looming not too far away. But think about it…
The head coach of your Kentucky Wildcats: Brad Stevens.