Boogie focused on Rookie of the Year…and playoffs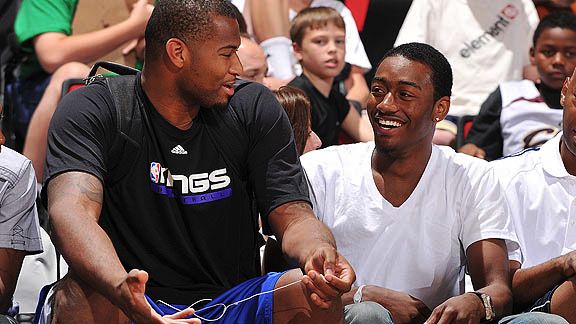 In yet another piece of the neverending media rush that seeped out of the NBA's school picture day, Sacramento Kings blog KingsConnect.com offers up a profile of fifth overall pick DeMarcus Cousins.  Cousins, who is, not surprisingly, enjoying life as a King, talked about his focus on improving his conditioning and connecting with his teammates.  And, oh yeah, beating out John Wall for NBA Rookie of the Year.  And, if you're the two kids who were waiting at the airport for Cousins to stop and sign some gear, you get a shout-out too.
Meanwhile, the former teammate with the target on his back chatted with the Washington Post about this season's goals and how Gilbert Arenas' trigger finger will fit in.
DeMarcus Cousins at NBA Rookie Photo Shoot from Michelle Stark on Vimeo.