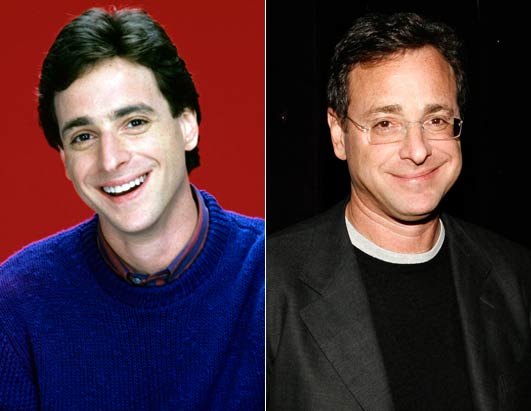 Sometimes people have a second act in life and it is so dramatically different from the first that you begin to forget the first even existed. Muhammad Ali has become such an icon in his old age that it is easy to forget that he was once one of the most hated athletes in the history of modern sports. Bill O Reilly is now known as a political commentator with some importance on Fox News and it is often forgotten that he got his start as the host of "Inside Edition", the equivalent of Mario Lopez on Access Hollywood. And Al Franken is now a US Senator, obscuring the fact that he was once Stuart Smalley and his political importance was shown only in his impression of Pat Robertson. With that in mind, it is amazing to think about the change in the career of today's birthday holder Bob Saget. If you are around my age, you remember Sagat first as the father on "Full House" and the lame host of "America's Funniest Home Videos." On both shows, Saget was the King of the awful joke and miserable punch line, that made people with no real sense of humor (think Jay Leno's audience) consider Saget a huge star. I found him to be so bad, that in college whenever someone would make a really awful joke, I called it a "Saget" and would use the Dave Coulier phrase "cut it out" to mock them. But then Saget disappeared, and now thanks to some Comedy Central roasts, his appearance in "The Aristocrats" and on "Entourage", Bob Saget is the king of cool. He has shown his old lame persona to have actually been an act, and the real Saget a funny, somewhat risque guy. In the process, he has changed my opinion of him and has reinvented himself for a new generation. So remember kids, if Saget can change, we all can change. Elena Kagan Miss USA 2012? Who knows….
To the news…
— The big story of the weekend is the commitment of Eloy Vargas to the Big Blue. Many have asked what type of player Vargas is, and the best description may be "Perry Stevenson with a few more perimeter moves." He can get up and down the floor, has the ability to create off the bounce a little bit and can block shots and take up space in the interior. His athleticism is good, but not overwhelming, but he has the ability to create matchup problems for the other team. His college career has been all over the place. He only averaged 0.6 points a game at Florida for his Freshman year on a team that didnt make the NCAA Tournament. But be scored over 20 a game at Miami-Dade Community College. He and his coach believe he has NBA potential but if true, he has a long way to go. For now, he is a good pickup who will provide depth that is much needed for UK.
— The Vargas commitment means that UK will have the #1 recruiting class yet again, passing Memphis. With the likely 2011 class also topping the list, it would give UK the #1 class three years in a row, a feat never before accomplished. Calipari's recruiting is unparalleled and the continued influx of talent is absolutely astounding. Vargas's commitment only means that the train keeps going.
— Signing Day is Wednesday, which means if Terrence Jones is going to sign, he has three days. A commitment by Jones would be the one thing necessary to get UK into "potential contender" status next year and finishing with him signing the dotted line is priority #1 for UK over the next three days.
— We also will likely find out the new assistant this week. Jerrence Howard was contacted by UK at the end of the week for consideration, as I am sure others have been as well. The smart money is still on Kenny Payne at this point, but with recruiting for 2011 likely to heat up in the coming weeks, I expect the resolution of the final slot on the coaching staff to come late this week or the first of next week.
— With Notre Dame joining UNC, Indiana and Louisville on the schedule for next year, only a couple more games are set for 2010-2011. There is still likely one major game to be scheduled and the season will begin on November 12 against an unnamed opponent. There may also be a road game scheduled as part of the trip to Maui, which could include a stop somewhere on the West Coast on the trip out for the Cats.
— We havent talked a lot of football, but its only because news around the football program has been nonexistent. Whereas in past years, storylines and workout news about players has leaked through the summer, this has been nonexistent. Know we are trying to find out more, but the cupboard is pretty bare.
— The Miss USA Pageant saw Michigan win the crown and then sound silly as she said she would tell how she felt "after she ate some pizza." While I have no idea what that meant, I was pleased to see my pre-contest favorite (Miss Oklahoma) come in 2nd. I guarantee a Top 5 from my pick every year, and this year saw her come close to winning. The odd moment of the night came (as it always does) in the Question and Answer session when Oscar from "The Office" (you read that correctly) asked Miss Oklahoma whether she believed the Arizona immigration law was the type of law that should be handled by state governments or was given to the federal government by the Constitution. A question about federalism in the Miss USA Pageant? Asked by a member of an NBC sitcom? Really? She actually didnt do a terrible job answering, mumbling something about "states rights" and being against illegal immigration while also against racial profiling. But still if Oscar is asking something like that, imagine what Creed would have asked.
— The Celtics crushed Orlando tonight, making you wonder if the old men in Green might be able to win another title. Rajon was great again and Dwight Howard was not. The West starts tonight after a week long layoff. The NBA Playoffs have been brutal this year and only slightly more exciting than Dick Gabriel's radio show.
— Congrats to the UK tennis team that made the Sweet 16. The UK women's softball team made the NCAA Tournament tonight as well, drawing Ohio State in the first round next week. And the UK baseball team kept their postseason hopes alive with a weekend sweep over LSU (I wrongly said earlier that they made the SEC Tournament….they are now tied for the last spot). So a good week overall for the Big Blue.
Election Day is Tuesday so tomorrow we will break down the Senate candidates for you in a very KSR way. Plus a report on one of the odder news stories in the state in a while. And an announcement as to how you can enter the 2010 Who Wants to be a Blogger contest. Check back…..