Billy Gillispie's Wednesday News and Views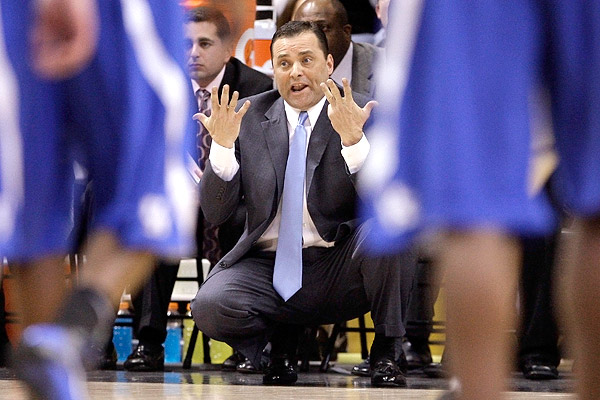 If you came here looking for political news, you came to the wrong place. Tonight's News and Views are brought to you by Billy Gillispie, who celebrates a birthday on Wednesday.  The former coach of your University of Kentucky Wildcats turns 53 on the fifth anniversary of Kentucky's home loss to Gardner-Webb in his first season.  It's a day we'd all like to forget, and, if Gillispie celebrates his birthday every year the way we imagine he does, he forgets a lot of November 7th's.
I was going to use this space to recount that loss in 2007, one of the worst in the program's history, but I'm getting pissed off just thinking about it so I'll just run this YouTube video of Gillispie laughing while discussing his termination.
Happy Birthday, Clyde.  Get your life together.
  The news of the day came from Kentucky football practice, where Joker Phillips addressed the media for the first timesince UK announced he won't return next season. Joker handled the questions with class and dignity, like a true professional, and said he'll continue to be a part of Big Blue Nation. Joker opened things up by saying, "I came here in 1981 as a freshman from a little small town, Franklin, Kentucky. Everybody knows. I was hoping to have a good career, hoping to be an asset to this place, and I feel like after 20-something-plus years that I have been, regardless of what other people might think." He later added, "This place turned me into a man the first time. This time all it did was strengthen me as a man. It gave me strength. It made me understand how important character is. My character got challenged a few times. It showed me how important integrity is and my integrity got challenged a few times. It showed me how important loyalty is. With that, I'm very grateful and appreciative."
  Joker also talked about his decision to coach the final two games of the season, saying, "It was hard because I don't want to be the distraction. I don't. I don't. I've had my Senior Day, okay? Somebody was saying, 'Let's send him…' I don't want to be sent out. I don't want an open casket. I don't want to be somebody's centerpiece. I want it to be about those seniors."
When asked if he expects to coach next season, he said he plans to take some time off, let all the emotions die down, and then he'll figure it out.
   Switching over to basketball, the preseason No. 1 team in the country will be without two of its star freshmen for the first nine games of the season thanks to a secondary NCAA violation. Indiana's Peter Jurkin and Hanner Mosquera-Perea received expenses from A-HOPE, a nonprofit organization founded by Mark Adams that provides support from athletes from other countries. Adams gave $185 IU Varsity Club between 1986-1992, therefore he is considered an Indiana booster and receiving expenses from boosters is a no-no. It seems like a ridiculous and unfortunate ruling, but with a name like Peter Jurkin, I'm sure he'll find a way to entertain himself during the nine-game suspension and wipe his hands of this mess.
  While Jurkin and Mosquera-Perea were receiving their suspensions Tuesday afternoon, Nerlens Noel and Archie Goodwin were named All-Freshman First Team by Grantland.com.  Here's what the Bill Simmons website had to say about the Cats:
Archie Goodwin: Kentucky fans are very high on Goodwin after a 22-point performance in the team's first exhibition, and he's the odds-on favorite to become the team's leading scorer. He's not quite Michael Kidd-Gilchrist caliber, but Arkansas's reigning Mr. Basketball can slash and hit a pull-up, and he's athletic and strong and quick enough to become one of the top perimeter defenders in the conference. Top-three contender for Freshman of the Year, easily.
Nerlens Noel: There seems to be a wave of paranoia spreading through Big Blue Nation that Noel will somehow crumble under the pressure of becoming the next Anthony Davis. This seems entirely unrealistic to me; if anything, there's such a reaction against that mind-set that Noel should have clear psychological sailing in his freshman year. He's the top recruit in the country for a reason, and as of now there's no reason to project that he'll disappoint anyone. He might not be Anthony Davis, but he's still a defensive genius who will jump-start Kentucky's offense and nullify a lot of his teammates' mistakes with his 7-foot-4 wingspan and his excellent shot-blocking ability. And just like Davis, he'll be reintroducing a revolutionary hairstyle to the culture. Last year, it was the unibrow; this year, it's the flat-top. So forget the lowered expectations; Calipari's Young Blue Machine marches on, slashing and burning and winning.
Alex Poythress was named to the second team.
  Are you missing a handgun?  If so, there is a chance Jules Camara could have it.  Camara is wanted in Lexington on felony gun charges after he stole a weapon from a friend last month.  The former Wildcat has been quite the criminal since he arrived in Lexington 1998 and he can expect to be sent back to Senegal once he's apprehended.  It was nice knowin' ya, Souleymane.
  Bad news for some of you Brookyln-bound Cats fans… United Airlines will suspend most service to and from the New York area between noon Wednesday and noon Thursday due to the winter storm. (I fall into this category, unfortunately.)  The forecast is calling for a Nor'easter storm that'll bring rain, wind, and snow Wednesday night so be ready for more airlines to do the same.  We'll get there though, somehow, someway.
Here's everything you need to know about the trip. (via UK Alumni Association)
  It's not a November night post without a UK football head coaching suggestion. Tonight, Tyler Montell, a former KSR scribe, likes the idea of Kentucky hiring Kliff Kingsbury.  He gave three reasons why over at SaturdayDownSouth.com.  If that's not enough, Larry Vaught reported early Tuesday morning that UK is in preliminary talks with Texas Tech offensive coordinator Neal Brown.  According to Vaught's sources, he he spoke to via Verizon Droid, UK has contacted Brown's agent, a Birmingham-based attorney. And if that's not enough, a guy at Walgreen's told me Rex Ryan likes the color blue almost as much as he likes feet.
 In case you didn't get enough Dakari Johnson scoop on Monday, here's how each scouting service ranked him in the class of 2013.
— 12th overall, ESPN Recruiting
— 13th overall, Rivals.com
— 13th overall, 24/7 Sports
— 15th overall, Scout.com
Jason Jordan of USA Today Recruiting believes Johnson would pick Kentucky if he had to decide right now. But it's look like he'll wait until the spring to announce his decision. His mother said he'll hold off until the season is over before taking any visits.
 Joe Lunardi released his second Bracketology of the college basketball season on Tuesday. Yes, the same college basketball season that hasn't even started yet.  Lundari's NCAA Tournament forecast puts Kentucky as the one-seed in Washington D.C. playing the Texas Southern/Oral Roberts winner in the first round and Minnesota in the second.  Also in the East region: Syracuse, Michigan, Memphis, and San Diego State.  Joe Lunardi has way too much time on his hands.
  We're looking forward to a big morning on Kentucky Sports Radio radio. Coach Cal will join the show in the first hour and then we'll take a call from Dick Vitale to start the second hour. And, don't forget, we'll be live blogging the Hurricane Sandy fundraiser Wednesday night from 7:00-9:00.
UPDATE: Barack Obama is back for a second term. There's your political update.