Ben McLemore and Kansas could be facing trouble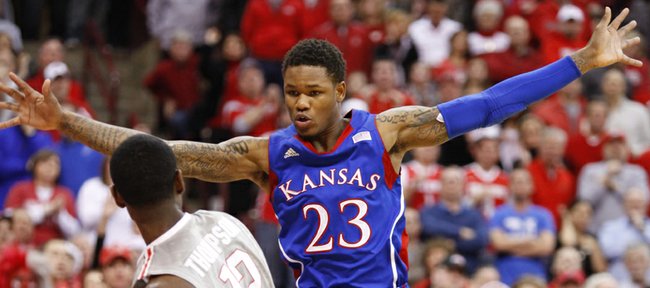 Kansas Jayhawk Ben McLemore ended his college career when he declared for the NBA draft following the 2012-2013 basketball season. McLemore sat out his freshman season at Kansas due to being academically ineligible before putting together a very impressive season this year for the Jayhawks. McLemore's name can be found near the top of almost every 2013 NBA Mock Draft, and his journey from troubled youth to college basketball star have been well-documented. His story will now have a very dark cloud over it following a report yesterday by USA Today's Eric Prisbell. The report states that a former AAU coach of Ben McLemore's"received thousands of dollars in cash, lodging, meals and trips from a middle man who courted the Kansas player on behalf of sports agents and financial advisers" this past season. 
Darius Cobb, McLemore's St. Louis based former AAU coach, told USA Today that he accepted two cash payments of $5,000 during the regular season, as well as two paid trips to Los Angeles. Accompanying Cobb on these Los Angeles trips was McLemore's cousin, Richard Boyd. Rodney Blackstock, who is the founder and CEO of Hoop Life Academy (a "sports mentoring organization), was apparently the one fronting the bill for all of this.
The trail is muddy when trying to sort through the details of the relationships between Cobb, Boyd, Blackstock and McLemore. A few key and troublesome pieces of evidence do exist though, such as Blackstock attending Kansas games as McLemore's guest. Blackstock also allegedly perhaps provided benefits to McLemore, such as paying for a bowling birthday party. In Cobb's words, when Blackstone took care of the party, he said, "Man, don't worry about it. I got you. We're a team. We're family."
According to Cobb though, who wishes to keep McLemore's innocence in the matter in tact, McLemore was not aware of the strength and depth of the friendship and monetary ties between his former AAU coach Cobb and Blackstone. Cobb admits though that the money he received from Blackstone was with the intent to steer McLemore toward Blackstock when it was time to make preparation for the NBA. 
Kansas released a statement in which they acknowledged that they have been contacted about the issue. Only time will tell if the Jayhawks receive any backlash from the situation. All of these issues could have affected McLemore's amateur status, which is the primary concern for Kansas.  Keep an eye out, as this story is sure to gain more traction over the next few weeks.
The underlying story: The world of college basketball is a complicated place, filled with shady people…