Avery Williamson ready to quarterback the defense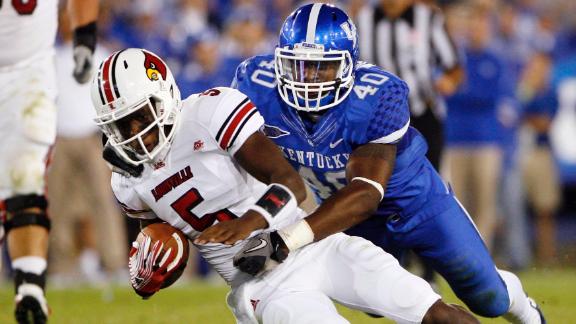 With the departures of Danny Trevathan and Winston Guy to the NFL, someone will have to step up and lead Kentucky this season on the defensive side of the ball. Guy and Trevathan were the leaders in the huddle, on the field, on the stat sheet, and in the locker room for Rick Minter's unit in 2011. Replacing them will not be an easy task.
But one man stepped up early in spring ball to take on the role as head honcho of the defense. Avery Williamson, a junior linebacker from Tennessee, has "taken ownership of the defense," according to Joker Phillips.
"That showed up in the offseason. That's not just showing up now," Phillips said of Williamson's desire to lead. "That showed up in the offseason, this summer, the way he went about his business. We're starting to see it carry over to the football field also."
Williamson played in all 12 games last season, when he recorded 47 tackles as a reserve linebacker behind Trevathan, Guy, and Ronnie Sneed. He'll be making his first career start this season as the quarterback of the defense, and he's already feeling the pressure that comes with the responsibility.
"They say pressure makes a diamond," Williamson told WKYT. "So, I mean, they keep putting pressure on me. Coaches been putting pressure on me all spring and all summer. I just gotta react and I feel like me being in the film room all this summer really helped me."
Williamson thinks this year's defense will be better than last year's because they have a better understanding of the system. Rick Minter brought a brand new style and playbook to Kentucky when he joined the staff as co-defensive coordinator a year ago, and according to Williamson, the Cats took a while to get adjusted.
"Last year, it was our first time in the defense, we weren't clear on everything," he said. "This year we really spent a lot more time in the film room, studying and getting everybody clear with what they have to do."
Sophomores Malcom McDuffen and Bud Dupree will join Williamson to make up the linebacking core in UK's season opener. Both have played well in camp, but Williamson is ahead of the pack, according to their defensive coordinator.
"He's a tremendous young man and we hang our hat on him," Minter said of his defensive leader after yesterday's practice. "He played well, the others are trying to catch up."