Antigua watched Chris Walker last night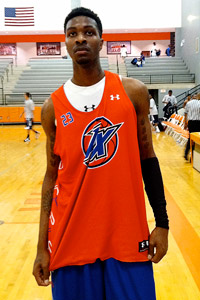 While John Calipari and Kenny Payne were at Bullitt East watching Derek Willis last night, Orlando Antigua was on a road trip of his own. Coach O was in Holmes County, Florida to watch 2013 power forward Chris Walker. Walker, of course, is the young man who has been very vocal on Twitter about his recruitment, especially with Kentucky. Just last week, he tweeted, "UK not interested in me so ill do the same when they get interested ill get interested also." He also said UK is not in his top three but they are in the top ten.
Hopefully, seeing Antigua in the crowd made the top ten recruit feel loved. Something certainly got him fired up because he scored 30 points with 16 rebounds, 5 steals, and 4 assists in the win.
He hasn't tweeted about UK yet today but I'm sure one will be coming soon.
Cats.