Anthony Davis Cram Watch: Team USA Vs Lithuania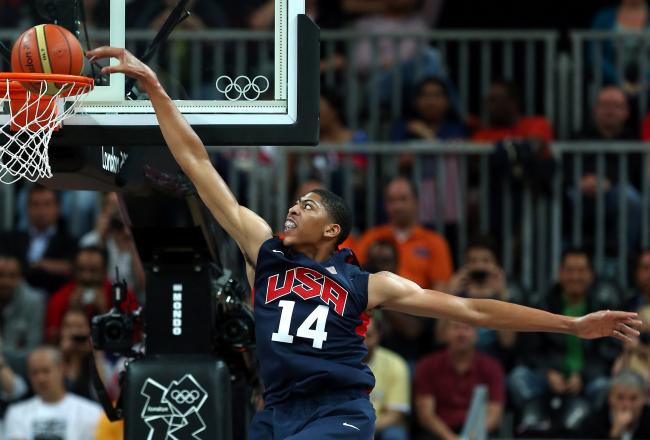 Before the Olympics began I assumed once Anthony Davis got in to the game the block party would begin in downtown London. Unfortunately for the rest of the world they have been unable to generate any offense against Dream Team 2012 so Anthony Davis has been unable to swat every shot put up inside. That doesn't mean the unibrowed one hasn't been able to make his impact known on the game. So far Anthony Davis has been throwing down dunks so hard I heard they had to install the unbreakable rims featured in NBA jam. The fourth game for team USA should be no different.
Tomorrow the US faces the team ranked fifth in the world and the team which knocked Coach Cal and the Dominican Republic into the Olympic play-in game, Lithuania. That game will tip off a 9:30 a.m. so set your alarm early to witness Anthony Davis and company get revenge for Cal. Here are the targets who will most likely be on a one way trip to lob city.
Target #1: Jonas Valanciunas, Center
"The Big V" as he is known back home in Utena is the most likely person to get dunked on in tomorrows game. You need no other reason why than to look at his picture. The Lithuanian big man is one of two NBA players for Lithuania but both players are on the Raptors so we can just say Lithuania has no NBA players.
Target #2: Linas Kleiza, Forward
Lithuania may not feature the most athletic group of players but they are a lock to take home the gold medal for the goofiest. I expect Anthony Davis to throw down a dunk hard enough to send Kleiza back to the Paleolithic era. Linas is the other NBA player from Lithuania but again he plays for the Raptors.
Target #3: Martynas Pocius, guard
Pocius will be going up against his former coach in tomorrows game, Coach K. That's right this player who now represents Real Madrid (basketball) is a former Dukie and a prime target for an Anthony Davis dunk.
Target #4 Darius Songaila, Center
Darius Songalia is the crafty veteran of the Lithuanian national team. Songalia played his college ball at Wake Forest at the turn of the century and went on to an eight year NBA career. He averaged 6.9 ppg while in theAassociation and now is back in Europe currently playing in Spain. Most likely he will be in the game once Anthony Davis enters the line-up and is a prime target to get dunked upon.
Lithuania may be ranked fifth by FIBA but tomorrow morning we will see the difference between number one in the world and number five. So far Lithuania is 1-2 with losses to Argentina and France so it's a safe bet that after tomorrow they will be 1-3. So what is your prediction for the score? Can the US break their record of 156 points? Which player do you most want to see AD throw down on?