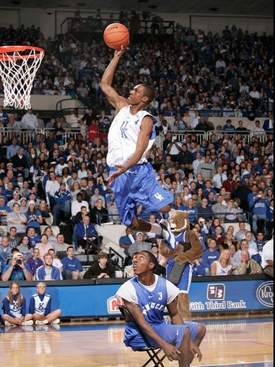 Rajon! Your ankle!! 
Rajon Rondo and the status of his ankle are making headlines today. Cruise around the Inter-webs and see what people have to say. If you're bored and at work, that is.
Rondo on his status (Rondo's blog)
Rondo has answered the call, and still has room to grow (Sporting News)
Rajon Rondo status still up in air (Boston Herald)
Rondo expects to play–with video (Boston Globe)
Talk with New Englanders about Rondo, chowda (Boston Globe)
Rondo vows to play in Game 4, w/ Jemele Hill column (ESPN)
Thursday eye-opener: Rondo ready to go (USA Today)
Rondo's injury adds uncertainty to backcourt (NY Times)
Could series turn on Rondo's ankle? (Worcester Telegram and Gazette)
 I hope all those links take you to the right place. If they don't, it was probably Beisner's fault.