Alex Poythress' Saturday News and Views
It's been a tumultuous 24 hours for the Big Blue Nation as we all learned that the beloved Alex Poythress suffered a season ending ACL tear during last night's practice. The news came as a total bummer on what has so far been a picture perfect season. There has been no known player turmoil, no games in jeopardy, and the team looked to be having a blast out on the floor playing together. Now they will be tasked with playing for their teammate who won't be able to get out there and bring home number nine. The one cloudy spot on what has otherwise been a stellar year.
So what's next? For Alex the potential of a medical redshirt is available. Alex missed those two games earlier this season which will keep him under the 30% of games threshold needed to earn a medical redshirt. Whether that's an option for him to pursue remains to be seen. He's on track to graduate after this season, and if he did return, he could even start work on his masters; however, that's a lot to ask for a player who's deferred the NBA once already. How the injury could effect that NBA draft status is also a mystery . The NBA seemed like a forgone conclusion for Poythress after the season but this injury could cause a pretty substantial slide and a return year could make sense. For now the focus is on Alex getting back to full health then these questions will take care of themselves.
For the team they will have to find a way to carry on with out the explosive game-changing ability of their starting 3-guard. Can the platoon system survive? More on that later. As Cal said in his release, Poythress will be hard to replace
I told them, this is a big blow to our team. No one will be able to replace Alex and what he did for this team. I go back to last year's NCAA Tournament. Without Alex, we don't win those games. No one will be able to replace him, but now everybody has to do a little bit more as we try to circle the wagons.
Minor setback for a major comeback. God always has a plan.

– Alex Poythress (@AlexTheGreat22) December 12, 2014
UNC Comes To Rupp
The mission now is to #DestroyForPoy. Vegas think the Cats are going to do just that as they opened up as a 10.5 point favorite and that was quickly bet up to 11. The Tarheels' trip to Lexington is thier first one since bowing to Anthony Davis and his brow three years ago. It's also the only scheduled meeting for the forseeable future as the two teams will play in the CBS Sports Classic over the next two seasons. Will they resume the rivalry after that? You'd assume so but there is always a chance this could be the final time we host UNC for quite some time. Let's make it a memorable one.
Will The Platoons Continue?
So without Poythress the biggest question for tomorrow's game is whether or not the platoon system will continue. Willie Cauley-Stein had this to say today during Cal's press conference, "He's that older brother, that good brother that does everything right. It kind of ruins our platoons a little bit. Or a lot. Nobody can make the plays he can make." Somebody is going to have to make those plays, or at least try. Cal himself had yet to give the situation some thought he said during the press conference, "I just, I don't know. I didn't spend any time thinking 'team' last night and this morning," Cal said when asked if the platoon system will continue. "We'll figure it out. We haven't practiced yet, I don't really know." "Things like this can bring people together or it can break people apart," Cal said. "But you have to be more responsible, and you have to add a little bit to your game. When Nerlens went down, we didn't have that mentality, that make up. We weren't able to do it. We're going to find out if this team has the ability to do it."
Ulis and Booker  Are Good To Go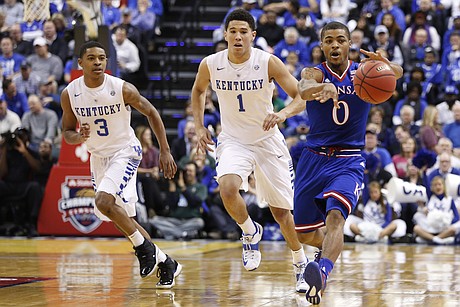 One silver lining from today was the announcement that Tyler Ulis and Devin Booker should be good to play in tomorrow's game after returning to practice yesterday. With the two back in the lineup the platoon system can survive at least for one more game. Without the duo the team would be scrambling to find an answer for a depth issue nobody could have imagined this group would face. Welcome back boys.
Read up on WCS
A few weeks ago Jason King came on KSR and previewed a piece he was working on about WCS. Tonight the story dropped and you can read it over at Bleacher Report. King interviewed several people who raised Willie and helped him get to where he is today, including his grandparents and a former Kansas City Chiefs offensive lineman. They all helped him escape a tiny town in Kansas so he could chase his dream here at UK. The article also takes a look at Willie's passive attitude and how there is still a ton of untapped potential in his seven-foot frame. Willie told King, "I just feel like I haven't really done much. I don't think I'm as good as people say." I'll leave you with the opening as a teaser:
The airfare had been purchased, the room at the five-star hotel reserved.

Still, as he packed his bags for his official visit to Kentucky in October of 2011, something didn't feel right to Willie Cauley-Stein. "Cancel the trip," the apprehensive high school senior said to his guardian, former NFL lineman Will Shields. "I don't wanna go."
Now go read it. You'll be glad you did. Superstardom Awaits Willie Cauley-Stein… If He Finally Decides He Wants It
Football Hosts Some Major Recruits
On my way to my very last recruiting visit and my last official! Let's make it a good one 🙌 #BBN #StoopsTroops 🔵⚪️

– Damien Harris (@Damien_D1Harris) December 12, 2014
Kentucky basketball isn't the only one with a big game on the books as Mark Stoops will be hosting a platoon of his own tomorrow in Lexington. Damien Harris, CJ Conrad, and Marcus Lewis highlight a crop of talented recruits that could be suiting up in Blue and White next season. You can read all about those guys here.
Also top junior center in the country, Drake Jackson, out of Woodford County will be making his decision known tomorrow with all signs point to the Cats. Come on down. It's a big day around the commonwealth and we'll get it started with the KSR pregame show at 9:30. Go Cats.