According to His Coach, Adreian Still Has A Ways To Go Before Deciding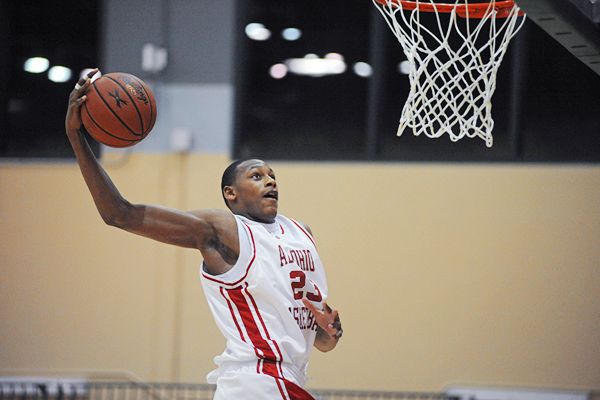 Sitting in Orlando at the AAU Nationals, I was shocked to hear that rumors were swirling saying that Adreian Payne was close to committing. First I heard UK was the chosen school. Next, I started hearing that UK wasn't the school and that it was Bob Huggins and West Virginia that would be getting the good news. Watching Tom Izzo, standing at the baseline taking in Payne's All-Ohio Red game, I wondered why he wasn't at home surfing the net and finding out that he was wasting his time.
According to Art Winston, Adreian's high school coach, none of the coaches are wasting their time. "I don't know where those rumors come from. He hasn't indicated anything to us as far as being close to West Virginia or Kentucky. He's still neutral," he said on Thursday. "His next step will probably be in home visits, so that those coaches at spots where he's narrowed it down to can sit down with his grandmother and then, after that, he'll start to set up his official visits."
When asked whether he felt that Adreian was close to a commitment or still pretty far off, his coach explained, "In our discussions he hasn't indicated anything like that to me, as far as being close to committing. I would think that he is still pretty far off."
Adreian's next step is to compete in the Nike Global Challenge, August 7th-9th, and, as his coach described, "then he'll sit down with his grandma and me and the assistant coaches and start to set up in home visits. I know the coaches can't start doing that until September 9th, so it will probably be around that time."
When Adreian does find a school that suits him, Coach Winston doesn't feel like he'll have any trouble fitting in. "His game has evolved tremendously. He came in as a thin kid and real athletic. He's worked hard to develop his offensive skills and his ball handling skills, so looking back at where he was then and now, as far as how he developed, he'll be able to play. I don't think style of play will matter because he's very athletic, versatile and can shoot the basketball."
Adreian's recruitment has now been narrowed down to five schools, including Kentucky, West Virginia, Michigan State, Kansas and Arizona. After he competes in the Nike Global Games, its back to high school basketball and working on a college decision that, as of now, he doesn't seem close to wrapping up.