About Thyme Cafe's Friday Peach Jam News and Peach Jam Views Friends, loyal KSR readers and those of you trolling us from other fan bases, we need to talk about a little place called About Thyme Cafe. Tucked away in the mean and sunny streets of North Augusta, just a mile or two from the Peach Jam, About Thyme Cafe is the best restaurant you've probably never heard of. We had never heard of it until Thursday afternoon when it jumped out at us on our way back to the hotel from the gym. A sign out front saying, 'Welcome Peach Jam' caught our attention, and we're damn sure glad it did.
We were a little weary entering the building — we've only been eating at wing and burrito joints and the exterior didn't fit that mold — but one quick look at the menu and we knew it was the right call. My appetite hit its Dougie as I frantically perused the options: Pot roast sandwich. Kentucky Hot Brown. Pork tenderloin. Shrimp and grits. Chicken enchilada casserole. Lasagna. A Grown Up Grilled Cheese? I don't know what that is but it sounds awesome.
After devouring our food — the pot roast won out for me — Matt noticed a KSR commenter told us About Thyme Cafe is owned by a Kentucky alum. We had to ask for confirmation before leaving, and it turns out, KSR commenter was right. The owner, Liz Victor, was behind the counter when Matt asked, and she told us her husband is a UK grad, born and raised in the bluegrass before moving to Aiken, South Carolina. And as if that discovery and the incredible food weren't enough to win our undying love, she told us her husband reads KSR and listens to the radio show and they'd love to have us back again for another meal.
Done. We hope to see you there.
Now let's get to a Peach Jam edition of the Friday News and Views…
Some say KSR had an exhausting Thursday in North Augusta, but we're not half as tired as John Calipari and Kenny Payne. The two Kentucky coaches were in attendance for all six rounds of games to watch a number of up-and-coming talents in high school basketball. Malik Newman is one of the prospects the UK staff had eyes on and he did not disappoint in the morning game. Newman scored 40 points, an AAU high for him this season, in front of Cal and representatives from several other elite programs.
After the game, Newman admitted to reporters that he doesn't watch very much basketball. He said he saw about two college games last season, but he does know who John Wall, Derrick Rose and Tyreke Evans are.
I don't understand how the Mac Irvin Fire can lose a game with Jahlil Okafor and Cliff Alexander in the frontcourt. But it happened.
UK target Stanley Johnson got to show what he's made of in front of Coach Cal Thursday afternoon and it wasn't his best outing. I didn't stick around to see the entire game, but I was there long enough to see his defending champ Oakland Soldiers go down by 30 points. The box score tells me he finished with 14 on 3-of-10 shooting and seven turnovers. His athleticism is as good as any, though.
Kelly Oubre told Adam Zagoria he has an offer following his team's win against Newman's 40-point performance. Oubre is a 6'7″, 200 lbs. shooting guard from Richmond, Texas, ranked 19th overall by Rivals.com. He said he got his first phone call from UK about a week or two ago.
Trey Lyles: "Kentucky gets players to the league faster, but Louisville might develop them just a little bit better." (via Jeff Borzell0)
Interesting quote. Anyone agree?
I'm still confused by this photo of Coach Cal hanging out with Doug Shows: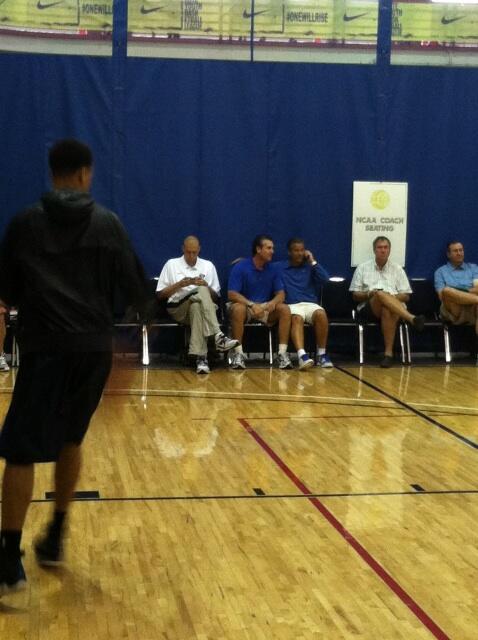 And did Shows eject him from Gym 4 before the game ended?
No one is having more fun at the Nike Peach Jam than our own Chris Tomlin. The man was put on Earth to cover AAU events, it just took him too long to find out. He and Frank Haith were also meant to be best friends.
Matt looks really excited to be sitting next to Lorenzo Romar. I bet they had a lot to talk about, like all the times Romar thought he had a player at Washington until that player committed to Kentucky.
That's Rodney Billups in the Colorado t-shirt. He's Chauncey's baby brother.
The media workroom is occasionally used as an AAU locker room, unexpectedly, and as Tomlin mentioned in his post earlier today, things got a little intense following a loss. The coach was very furious with his players' lack of effort and voiced his frustration with words you wouldn't use around your mother. He emphasized how this weekend determines what college scholarships they'll receive and that the high school season "ain't gon do sh-t" for them. "This is your time and you're too busy worrying about free gear and going to the mall to chase girls," he emphatically said. Tomlin and I feel for the players, though, because we too are in Augusta for the free gear and chasing girls at the mall.
I can't put into words my disappointment when I ran into the gym to watch Team Penny, coached by Penny Hardaway, only to see Penny wasn't in the building. This was my opportunity to meet the man who inspired Lil' Penny and the shoes I wore for at least three consecutive basketball seasons in the 90s. Where are you, Anfernee? Don't tease us like this.
Side note: Team Penny's fans wear t-shirts saying, "Team Penny, No Loafers." I want one.
We owe a big thank you to KSR commenter Ridge Runner, who hooked us up with a $50 Hooters gift card. We're putting it to good use tonight. It was great meeting you.
One final non-Peach Jam note: Steve Delabar earned the last spot in the MLB All-Star game. Mrs. Tyler asked you to help the Kentucky native out Thursday morning and it worked. Good for Steve and great job by you.
Go Cats. Past, present and future.