A Kentucky Fan's Giving of Thanks
Not all days as a Kentucky fan are created equal. The exceptional days exist, such as the one pictured above, or when a top recruit commits to Kentucky unexpectedly (or expectedly). Game days are always good days, with anticipation looming all day long– as cities like Lexington are overtaken by a blue mist. Mornings after big wins are fun too, as we all puff our chests out a little further and replay all of our favorite moments with the first, second, third and fiftieth Kentucky fan we run into that day. As with anything in life, with the good comes the bad. The bad days have been a bit more plentiful lately with the state of the football program, but even as bad as things are– the hope for something better, or at least something different, is providing a light at the end of the tunnel feeling. Even if we can't agree on what kind of wattage the light bulb lighting the end of the tunnel should be, we know change in some capacity is on the way.
With all of the great days, moments, games, players, friendships built upon a common denominator–being a Kentucky fan, etc…we have plenty to be thankful for as Kentucky fans. My original plan was to create my own list of things I think we can all be thankful for as Kentucky fans. Big Blue Nation always finds a way to do it the best though, so I decided to throw the question toward you all as well: What are you grateful for as a Kentucky fan? Clever, funny and serious answers were all encouraged and welcomed. Between my own list, and a number of great suggestions from the world of Twitter, here's a sample of some of the many things Kentucky fans have to be grateful for. The list is far from complete, as I'm sure we all have our own personal moments and things to be grateful for that we hold near and dear to our hearts. Feel free to make additions in the comment section between your second and third helping of stuffing.
30 things Kentucky fans can be grateful for on this Thanksgiving day…
1) 1948
2)
3) Michael Kidd-Gilchrist's smile
4)
5) 1949
6) Randall Cobb on Sunday afternoons
7)
8) 1951
9) Jodie Meeks' 54 point game, which salvaged an otherwise hopeless season
10) The fact that Rick Barnes always "removes his name from contention" when it comes to the Kentucky basketball job opening
11)
12) This picture of DeMarcus Cousins…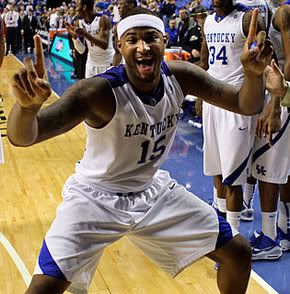 13) The fact that Jefferson Pilot Sports made a mistake and Dwight Perry didn't actually start that game.
14) 1958
15)
16) Rich Brooks' Twitter account
17)
18) 1978
19) "The Door"
20) Kelenna Azubuike's biceps. Runner up: Eric Bledsoe's biceps. Honorable Mention: Tod Lanter's biceps
21)
22) Tom Crean's Twitterquette, or lack thereof…
23) 1996
24)
25) That you can find a Kentucky fan in literally every city, town and lob township (sup Live Bloggers?) in the world. And when you spot them, you can throw them a 3 goggle and a smile and instantly make a connection.
26) 1998
27)
28) The legend of Hunter McClintock
29) This picture of Jarrod Polson's parents during the Maryland game
30) 2012
Being a Kentucky fan is something that I feel grateful for each and every single day. People can argue this, but for me, there's simply nothing like it in the entire world. It's hard to explain in words, but when you come across a fellow Kentucky fan– you know that they understand exactly what it means as well. It's a shared connection, an unspoken bond and a unique experience that has given something special to all of us. To all of the loyal KSR readers, have a great Thanksgiving. We are grateful for all of you, even the ones who say things in the comment section that make our mothers angry. Happy Thanksgiving to all!