8 Questions After 8 Days off
Does anyone else feel like this year's basketball schedule has been the strangest we've had in a while? Look past the removal of Indiana and North Carolina (albeit temporarily) from the schedule. We knew those two enticing home games weren't going to be on the schedule this year. Look past the fact that we have already played 2 of the top teams in the country in Louisville and Duke. We knew those were going to be good games. It just feels like there have been some huge gaps in the schedule without games, or at least without somewhat exciting games. Eight days have passed since Kentucky's last men's basketball game. If you throw in the fact that the most recent game before that was a rare 6 p.m. tip off with a bad Eastern Michigan team… it feels like the lag between the Louisville game and tonight's SEC opener has been way too long. The eight day break has left us with plenty of time to follow random high school football recruits on Twitter, send our friends pictures of ourselves doing mundane things while wearing a heart monitor (oh, just me?), and either love or hate Aaron Flener's Bachelorette Diary at 8 a.m. on Tuesday mornings.
Other than spending my time doing the things listed above, I've been waiting for a few questions about this team to be answered during the opening game of SEC play tonight against Vanderbilt. In fairness, not all 8 questions have really been burning in the back of my mind for the last 8 days…but it's more catchy to do things like that with numbers.
Without further ado, here are 8 questions after 8 days off heading into tonight's game:
1. Will Calipari stick with the Nerlens Noel, Willie Cauley-Stein, Alex Poythress, Archie Goodwin and Ryan Harrow starting line-up?
Willie Cauley-Stein worked his way into the starting line-up for the first time against Louisville 2 games ago and immediately upped his production, playing two of his best games in a Kentucky uniform. Even though earlier in the season the "ketchup/mustard" (anyone else getting tired of that? That's the last time I'll use it) combination of Cauley-Stein and Noel didn't create much of an offensive flow, the pair seem to have found a way to both play well while in the game at the same time. If either one of the two big men could develop a formidable (not even great, just decent) mid-range free throw jumper, Kentucky would be lethal against a zone with that line-up. Calipari admitted after the Eastern Michigan game that he prefers the big line-up with Cauley-Stein, Noel and Poythress, but all of that hinges on Poythress and whether or not he shows up to play.
Predicted Answer: Not only do I think this will be Calipari's line-up for tonight, but I think it will be his go-to line-up for the remainder of the season.
2. Will Alex Poythress move from "halfway home" to "all the way home" in his return to Tennessee?
After last week's improved second half performance against Eastern Michigan, Calipari said that he believed Alex Poythress was "halfway home." Poythress has been the focal point of Calipari's attention for approximately two weeks now–receiving individual attention in addition to the normal practice schedule. Ryan Harrow had a few stepping stone games before he was "home" in Calipari's eyes. Even though Harrow had a few solid performances, it took playing well against an established opponent such as Louisville to completely solidify the progress he had made. Will tonight's game, in Poythress' home state of Tennessee, be his turning point game?
Predicted Answer: Alex Poythress will play well tonight. He might even make his way from the "halfway home" to "75% of the way home" stage in his coach's mind. Vanderbilt isn't a strong side this season though. Poythress might have to wait until a bigger marquee match-up down the line in SEC play to completely solidify his progress.
3. Will Ryan Harrow's impressive defensive performance of the past few weeks continue?
Somewhere along the way in Ryan Harrow's transformation from a question mark to Kentucky's starting point guard, he started to become a bit of a defensive stopper. Harrow's defense was especially noticeable in the last game against Eastern Michigan. Calipari and Harrow both made note in the week off of his improved defensive performance. Earlier in the season, Harrow struggled to stay in front of his man. In the last few games he has made plays that have helped improve Kentucky's ability to get out in transition.
Predicted Answer: Although I'm not ready to crown Ryan Harrow as the next DeAndre Liggins/Michael Kidd-Gilchrist/Ramon Harris-like defender, I do think that he has embraced the role on this team. When you listen to Harrow talk, he sounds like a young man who is eager to do whatever he can to help make his team better. All season long fans have longed for a defensive stopper. I thought it would end up being Archie Goodwin, but maybe Harrow is the answer.
4. How many times will Bobby Knight bring up Calipari's "one-and-done" players in a negative way?
Predicted Answer: At least 5 times, which will be 5 more times than he says the word "Kentucky" and 12 less times than he brings up "fundamental basketball."

5. Between a 40-minute basketball game and at least 3-4 posts on KSR with Vandy's players' names, will you remember any of their names a week after tonight's game?
Predicted answer: Eh, probably not.
6. How many times will the fact that John Calipari used heart monitors be brought up during the broadcast?
Predicted answer: At heart monitor least heart monitor six heart monitor times heart monitor.
7. Can this young Kentucky team compete on the road?
It's no secret that this Kentucky team has struggled on the road so far this season. Anytime they have been away from Rupp Arena (other than Brooklyn), whether it was a true road game or a neutral site game, the result has been a loss for the Cats. Even with a down SEC this year, Kentucky will have to play a number of road games. Just like Kentucky is everyone's super bowl (drink), the fans tend to come out in larger numbers when Kentucky comes to town than most other games. Vandy is not good. If you haven't figured that out yet, they scored 33 points in a loss to Marist. Player for player, Kentucky trumps Vanderbilt and it's not even close. At a neutral site, the game would figure to be a blow out. In Rupp Arena, forget about it. Cats by 25+. If tonight's game results in a loss or even a narrow victory for Kentucky, the ability of this team to compete on the road might be a huge worry moving forward. Kentucky can't afford too many head-scratching losses in the SEC chalked up to being "road games." Those bracketoligists don't like that.
Predicted Answer: We should win by 20…but…Vandy's absurd gym makes me nervous. I think this Kentucky team might drop a road game or two they probably shouldn't this season. I don't think tonight is one of them though.
8. Do you know more about Kyle Fuller (Vandy's leading scorer) than either of the following people?
 (RG-III's Doctor)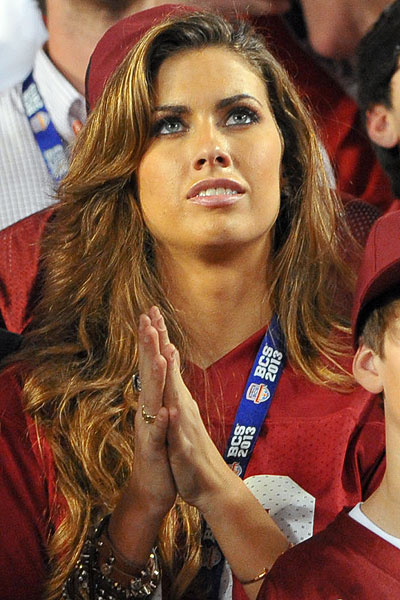 (AJ McCarron's girlfriend, Katherine Webb)
Predicted Answer: Trick question. Kyle Fuller isn't even Vandy's leading scorer. If you knew that, pat yourself on the back. If you didn't know that, still pat yourself on the back because you just looked at that picture of Katherine Webb and played it 10x cooler than Brent Musburger.