5 Things I have Learned Since Becoming a UK Fan Two Years Ago
Our friends at KSRCollege.com continue to do work. A stellar day of posts today leading up to the Tennessee game are available and you should check it out. My favorite might be this one from TAYLOR HARRY who tells what he has learned as a recent UK fan:
When you are raised in Nashville, there is one thing you have to get used to seeing time and time again: the color orange. The color shares its name with a delicious fruit and its appearance with a certain SEC rival. Although it's hard to avoid the color and even harder to avoid the fans, my parents raised me the way any blue-blooded Kentucky family would, to despise any association with the University of Tennessee. Now, I wasn't raised a Kentucky fan, but I was raised in the anti-Tennessee (In that, if a team was playing Tennessee, that team became my favorite for the duration of the event) fashion. Even if the event was a chess match, the opposing team got my full support. Tennessee was a hard to place to live being around all of those dreadful "Rocky-Top" screaming fans. Thankfully, that was then and this is now (to quote the title of a great book). Lexington, Kentucky has provided with me with a great place to learn, make new friends, and most importantly, cheer on the 'Cats (especially against those teams form Knoxville).
There are many things I have learned since deciding to become a part of the great tradition that is the Big Blue Nation. With that being said, there are five things that I believe truly stand out when describing the Kentucky fan base.
In no particular order, the five things I have learned are…
5.) Kentucky fans will walk 1,000 miles, just to see their 'Cats (try not singing that, it's hard).
Nashville is like a second home for Kentucky fans. I swear, every time I drive I see "UK Alumni" license plates and "Kentucky Wildcats" bumper stickers every other car. The representation of the fans is overwhelming. It caught my eye the most in Nashville two years ago.
My first UK game was at the 2010 SEC Men's Basketball Tournament, and I will be the first to say, "It was awesome." There was blue everywhere you looked. That was the moment I was sold on the big blue movement. The dedication of the fan base struck me most watching the Maui Invitational last year. Hawaii is incredible I'm sure, but the fact that all those blue-bloods traveled there for a basketball tournament is crazy. Let's keep it going Kentucky fans, your presence duly noted.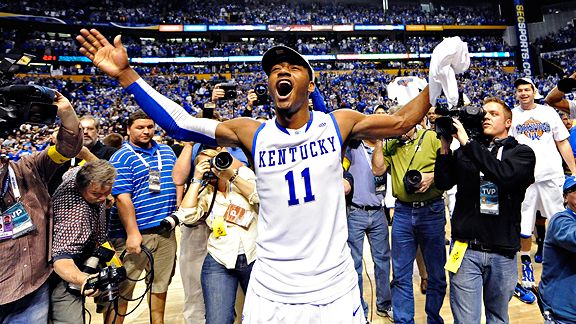 4.) Kentucky fans are more educated about their team than any other fan base I've seen. Ever.
If you listen to the people around you at a basketball game, the vast majority of the conversations you'll hear are about in-depth details regarding the game and program. Kentucky fans know everything there is to know about the game, and it really is quite impressive.
Now being a fan for only a short period of time compared to most, life-long diehard fans, I have had to engage in a great deal of playing "catch-up" in Kentucky sports knowledge. I have a long way to go before I can maximize my UK sports IQ, but I am sure with the insanely sharp fans around me, that will not be any sort of problem.
3.) Kentucky fans spread their love of the game like the Black Plague (in this case Blue…I know, lame right?).
The way we live our lives as Kentucky fans is almost said, but I love it. Constantly refreshing KSR for the latest post, looking on Rivals to see the most up-to-date recruiting news, and planning work and daily schedules around game day are all a part of the norm for Kentucky fans. And if you're sporting the latest trend in Kentucky fan fashion, you better believe nearby fans will take notice (especially in distant, non-Kentucky territory) and make their way towards you to brag on the 'Cats. The greeting is usually something along the lines of, "Hey! Go Cats!" My point is if you're going to support Kentucky athletics, you must have the desire to support the teams with other fans as well. We are one fan, not many. The fellow fan brother ship consumes people. How do I know, you ask? I have fallen victim.
2.) Kentucky fans would take a bullet for their team.
The LSU game this weekend is a perfect example of how much the fans care about this year's team and teams from years past. Unless you live under a rock, you all know Anthony Davis was beat up on this weekend in Baton Rouge. It was horrific to watch.
Whenever Anthony was on the ground in pain, we all tightened up and threw out some Hail Marys to ensure our big man was okay. Not just because he is a star laying down some impressive statistics on the hardwood, but because we genuinely care about him and the rest of the team's well-being.
I believe Ms. Tyler Thompson's Live Blog posts after Davis's bump to the head sums up how all of us were feeling and reacting. It completely justifies the #2 thing I have learned as a fan.
1.) Kentucky fans would rather fall down a flight of stairs than lose a game.
Losing stinks, it really does. But at Kentucky, losing not only stinks, it's not a part of the tradition. Kentucky fans view losing as foreign, incorrect and even unacceptable. Now, do we as Kentucky fans set standards too high? Maybe, but that is part of the chaos that is Kentucky sports. When I get upset watching a basketball game, someone will say, "it's okay, it's just a game anyway" (the same thing everyone says outside of BBN), but obviously the response from me is always, "No, you wouldn't understand. It's way more than that."
My UK basketball watching win percentage is the same as Coach Calipari's at 87%. I started following the team the first night he coached (was a great game), and since then I've been obsessed and spoiled by a winning tradition. People tell me about how lucky I am that I missed the Gillespie era, and boy, I am glad that I missed that chapter. I have a deep respect where UK basketball has been. I love where UK basketball currently sits, at the top. And I am stoked to see where UK basketball is going.
Go Cats, and this time a more than deserved GO US , THE FANS OF BBN!
I tweet a lil'. Follow me @TaylorHarryKSR.