The one and only Big Mick is a meaty masterpiece in its own right. Composed of two quarter-pound patties* of never-fresh, frozen, mostly beef raised close to the processing plant. Only McDowell's has the frosted beef and processed cheese to give you a major reason for the afternoon trip to the secret bathroom only you and Debra know about on the 9th floor that is under construction.

---
You can be a part of McDowell's KSR Top 10 Tweets by using hashtags like #KSR #BBN or #KSRtop10. You can also nominate tweets by mentioning them with the hashtag. If we like what we see, it could be posted the next day.
If you are interested in sponsoring KSR's Top 10 Tweets, please contact us at Via Email.
#10 B.J. Johns
Please no!!! https://t.co/47xyjJ4VUw

— B.J. Johns (@BJJohns1) October 17, 2018

Come on!
#9 Carrie Cox
@KySportsRadio The hot dog story was one of my favorites. Got me in trouble at work because I was laughing so loud. #KSR

— Carrie Cox (@Wildcatcarrie) October 17, 2018

Warning: KSR may cause workplace disruptions
#8 K R
Shopping a local Louisville retailer this morning and spied this gem. #ksrtop10 @DrewFranklinKSR @KySportsRadio @MrsTylerKSR pic.twitter.com/C0UbY0jAN8

— K R (@kybucs) October 17, 2018

Too good.
#7 Henry Chasteen
The BroMance is back on!

— Henry Chasteen (@henryDAmailman) October 17, 2018

Yay!!!
#6 Ricky Stone
Who wins, like for @MattJonesRadio retweet for @2ReidTravis2

— Ricky Stone (@RStone_1) October 17, 2018

Team Reid.
#5 Ev Walberg
i haven't been this excited for a @KentuckyMBB season in a long time #BBN

— Ev Walberg (@TheRealBigEvski) October 17, 2018

We're almost there!!!!
#4 Casey Smith
what a beautiful day to be a wildcat #WeAreUK #BBN #GetUp #BeatVandy pic.twitter.com/2YLgASHpjg

— Casey Smith (@caseysmith00) October 17, 2018

What a pretty state!
#3 wilson, josh
This bye week over yet?!?! Let's go! #BBN https://t.co/7pwpNB6Ak7

— wilson, josh (@THEJO5HWIL5ON) October 17, 2018

A few more days!
#2 Ethan
@KySportsRadio @DrewFranklinKSR I do believe @ShannonTheDude is back at it with his voice changing technology. pic.twitter.com/Cs6EhJzyj5

— Ethan (@ethancredible) October 17, 2018

He's always up to something!
#1 Cody Fannin
Thanks @KySportsRadio for rekindling my flame with Sammy Kershaw. pic.twitter.com/MH23ZGEPs4

— Cody Fannin (@CodyFannin2) October 17, 2018

#KSREffect
John Calipari may be focused on his current 2018-19 basketball team and the upcoming 2019 recruiting class, but one junior combo guard in particular has caught the Kentucky head coach's eye.
RJ Hampton, considered the No. 1 point guard in the class of 2020, received an offer from Kentucky in the first week of October, one of just seven players in the class to hold one. Calipari has watched Hampton in person on several occasions, and the consensus top-ten prospect was in Lexington this past weekend visiting for Big Blue Madness.
Following his visit, Adam Zagoria of ZagsBlog.com sat down with Hampton's father, Rod, about Kentucky's pitch and how his son felt about his time on campus.
Like we've heard time and time again over the years, Calipari was blunt with the family about what it takes to be a Kentucky Wildcat. And it was a pitch that resonated well with the 6-foot-4 star.
"[The pitch was] pretty much come to Kentucky and compete with and against the best in the country on the biggest stage in the country," Rod Hampton told Zagoria. "And [John Calipari] also said everybody isn't built for Kentucky. The practices were very competitive and everyone is held accountable to compete and get better."
The prospect's father went on to say Kentucky has it all and that they are considered one of the best in the business for a reason.
"They have all the resources for you to get better on a daily basis," he said. "They are truly an elite college basketball program. Coach Cal does a great job with his guys. And he has a track record of getting guys to the next level."
Hampton also sat down with Krysten Peek of Rivals.com to discuss his relationship with John Calipari and his thoughts about Kentucky as a program while he was out in Colorado Springs at a Team USA minicamp last week.
To no one's surprise, Hampton said Calipari has told him he will be a major priority for Kentucky in 2020.
"Coach Cal told me I'm one of his guys in 2020 that he's going to recruit and just told my family what Kentucky's all about." – five-star RJ Hampton on Kentucky offer.
More with RJ on recent Memphis visit and upcoming Texas visit: https://t.co/ZaIqn3dHo0 pic.twitter.com/urupgH6OFi

— Krysten Peek (@KP_Rivals) October 10, 2018
Following a serious back-and-forth process, Hampton recently announced he would be staying in the class of 2020 rather than making a move to 2019. With Kentucky in great shape at the guard spot with Tyrese Maxey, Kahlil Whitney, and Dontaie Allen already locked up, it's a decision that definitely helps the Cats.
He has said his recruiting process wide open, though most assume Kentucky, Duke, Kansas, Memphis, and Texas are the teams with the best shot at landing the elite scorer.
We still have a while, but hopefully he'll choose the correct shade of blue when it comes time for a decision.
Watch his highlight tape here:
Come on down, young fella.
SEC basketball media day is today, a moment to look at what's ahead, while celebrating all that the league accomplished last season.
And if we're being perfectly honest, boy did that league accomplish a lot last season. By any tangible measurement, 2018 was the single greatest season in the history of SEC basketball, with a record eight teams making the NCAA Tournament, and an argument could also be made – at least by me, anyway – that on a night-in, night-out basis it was the single toughest conference in the sport. While the league didn't produce a true national title contender (although you could argue that with the way that Villanova blitzed through the tournament there were no true "contender" other than Nova) every team was competitive, every single night. As an example, Ole Miss – which finished in last place – beat three different teams which ended up in the Big Dance. No conference in America could claim depth anywhere close to that.
Still, as good as the SEC was in 2018, the best just might be yet to come in 2019.
The league probably won't have the top-to-bottom depth like it did a year ago, but unlike last season (where only two teams made the second weekend of the Big Dance) there are true national title contenders at the top of the league. Kentucky, Auburn and Tennessee have the goods to make it all the way to the Final Four (and beyond), and Mississippi State, LSU and Florida also have second weekend NCAA Tournament potential as well. Alabama and Vanderbilt also should compete for NCAA Tournament berths, and Missouri and Arkansas should be tough outs.
So with media day about to kick off, it's only fair that I put out my preseason predictions. Here they are:
(more…)
A lot has been going on at LSU over the last month and none of it has been good for the Tigers. Hours after the first practice of the season, junior Wayde Sims was shot and killed in Baton Rouge, which was a horrible and senseless tragedy.
"We're without one of our veterans, Wayde Sims," head coach Will Wade said. "He passed away on the 28th and it's something that our team is still working on and moving forward and trying to get better as we take it day-by-day. We're going to miss him. He was our ultimate glue guy, which is about as good as compliment as you can give as a head coach. He was dependable, he was consistent, he never missed anything. We're going to do our best this year to honor him and to play how he would want us to play and play well for Wayde. He was a veteran and we're certainly going to miss. He was one of the guys that really helped our newcomers understand how things work, weight room, help things on the court."
Nothing is as serious as the loss of a player, but there was more bad news for LSU and specifically Wade. The timing wasn't ideal. In audio evidence that was barred from the court room, Wade was caught on wiretap attempting to secure high-profile recruits by offering impermissible benefits. This happened earlier this week just before he was set to speak to a plethora of media at SEC Media Day in Birmingham.
Basically, he was caught attempting to cheat, and while we didn't get to hear the audio the transcript was read:
"So you said to me in Atlanta there was a 2019 kid I wanted to recruit, they can get him to LSU, you would have funded," Christian Dawkins told Wade, according to adidas' attorney. "Would you want Balsa?"
"Oh, the big kid?" Wade said

"Yeah," Dawkins said.
"OK. But there's other (expletive) involved in it," Wade said. "I have got to shut my door … Here's my thing: I can get you what you need, but it's got to work."
Wade became defensive when asked about it on Wednesday.
"It was a little bit surprising," Wade said. "I'm not really going to react to what the defense attorney said. I certainly get it. I know the judge didn't let it in. I will say, I'm very proud of everything I've done as LSU's head coach. I'm very proud of what we've done at LSU and I, or we, have never, ever done business of any kind with Christian Dawkins. That's what I'll say about that and we'll certainly move forward from there and I'll take any questions that relate to our team or our season."
A reporter then read back the transcript to Wade and wanted a yes or no on if he said that to Dawkins, and asked what Wade meant by "I can get you what you need, but it's got to work".
Wade wasn't wanting to respond.
"I addressed that in the statement and we'll move forward and try to talk about the team. I addressed that in the statement."
The reporter followed up- "That's not a yes or no. You're not going to say yes or no?"
"I addressed that in my statement and we'll move forward and talk about our team," Wade said.
Things were a little testy, but it's likely just the beginning for Wade. I could see a scenario where Wade could play the "I was just chatting with him, blowing smoke, just trying to keep things moving in the right direction" while saying he had no intent to pay players. I'm not sure if that would or wouldn't work for the NCAA. There would likely need to be evidence of payments made, but it's never a good look being caught on tape trying to ink a deal with Dawkins.
We'll see how it plays out for LSU, who was picked to finish sixth in the SEC and added several high level 2018 recruits.
Yet another dominoe in the class of 2019 is set to fall this week, as four-star forward Aidan Igiehon will be announcing his decision this Friday.
The 6-foot-10 big man out of Woodmere, N.Y. announced on Twitter this evening that he will make his college announcement at his high school on Friday at 12:15 p.m. ET.
"??????????" I guess it now comes down to making a choice. Decision day this Friday 12:00 at Lawrence Woodmere Academy. ?? pic.twitter.com/RuEsNM53Nu

— Aidan Harris Igiehon (@Big_harris22) October 17, 2018
Igiehon recently cut his list to four schools, with Kentucky joining Louisville, Oregon, and St. John's as the finalists.
John Calipari has yet to offer the four-star, and talks between both sides have been minimal over the last few weeks, at best. In fact, the four-star big man had a visit scheduled to Kentucky, but that fell through in favor of a visit to Louisville. Considering the obvious tea leaves and what analysts are saying, signs are pointing toward Igiehon committing to Louisville on Friday.
Kentucky big man target Oscar Tshiebwe will also make his decision this weekend, announcing his choice on Saturday at some point.
Final decision is coming up soon on October 20th???? and go show me love on instagram–oscartshiebwe???? pic.twitter.com/tiE6J6d3R5

— Oscar (@Oscartshiebw) October 10, 2018
Like Igiehon, momentum with Tshiebwe has stalled significantly, as most analysts believe the five-star center will be committing to West Virginia. Bob Huggins and the Mountaineer coaching staff has been building a relationship with Tshiebwe since he first came to the states several years back, and though Calipari made a solid push,  they feel the long-term relationship will win out in the end.
Two Kentucky targets will be off the board by the end of the weekend, and barring a major surprise, neither of them will end up in blue and white.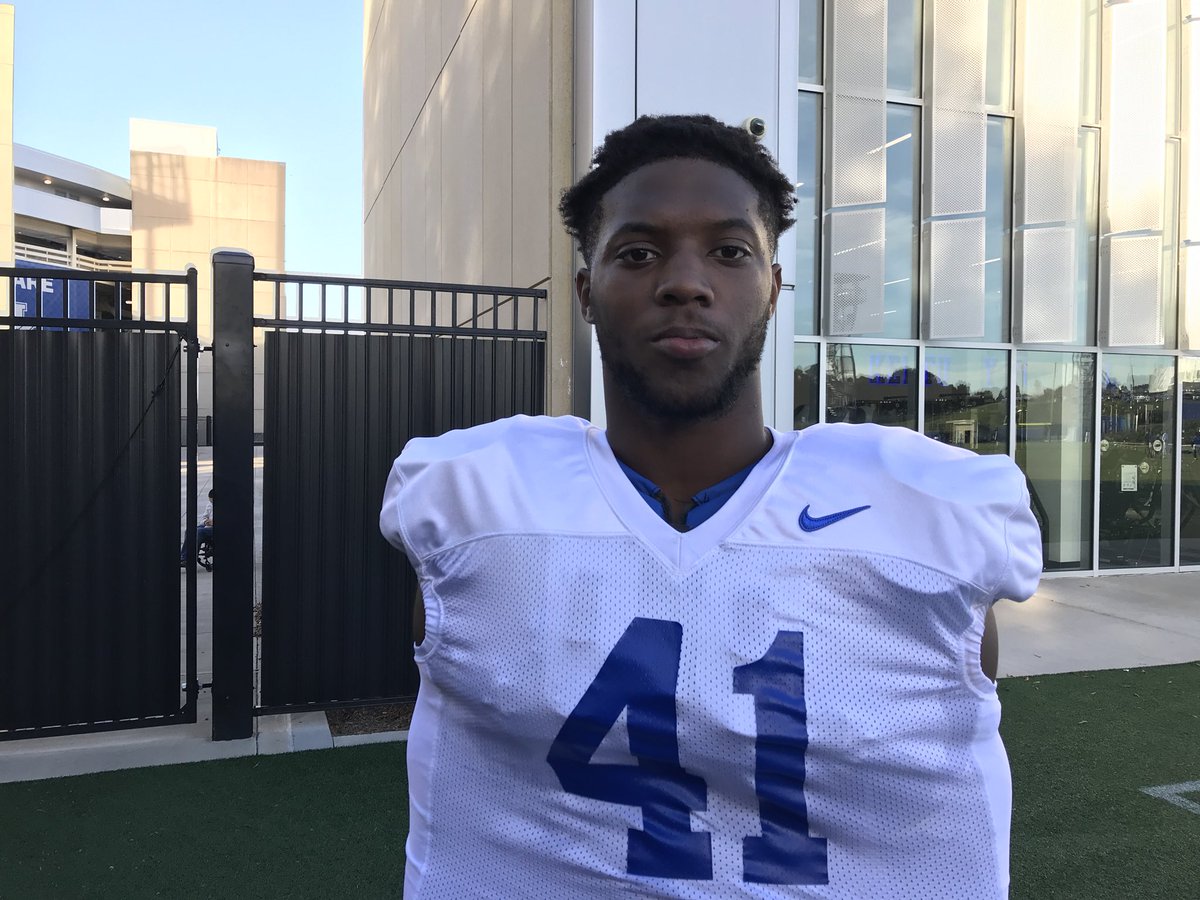 Kentucky's star edge rusher has dominated opponents all season.  The only thing slowing him down are the officials who refuse to throw flags for holding.  He might be slowed down if he takes a similar approach to stay warm Saturday night.
Here's what Allen and other members of the defense had to say after Wednesday's practice.
Strong Second Half
Allen had excellent numbers in the first half of the 2017 season, but they dove-tailed down the stretch.  One reason why he returned to play in 2018 was to prove he can be the best of the best for an entire season.
"I feel great right now," Allen said.  "This is one of the reasons why I decided to come back, to finish; start the season out good and finish even harder.  I'm here to prove a point that I can finish a whole season because last year I ducked off on my productivity.  I'm trying to double what I had in the first part of the season."
Letting a Loss Linger
After two days at practice, I've picked up on the vibe that the A&M loss is still weighing on the Wildcats, but in a good way. Coaches always urge their players to have a short-term memory, but that memory might be a good thing to hang on to if it throws fuel on the fire.
"It pissed us all off," Kash Daniel said.  "We knew how hard we worked throughout the season and in the weight room in the winter.  It came down to missed opportunities for us and that's something we'll never let slip through our fingers again."
"Vandy, we got something in store for 'em," said Derrick Baity.
The Cats have brought it everyday in practice.  The wait is the hardest part.
"The way we practiced between the past two byes has been completely different," said Daniel.  "This week it's a different mentality.  We came in with high energy, high focus and we're ready to play on Saturday."
Quarterback Baity?
I don't think so, Tim.
Coach Clink said Baity should be a center after DB's pass was picked pic.twitter.com/HaBR1p7tx6

— Nick Roush (@RoushKSR) October 17, 2018
After his touch football interception, Baity said, "quarterback's harder than it looks."  His position coach, Steve Clinkscale, told him he should've been playing center.
A Proud Big Brother
There are few things Kash Daniel loves more than boasting about Chris Oats.  Whenever he's asked about the true freshman linebacker, Kash cannot hide an ear-to-ear grin.
"I was really proud of Chris.  Chris is like my little brother.  I'm really excited to see Chris grow as a player, not only that, but as a man here.  He's a great kid and always fun to be around.  When he got his number called, he didn't flinch.  He was never anxious. He was never nervous. He would ask me questions to make sure he was on point when he was out there playing.  I think he stepped up and did a tremendous job for us and I can't wait to see him progress."
Communication: Major Key
Is 'Major Key' still a thing?  Is DJ Khaled still hip?  I can't keep up.  I digress.
UK's defensive numbers have been incredibly impressive, but there's still room to improve.  Over the bye week communication was a point of emphasis, one that should prevent big plays from Vanderbilt's explosive offensive playmakers.
"We gotta get our communication down better and make sure everyone is on the same page before the ball is snapped.  Ultimately I think that's more than half the battle when you're talking about limiting explosive plays."
Kash added: "Communication is key on defense.  If you're in a coverage and you ain't got the right checks from the secondary, you're not giving the right checks to the D-line or outside backers, it screws up the whole defense."
Are people throwing away from Baity?
The UK cornerback did not want to comment on the matter, which means, "Yes. Definitely yes."  Hear everything he had to say today:
We're still three days away from Kentucky's Saturday night matchup against Vanderbilt at Kroger Field.  After watching the latest hype video from KY Wildcats TV, I don't think I can wait that long.
"It's out house man. This is our house!" 
I could play that Kash Daniel clip on repeat for the next 72 hours.  If you don't have your tickets yet to the game, there are still good seats available at UKFootballTix.com.
The Four Horsemen of the CBS Sports College Basketball Apocalypse — Matt Norlander, Chip Patterson, Bill Self's good friend Gary Parrish and Kyle Boone — released their collective ranking of the 101 best players in college basketball and your University of Kentucky Wildcats didn't get the love you probably think they deserve.
I was on honored to make the list at No. 3, but only four Kentucky players were named, the highest being Reid Travis at No. 18. Here are the four:
18. Reid Travis | Kentucky | Senior | Forward

It almost seems unfair, right? Kentucky already gets some of the top talent in the country out of high school, and here we've got the Wildcats also adding a first-team all-conference talent with two years of experience as a team's primary scorer and rebounder as a graduate transfer. Travis' Stanford career was prolific enough to stack him up against the program's best, and now he's set to be a double-double machine leading the youngsters in Lexington.
29. P.J. Washington | Kentucky | Sophomore | Forward

Washington debated going pro, would have probably been drafted, but came back. That's a set of circumstances that normally doesn't materialize for Kentucky freshmen. Washington's a bit different from most, though. And he plays with great passion. Could be the team's leader, and we think he's going to be a monster alongside Reid Travis.
47. Keldon Johnson | Kentucky | Freshman | Guard

Effort, grit, intangibles and versatility are all what Johnson — a former five-star frosh — brings to the table for UK. He's going to make for one of the most overqualified true freshmen glue guys in the sport next season — and potentially more
69. Ashton Hagans | Kentucky | Freshman | Guard

While he might not have a lot of stat-padding performances, Hagans could prove to be one of the most important pieces of Kentucky's 2019 run. The 6-3 guard was the best player in the state of Georgia coming out of high school, but at Kentucky there's a chance his most impactful contributions will be as a perimeter defender and primary ball handler on offense.
Duke's RJ Barrett took the top spot. The rest of the list is rather laughable. See the whole thing here and then comment what you think about it.
Derek Mason's Vanderbilt defense will have their hands full this Saturday against Kentucky's Benny Snell.
The Kentucky running back that is stealing the hearts and souls of opponents will face the country's 96th-ranked rush defense.  This season the Commodores have surrendered on average 183.3 yards per game on the ground.  On the other side of the football Kentucky is just outside of the top 25 nationally with 223.5 rushing yards per game.
Through the first three games of SEC play, all losses, it would be an understatement to say Vanderbilt has struggled to defend.  If you include their other quality opponent, Notre Dame, they've given up on average 257.3 rushing yards in those four contests.
| | | |
| --- | --- | --- |
| Opponent | Total Rushing Yards | Yards per Carry |
| Notre Dame | 245 | 5.1 |
| South Carolina | 273 | 5.7 |
| Georgia | 219 | 6.4 |
| Florida | 292 | 4.6 |
If you break it down further the numbers are even more staggering.
Two Florida running backs had more than 100 rushing yards against Vanderbilt. Quarterback Brandon Wimbush was five yards away from giving Notre Dame two 100-yard rushers. The astronomical yards per carry are even more impressive when you consider Florida ran the ball 63 times, while Notre Dame and South Carolina each had 48 carries against the Commodores.
Even though the teams are different, it's also worth noting that Benny Snell averages 105 yards and 5.7 yards per carry in his career vs. Vanderbilt, including a three-touchdown performance last year in Nashville.
Based on numbers alone, Eddie Gran's game plan will be simple: run the freaking ball.
In the hours leading up to his impressive NBA debut, Oklahoma City Thunder rookie Hamidou Diallo signed a multi-year shoe deal with Under Armour, according to Nick DePaula of ESPN.
Oklahoma City Thunder rookie @HamidouDiallo has signed a multi-year shoe deal with Under Armour.

The high flyer will be wearing the new HOVR Havoc Low model to start the season. pic.twitter.com/LfGv0lYUJy

— Nick DePaula (@NickDePaula) October 16, 2018

Diallo scored four points during eight minutes of actions against the Golden State Warriors on Tuesday night, nailing a pull-up jumper and making a tough basket after being fouled near the rim while displaying tremendous amounts of hustle throughout his time on the court. With Russell Westbrook expected to miss a small amount of time and Andre Roberson expected to be out much longer, Diallo did a great job of establishing himself in game 1 and proving he deserves to soak up those extra minutes to start the season.
With the new shoe deal for Diallo, that brings the number of former Wildcats who have signed shoe deals this summer to, like, 700. DeMarcus Cousins (Puma), Kevin Knox (Puma), and Shai Gilgeous-Alexander (Nike) all signed shoe deals over the past couple months and now we can add Diallo to that list.
Tuesday sure was a hell of a day for Diallo.