Starving for football?  You can get your fix by re-watching Kentucky's 2007 upset of No. 1 LSU.
Ahead of the 2018 season, the SEC Network is re-airing classic SEC football games.  Kentucky will get the spotlight tomorrow at 3:00.  If you can't get to a television, set your DVR, or go through the following YouTube highlight reel from one of the most memorable UK football moments in the last 25 years.
Another Kentucky-LSU classic football game will air tonight at 9:00 on the SEC Network, but you'll want to turn it off after Guy Morriss gets a Gatorade bath and before the final play.
He did it! KSR's Fearless Leader, Matt Jones, is an Emmy Award winner.
At the Ohio Valley Emmy Awards Matt was honored as the Best Program Host for his work with Hey Kentucky!
On behalf of the entire KSR staff, Congrats Matt. We couldn't be more proud.
The Kentucky Football team's second preaseason scrimmage was only open to a few invited guests. We've heard what happened, but thanks to KY Wildcats TV we get to see some of the best moments from Kroger Field.
In the highlight reel you'll find a connection between Gunnar Hoak and C.J. Conrad. There are quite a few featured touchdowns. Terry Wilson found Brett Slusher for a score, A.J. Rose got into the end zone and Benny Snell celebrated a run with a slam.
Sight and sounds from today's ? scrimmage #UKCamp18 #GetUp pic.twitter.com/4q5KX5IMF1

— Kentucky Football (@UKFootball) August 18, 2018
This actually happened earlier this week, but David Bouvier's catch was too awesome not to share.
Practice #14 starts now. #UKCamp18 #GetUp pic.twitter.com/R4I0FmTZ4Y

— Kentucky Football (@UKFootball) August 18, 2018
---
It is no secret that bourbon dominates this state, but the craft beer industry is growing in Kentucky. I want to shed light on this amazing industry and what it means for Kentucky. 
The taste for craft beer is growing every day in this state.
Breweries are being opened in cities and areas that aren't named Louisville, Lexington or Northern Kentucky.
This is evident in Hopkinsville, Paducah, Henderson and Richmond, all "smaller" Kentucky cities with successful craft breweries.
And the taste for craft beer has found its way to Marshall County.
Jeff Swatzell opened The Dam Brewhaus, a tap house in the heart of Benton, Ky. in what he says was a "moment of insanity."
"Actually we started out the conversation about going to Graves County and of course, Graves County is still dry," Swatzell said. "But me and the other guy talking about going to Graves County said why don't you go to Marshall County. I never really thought of it."
So he went to Marshall County and opened The Dam Brewhaus. But, why a tap house and not a brewery? Like everything, it was cheaper.
"It started out as a microbrewery, the conversation, and then I went to Big Muddy in Murphysboro [Illinois] and he said don't brew it, just sell it."
"It's much cheaper to sell beer. Plus there's so much beer out there now. And we probably will start brewing in the future."
The Dam Brewhaus opened on April 28th, 2017 and Swatzell knew the people in the area only drank domestic beer, but he wanted to introduce people to the beer he loved.
What he didn't expect was how well people would take to craft beer.
"Actually shocked," Swatzell said. "Of course this is Bud Light, Busch Light country, but I think we've made good progress. Actually kind of caught me off guard. I didn't know what to expect either. And a lot of people don't know what to expect still about it. It's been an overwhelming response."
Swatzell said he's converted several customers from domestic beer to craft beer.
"There is a lot of people now who want to branch out. This is good, what's next? They want to take the next step from a light(er) beer on the craft side all the way up to the stouts, and the porters and bourbon barrel stuff. It's really quite shocking."
The success of The Dam Brewhaus has to do with more than just introducing people to craft beer. The people of Benton and Marshall County are proud to have a place like this in their city and county.
"It's such a unique atmosphere," Swatzell said. "It's not the bar scene, plus the craft beer is not really a bar scene anyway, per say. It's the atmosphere mostly. A place to socialize and drink a good beer."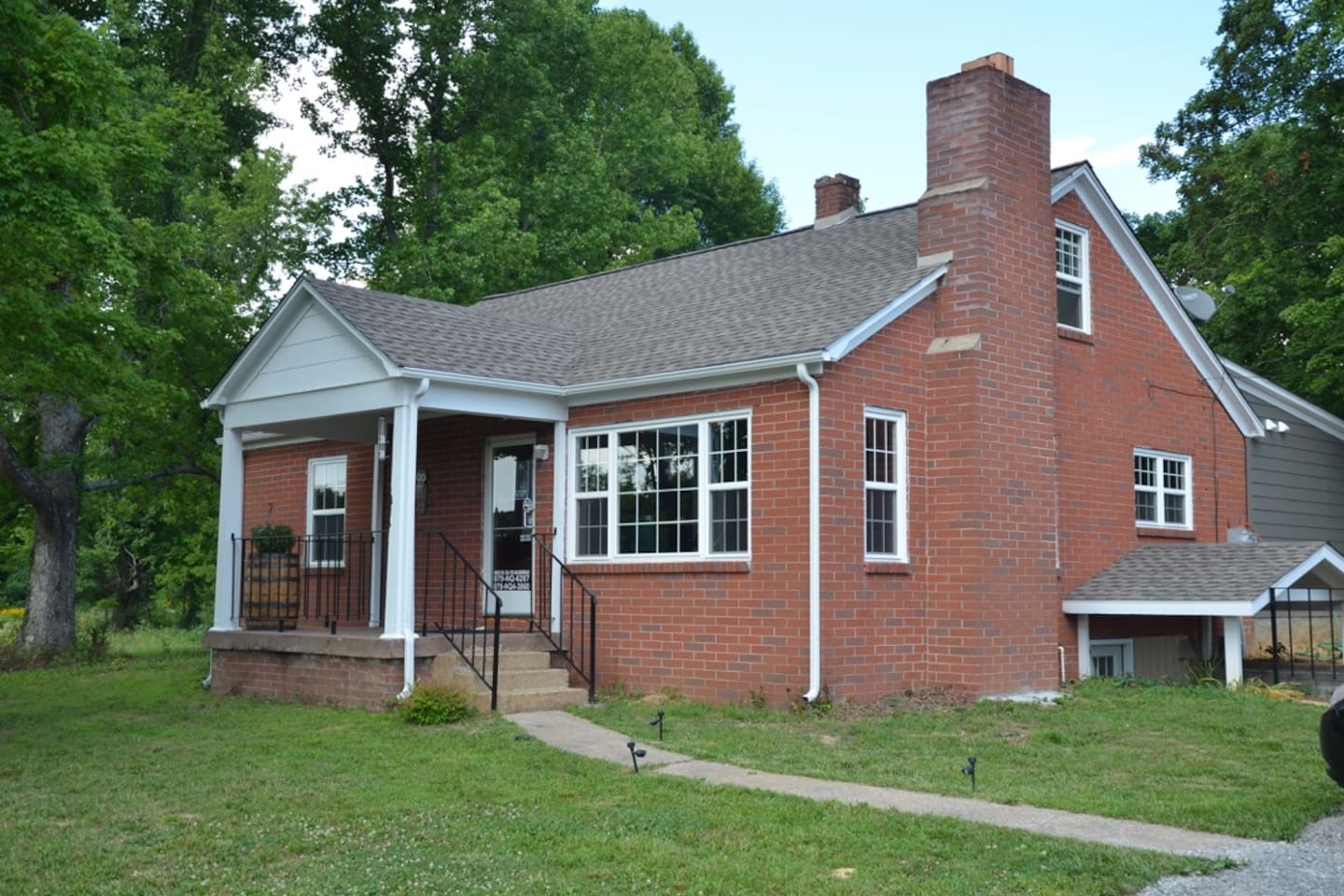 When you drive up to The Dam Brewhaus, you might think you've made a wrong turn. You haven't. From the outside, it looks like a regular house. But on the inside, it looks like a place you can spend a whole afternoon or evening drinking craft beer with friends and family.
Instead of tearing the building down, which was the original plan, Swatzell decided to completely demo the inside. He succeeded because the inside is awesome and a place you'd want to have a beer or try a new one. 
Whether you're a craft beer veteran or a newbie, you need to visit The Dam Brewhaus. With 22 beers on tap, you are guaranteed to find one you'll like.
"People walk in and see 22 taps and ask, "What's good?" Well, they're all good," Swatzell answers each time.
---
1894 US-641
Benton, KY 42025
Karl-Anthony Towns can do it all.
The former Kentucky forward is an NBA All-Star, Celebrity Softball Homerun Derby Champion, golfing extraordinaire and he's also pretty good at soccer.
While vacationing in Spain, Towns toured Atletico Madrid's facilities.  The club was kind enough to give him a jersey before he challenged Antoine Griezmann to a friendly competition.  For a big guy, Towns has fancy feet.  He was good enough to sneak a ball past the French forward who is fresh off a World Cup victory.
Karl Anthony Towns challenged freshly baked World Cup winner Antoine Griezmann to a penalty shootout. Hilarity ensued. pic.twitter.com/3qSKeOtjK9

— FOX Sports (@FOXSports) August 18, 2018
This week former Kentucky Wildcat Danny Trevathan had a reunion of sorts in Denver.  The Bears traveled west to camp with the Broncos, and the NFL films crew was there to capture the moments' Travathan shared with his former team.
It does not take long to realize that Trevathan enjoys singing, preferably Nelly or DMX.  There are a couple of great lines like, "He was dead. Oh, he was dead."  But the best moment came when Trevathan and Von Miller realized they were both mic'd up at the same time.
.@Grindin_59 is back in Denver and ?? up for the reunion.

Mic'd Up is brought to you by @PNCBank. #MakeTodayTheDay pic.twitter.com/BAZHxxcESF

— Chicago Bears (@ChicagoBears) August 17, 2018
Mark Stoops was in a pretty good mood after Kentucky's second preseason scrimmage.  Kash Daniel was not.  See what everybody had to say after a day of work at Kroger Field.
Kentucky's quarterback competition could soon come to a close.  The battle between Terry Wilson and Gunnar Hoak has produced few headlines around the Commonwealth, but Mark Stoops is almost ready to select a starter.
"I think we have to settle in and see where we're going to go," Stoops told the media after today's scrimmage.  "We'll zero in on that probably when we get closer to the Monday of game week."
Stoops indicated after the spring game that both Hoak and Wilson could play in the season-opener against Central Michigan.  Neither quarterback has game experience and the head coach wants to see how they react under the bright lights.
"Until those guys get under center and get playing and get those game reps, you're a bit unsure," he said before training camp. "I think it's fair to both of those guys to give them an opportunity because it's very close at this time."
Since the start of training camp, the quarterbacks have had plenty of chances to prove themselves.  They received even reps during today's scrimmage.  The film from today will dictate how they are split in the future.
"We wanted to wait with totally open minds through this scrimmage and give them all an equal opportunity.  We were very close on the snaps; I think we were about dead even with Terry and Gunnar.  We have to look at this film.  They both did some good things today.  I think the offense in general moved the ball pretty good."
Sources tell KSR the coaches are going to love what they saw on film from Terry Wilson, who had his best performance to date.  It could be what puts Wilson under center first on September 1.
Regardless of what was said or done today, I still expect both QBs to receive reps vs. Central Michigan.
Following Kentucky's second preseason scrimmage, Mark Stoops had good news to deliver: nobody suffered a significant injury in the scrimmage.  However, that doesn't mean the Cats are completely healthy.
At the midway point in training camp, the bumps and bruises are piling up.  Jordan Jones' shoulder is no longer a problem, but he has a few other nagging injuries that have kept him out of the action.  The players who the Cats must turn to without Jones in the lineup are also dealing with minor soft tissue injuries.
"We're getting very thin at certain positions, nothing that should last more than a few days this week, but we're getting a little thin defensively," Stoops said.
Overall, Stoops was pleased with how his team responded in scrimmage No. 2, especially the offense. More from Kroger Field soon.
Nick Roush is live from a rainy Kroger Field after Kentucky's Saturday scrimmage. Watch in the video below and follow KSR on Facebook for more.