There have been plenty of big games in the Mark Stoops era, but the biggest may be Kentucky's win over Mississippi State in 2016. Yesterday on The Paul Finebaum Show, ESPN college football reporter Marty Smith said Stoops told him he knew he had to beat Mississippi State or he'd be fired.
The quotes, via 247 Sports's Derek Terry:
"What about what Mark Stoops said about winning? There was a crossroads in 2014 (it was actually 2016), he told us, he knew — what game was it? (Mississippi State) either I'm winning or I'm fired. He knew it. I'm winning or I'm fired."
Finebaum agreed, recalling how anxious Stoops was on set of SEC Nation that day.
"We were up there that weekend and he came by the show. I'm not going to use any cliches about how tight he was, but he was like sweating the day before because you couldn't avoid the subject. He barely won that game."
Kentucky started that season 0-2 with losses to Southern Miss at home and Florida in Gainesville. The Cats were 3-3 heading into the Mississippi State game, but desperately needed a win to keep bowl hopes alive; thanks to Austin MacGinnis' 51-yard field goal as time expired, they got it.
Forget Christmas cards; MacGinnis better get a present every year from the Stoops family.
Listen to Marty Smith, Ryan McGee, and Paul Finebaum discuss the moment below around the 10:30 mark:
Good morning, friends, and welcome to the Wednesday edition of Kentucky Sports Radio. Today, Matt and the gang are in studio to prepare for Matt's run in the Barbasol PGA Pro-Am. Tune in to hear them discuss how Matt stacks up with the competition, which includes Tubby Smith, John Michael Montgomery, Rick Dees, Mark Stoops, Eddie Gran, Jacob Tamme, and LPGA rookie Emma Talley.
Today's show was scheduled to be in Prestonsburg, but had to be postponed due to the Pro-Am. The KSR Summer Tour picks back up tomorrow in London:
7/19 – London – Shiloh Steakhouse – 218 Russell Dyche Memorial Hwy
7/20 – Lexington – Barbasol Championship
Remember, if you go to four tour stops, you'll be entered into the drawing for the Bahamas trip. For a complete list of tour stops, click here.
Join in on the fun by calling (502) 571-1080 or send a text to the KSR Texting Machine at (859) 300-3264.
MARKET
CALL LETTERS
DIAL
TIME
Ashland
WCMI
93.3 FM T
LIVE
Ashland
WCMI
1340 AM
LIVE
Benton
WCBL
1290 AM
LIVE
Bowling Green
WBGN
1340 AM
LIVE
Bowling Green
WBGN
107.9 FM T
LIVE
Campbellsville
WTCO
1450 AM
LIVE
Columbia
WAIN
1270 AM
LIVE
Cynthiana
WCYN
102.3 FM
LIVE
Danville
WHIR
1230 AM
LIVE
Elizabethtown
WIEL
1400 AM
LIVE
Elizabethtown
WIEL
106.1 FM T
LIVE
Henderson/Evansville
WREF
97.7 FM
LIVE
Glasgow
WCLU
1490 AM
LIVE
Grayson
WGOH
1340 AM
LIVE
Grayson
WGOH
100.9 FM T
LIVE
Greenup/Ashland
WLGC
105.7 FM
LIVE
Harlan
WTUK
105.1 FM
LIVE
Hopkinsville
WHOP
1230 AM
LIVE
Hopkinsville
WHOP
95.3 FM T
LIVE
Irvine
WIRV
1550 AM
LIVE
Jamestown
WJKY
1060 AM
LIVE
Lancaster
WZXI
1280 AM
5-7 PM
Lancaster/Stanford
WZXI
95.5 FM T
5-7 PM
Leitchfield
WMTL
870 AM
10A-12N CST
Lexington
WLAP
630 AM
LIVE
London
WFTG
1400 AM
LIVE
London
WFTG
106.9 FM T
LIVE
Louisville
WKJK
1080 AM
LIVE
Madisonville
WFMW
730 AM
LIVE
Madisonville
WFMW
94.9 FM T
LIVE
Manchester
WXXL
1450 AM
LIVE
Maysville
WFTM
1240 AM
LIVE
McKee-Booneville
Peoples Rural Telephone
Cable TV Channel 209
LIVE
Monticello
WKYM
101.7 FM
LIVE
Morganfield
WUCO
1550 AM
LIVE
Morganfield
WUCO
98.5 FM T
LIVE
Murray
WNBS
1340 AM
LIVE
Owensboro
WLME
102.7 FM
LIVE
Paducah
WPAD
1560 AM
LIVE
Paducah
WPAD
99.5 FM T
LIVE
Paintsville
WKYH
600 AM
LIVE
Pikeville
WLSI
900 AM
LIVE
Pikeville
WLSI
95.9 FM T
LIVE
Prestonsburg
WPRT
960 AM
LIVE
Prestonsburg
WPRT
104.5 FM T
LIVE
Somerset
WSFC
1240 AM
LIVE
Whitesburg
WTCW
920 AM
LIVE
Whitesburg
WTCW
95.1 FM T
LIVE
Whitley City
WHAY
98.3 FM
LIVE
Williamson, WV
WBTH
1400 AM
LIVE
Williamson, WV
WBTH
102.5 FM T
LIVE
50 Radio Affiliates
37 Markets
1 TV/Cable Affiliate
*Affiliates subject to change without notice
Good morning, friends of Big Blue Nation and everyone else joining us from our rival fan bases. It is yet another exciting day here at Kentucky-Sports-Radio-dot-com with more coverage from SEC Media Days, PGA TOUR golf in Lexington, and much, much more.
So let's get to it.
One more day until the Barbasol Championship!
Matt Jones to play in the Barbasol Pro-Am.
Our own Matthew Harper Jones will be a celebrity guest in the Pro-Am at the Barbasol Championship this afternoon. Matt's group will also feature Tubby Smith, Rick Dees and John Michael Montgomery; other celebrity Pro-Am guests will include Mark Stoops, Eddie Gran, Jacob Tamme and LPGA rookie Emma Talley. Matt is set to tee off at 12:53 p.m. off of hole No. 10.
Watch the trailer for Jared Lorenzen's E:60 special.
ESPN will air "The Hefty Lefty," its E:60 special on Jared Lorenzen, for the first time at 9 a.m. this coming Sunday.
.@JaredLorenzen22 aka "The Hefty Lefty" was a legend at @UKFootball. Now he's in the fight of his life. pic.twitter.com/M5kcHMWsZ5

— E:60 (@E60) July 17, 2018
Set your DVR.
PJ Washington is finally able to practice.
Kentucky has been without its best returning player, PJ Washington, since the team began working out and practicing last month. Washington was sidelined with his pinky finger in a cast following offseason surgery to repair an injury he suffered last season.
But now Washington is back on the court to make up for lost time as the team's trip to the Bahamas gets closer and closer.
Excellent news.
SEC Media Days continue.
Today's schedule
8:30 a.m. – 8:40 a.m.: David Fletcher, Football Bowl Association
8:40 a.m. – 8:55 a.m.: Bill Hancock, Executive Director College Football Playoff
9 a.m. – 1:15 p.m.: Mississippi State and Tennessee
1:30 p.m. – 5:45 p.m.: Alabama and Missouri
Walmart's Twitter account clapped back at a Tennessee fan.
Did you see Dan Mullen's shoes at SEC Media Days yesterday? He wore a custom-made Florida Gators pair of the Levi's x Jordan 4s.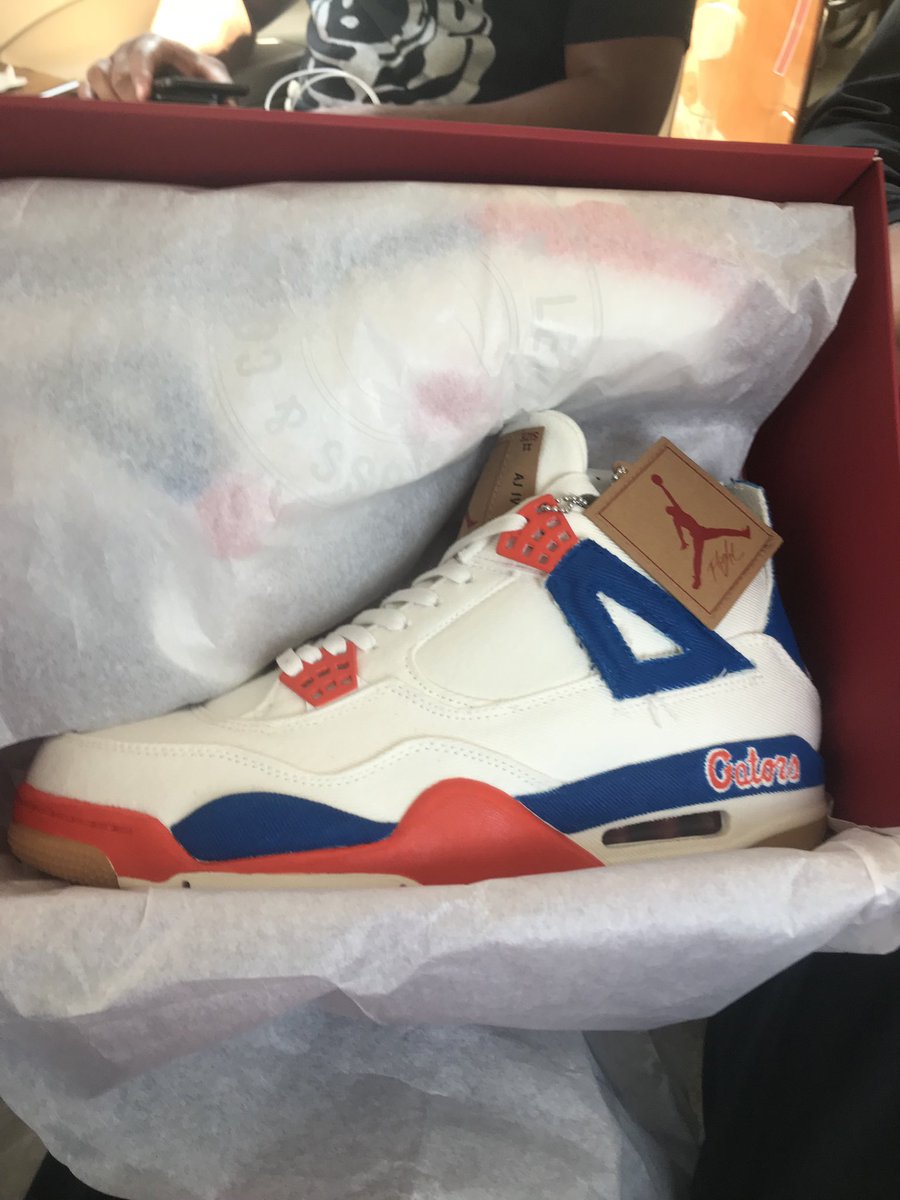 Well, a popular UT Twitter account responded by saying, "Only Florida's colors and logo could make an iconic shoe look like it came from a bin at Walmart."
The actual Walmart then joined the conversation with a clip Florida's hail mary victory over the Vols.
Speaking of pulling things out of a bin: https://t.co/yulLwf418j

— Walmart (@Walmart) July 17, 2018
KSR is IN STUDIO (not in Prestonsburg) today.
The KSR summer tour remote at StoneCrest Golf Course has been postponed and we will be doing the show in studio in Lexington today. So if you were planning to meet us in Prestonsburg, don't do that. We'll be there at a date to be named later.
Great news from the Joe Craft Center: PJ Washington has returned to practice.
CoachCal.com just shared this video of PJ participating in drills, the first time he's been back in action since undergoing surgery to repair a broken pinky last month:
Welcome back, @PJWashington.

??? pic.twitter.com/MH9jvgHaSV

— CoachCal.com (@CoachCalDotCom) July 17, 2018
That jumper looks pretty good, too:
Nice to have No. 25 back on the court. #DreamBig #All40 pic.twitter.com/V7tPC9bP2A

— Kentucky Basketball (@KentuckyMBB) July 17, 2018
I'm sure he'll need to knock off the rust, but this bodes well for PJ playing in the Bahamas.
UPDATE: PJ chatted with TJ Beisner about his first practice back.
Here's what sophomore forward @PJWashington had to say about returning to practice tonight.

Listen to the "Behind Kentucky Basketball" podcast for more insight into PJ's first practice with the team. pic.twitter.com/zuJ7E7DTz4

— CoachCal.com (@CoachCalDotCom) July 17, 2018
The one and only Big Mick is a meaty masterpiece in its own right. Composed of two quarter-pound patties* of never-fresh, frozen, mostly beef raised close to the processing plant. Only McDowell's has the frosted beef and processed cheese to give you a major reason for the afternoon trip to the secret bathroom only you and Debra know about on the 9th floor that is under construction.

---
You can be a part of McDowell's KSR Top 10 Tweets by using hashtags like #KSR #BBN or #KSRtop10. You can also nominate tweets by mentioning them with the hashtag. If we like what we see, it could be posted the next day.
If you are interested in sponsoring KSR's Top 10 Tweets, please contact us at Via Email.
#10 New York Knox
Time to do a poll @DrewFranklinKSR pic.twitter.com/gz4cuNDBP3

— New York Knox (@univerky) July 17, 2018
Who ya got?!
#9 LCE
Glad @KySportsRadio did not get the final call on hanging TVs, otherwise they would all be on the floor leaning against the wall!! #BBN #KSRTop10

— LCE (@healthlawatty) July 17, 2018
You're not wrong.
#8 Shawn Perry
Birthday present! #BBN #KSR pic.twitter.com/ykKaX90s5D

— Shawn Perry (@REALSHAWNPERRY) July 16, 2018
Awesome.
#7 Jaime
Great question on #KSR what is your favorite announcer call all time for a UK basketball game #BBN
"The Comeback Cats can't be denied" or the call on @CameronMillz duke shoot

— Jaime ???? (@Treestand_tweet) July 17, 2018
"For the eighth time, college basketball's National Championship trophy is coming home to Kentucky!"
#6 Ray J. Vaske
@KySportsRadio @DrewFranklinKSR @Drake trying to make that awful orange look cool…#BBN #KSRtop10 #Finesse https://t.co/IK8AJl0yp4

— Ray J. Vaske (@outRAGEous02) July 17, 2018
Even Drake looks bad in that shade of orange.
#5 Emily Fry
— Emily Fry (@emilyrosefry) July 17, 2018
Every reference to The Office gets included in the Top 10 Tweets.
#4 zacada
@KySportsRadio @ryanlemond @DrewFranklinKSR pic.twitter.com/g35cEtaZmY

— zacada (@zacada28) July 17, 2018
Well that's… an interesting look for Shannon.
#3 Wes Ledford
Is that @ryanlemond on that lunchbox? @ShannonTheDude @DrewFranklinKSR pic.twitter.com/mgVr4eROaZ

— Wes Ledford (@wesledford) July 17, 2018
We're all still waiting for Ryan's hair to grow back like this.
#2 Cayden Hacker
@DrewFranklinKSR can we get some photoshops plzzzzzzzzzz? https://t.co/xxCXjCmLMD

— Cayden Hacker (@Cayden5000) July 17, 2018
DREW! PLEASE! WE NEED YOU!
#1 Jeff Puckett
Jackson Mitchell Baber – Newest member of BBN. #KSRTOP10 #BBN pic.twitter.com/8HqtMuw7qW

— Jeff Puckett (@WJeffPuckett) July 16, 2018
Well this is the cutest thing I've ever seen.
---
Doron Lamb is one of the best three-point shooters in Kentucky history. And according to SLAM Magazine, he's one of the best basketball players in New York City history.
SLAM named the 60 best basketball players to ever come out of the Big Apple today and Doron Lamb made the cut. The players are not ranked, but this is the short snippet about Lamb.
Doron Lamb

Lower East Side native Doron Lamb started his high school career at Bishop Loughlin in Brooklyn. He put up 22 a game as a sophomore, catching the eye of Oak Hill Academy. He left New York to finish high school, finding his way to Kentucky as a collegian. He won a National Championship in 2012.
Now seems like a good time to revisit Lamb's two years in Lexington. His title game in 2012 is one of the more underrated performances in a big game.
Editor's Note: The following was written by Harold Leeder, editor-in-chief of The New Circle Circular, Lexington's #1 source of fake news you can't count on.
University of Kentucky Athletic Director Mitch Barnhart held a joint press conference with Former President and current Czar of Tennessee Al Gore where Barnhart announced that, despite all of the evidence uncovered by people showing Tennessee with checkerboard uniforms long before UK made the switch, Tennessee had no involvement in the checkerboard uniforms introduced a few years ago.
With the checkerboards being such a bad idea, Tennessee would seem to be an easy scapegoat for the error. However, Mitch and others claim it's not an error at all, let alone the fault of Tennessee. "I asked Mr. Gore if he tricked us into using the checkerboards so they [UT] wouldn't look as dumb wearing them and he said they didn't do it and they've never even worn checkerboards," Barnhart said. "They had nothing to do with the checkerboards, they were all my idea and, frankly, everyone loves them."
When presented with pictures of Tennessee utilizing the checkerboard design in the past Barnhart simply said: "those aren't checkerboard, those are chessboard." Barnhart went on to explain that Chess represented Tennessee because it is a game with a long history and is played by the top minds in the game whereas checkers represented Kentucky because our strategy in football has largely been centered around wildly jumping over people and getting to one end of the field and stacking players on top of one another for some reason.
UK officials were reportedly disturbed to hear Kentucky thrown under the bus but planned to do nothing about it.
To keep up with The New Circle Circular, like the Facebook page or follow Harold Leeder's Twitter Account.
A big congratulations to Jonny David and Dillion Pulliam, who were honored by the National Association of Basketball Coaches for their outstanding academic achievements following the 2017-18 season. The NABC recognizes students who are juniors or seniors (what are those?) with a GPA of 3.2 or higher.
Pulliam left the program this past May to pursue a master's degree in electrical and computer engineering at Carnegie Mellon. He graduated from UK with a 4.0 GPA and gave up a final year of athletic eligibility to begin the next phase of his education.
David is back this year as the old man on the team. He is a three-time member of the SEC Academic Team and is slated to graduate in May of 2019 with a degree in kinesiology.
Go Cats.
Kevin Knox hasn't been a New York Knick for even a month and he's already collecting honors. This evening, Knox was named All-NBA Summer League First Team after averaging 21.3 points, 6.5 rebounds, and 2.3 assists over four games in Las Vegas.
Knox turned heads early and often in the Summer League, using the rim as his own personal chin-up bar and scoring from multiple spots on the floor. Knicks fans that booed the team for selecting him on draft night quickly changed their tune as he asserted himself as one of the most impressive draftees. Aaron Torres believes he could be the steal of the draft:
Kevin Knox is Shaping Up To Be the Steal of the 2018 NBA Draft
Even though Knox's run in the Summer League ended last Thursday, he stuck around over the weekend to watch games:
Knox was the only former Kentucky player to earn Summer League honors. He's joined on the First Team by Wendell Carter Jr. (Chicago), Collin Sexton (Cleveland), Christian Wood (Milwaukee), and Josh Hart (Los Angeles Lakers), who was named Summer League MVP.
Enjoy his highlights below:
[NBA.com]
In the middle of the madness on day two at SEC Media Days, I took a little break to wander through the spacious College Football Hall of Fame in Atlanta.  Even though they say Kentucky isn't a football school, the Cats are all over the Hall.
Just beyond the grand entrance of helmets, Tim Couch's jersey is displayed for the special occasion.  On the ballot for the second consecutive year, it's only a matter of time before his No. 2 has a permanent home at the Hall of Fame.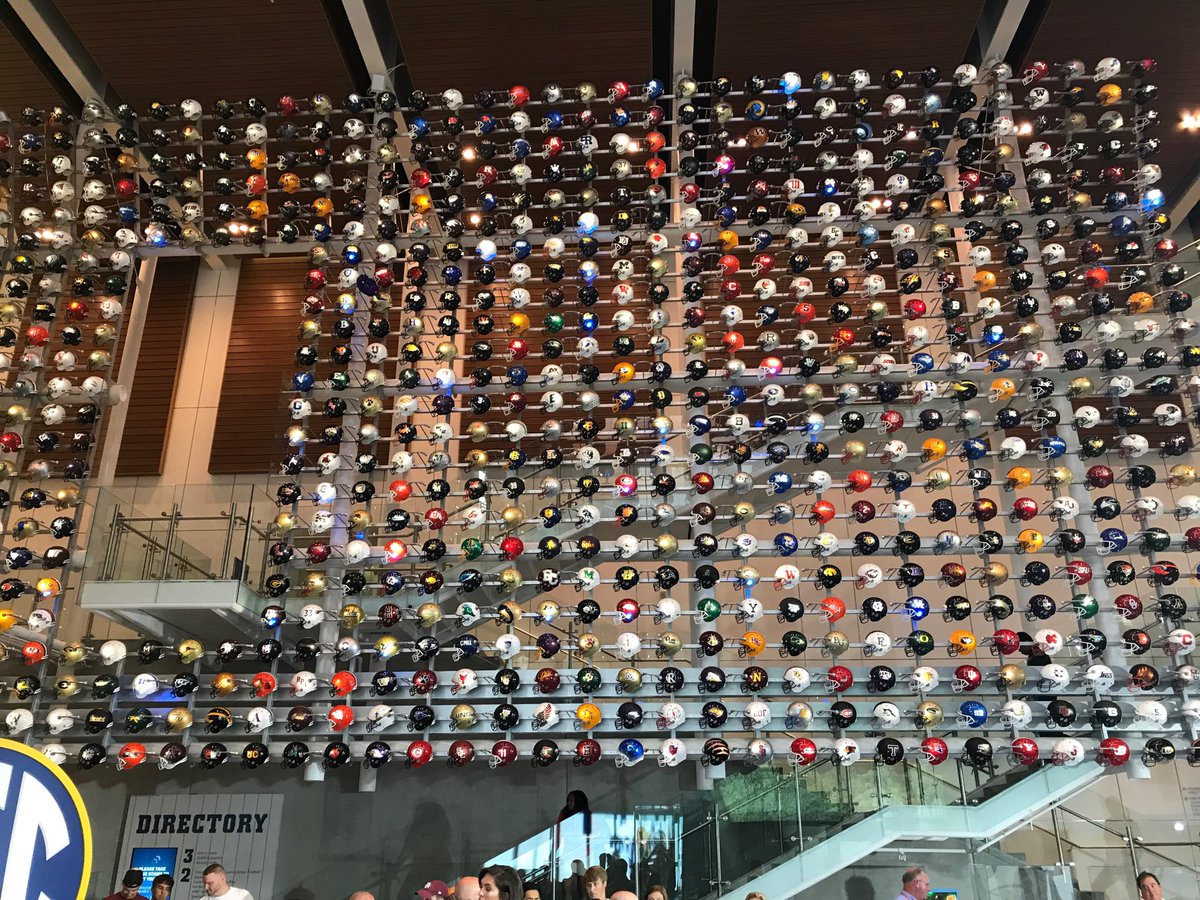 Up the stairs behind the wall of helmets is the rotunda.  Interactive displays allow you to learn about the more than 1,000 Hall of Famers.  A simple search of Kentucky will lead you to this:
After clicking on a player, you'll find archived photos and videos, like these:
There are interactive exhibits at the CFB HOF where you'll find the best of the #BBN pic.twitter.com/oYWFnjshwC

— Nick Roush (@RoushKSR) July 17, 2018
I have a few players from the 80s will love seeing Jerry Claiborne's highlight reel pic.twitter.com/wUScg9G3RJ

— Nick Roush (@RoushKSR) July 17, 2018
After spending time in the rotunda, the stairs take you through the heart of the museum that is filled with theaters, more interactive exhibits and tons of relics from the past, like these trophies.  Did you know there's a MacArthur Award, named and designed by the WWII general, given to college football's best team after each year?  I had no idea.