Alabama, Ohio State, Georgia, Clemson, LSU, Notre Dame, Stanford, Oklahoma, West Virginia, and… Kentucky?
You got it.
Sports Illustrated released their latest week-four top-ten (plus one) rankings, and your Kentucky Wildcats found themselves right there in the pack of elite at No. 10 in the nation. Yes, seriously. No. 10.
They couldn't help but mention star running back Benny Snell when justifying their ranking for the Cats:
The Wildcats certainly looked for real on Saturday against a very talented Mississippi State team. Benny Snell carried 25 times for 165 yards and four touchdowns and then responded to the previous week's Twitter beef with Mississippi State players with some solid Photoshop work.
I SPEAK FACTS. #bbn pic.twitter.com/tpI62Yks7i

— Mr SNELL YA LATER?? (@benny_snell) September 23, 2018
Arguably the second-biggest star of the day, Josh Allen, received high praise, as well.
Meanwhile, Kentucky linebacker Josh Allen was virtually unblockable. He had six tackles, including two for loss, and blew up Mississippi State plays all night. The Wildcats next face South Carolina, a team they've beaten in four consecutive meetings. Still, the Gamecocks can knock Kentucky back into the ranks of the unranked if the Wildcats aren't prepared.
We'll have the official updated rankings later today. Until then, enjoy seeing your Wildcats sitting right next to the best of the best.
With the way they played last night, they deserve it.
Yes, Benny Snell was an absolute monster last night against No. 14 Mississippi State. But I think the BBN is in agreement: the defensive performance is what sealed the deal for a Wildcat victory. The defense was strong, efficient and just plain nasty. Here's how they did it.
Limiting the rushing yards
Everyone knew Mississippi State's quarterback, Nick Fitzgerald, was entering the game as a real threat, especially on the ground. He's known for his ability to cut through an opponent's defense on a keeper, while Kentucky was (past tense!) known for not always knowing how to handle a dynamic, running quarterback. Not last night. Fitzgerald held onto the ball 16 times for a total of just 20 rushing yards.
But it wasn't just Fitzgerald who had trouble running against this Kentucky defense. Mississippi State's entire offense struggled, finishing with just 56 rushing yards on 28 carries. Coming into the game, the Bulldogs were averaging 311.7 rushing yards per game.
That's the strongest performance from Kentucky's defense in quite a while. Mississippi State's 56 rushing yards is the fewest the Cats have allowed from a ranked opponent since our friends the Louisville Cardinals had just 55 back in 2002.
Another strong second half
The defense was absolutely smothering in the back half of the game, holding Mississippi State to just 53 yards of total offense in the second half. That number is ridiculous, so let me say that again: Kentucky held Mississippi State to just 53 yards of total offense in the second half. 
For the fourth time in four games, the Cats allowed zero points in the third quarter. In years past, the third quarter was often a weak spot for the Cats, something they'd just have to get through while fans hoped the fourth quarter would be better. Not anymore.
Mark Stoops acknowledged the team's massive improvement in second-half performance, crediting much of the success to Kentucky's strength and conditioning coaches. To compete in the SEC, "you better be able to man up and you better be physical and you better be able to play four quarters."
The Cats absolutely did that last night.
How could I not say something about Josh Allen?
KSR has had plenty of Josh Allen coverage over the past several hours, but I'd be a fool to not include him and his statistics on this list. The senior linebacker was dominant against the Bulldogs, finishing with six tackles, two tackles for loss, a quarterback sack, a pass breakup and a quarterback hurry. That's not to mention the constant threat he presented to Mississippi State's offense or the sheer energy he brought to Kentucky's defense.
Josh Allen put it simply after the game: "they couldn't block me." Man, was he right.
He now has 17.5 career quarterback sacks, placing him fourth on UK's career list (tied with Jeremy Jarmon).
Coach Stoops praised him after the game.
"He is a dominant football player… He was so big and long, he was disruptive in the pass game as well. He's a dynamic player and he was very hard to block tonight. He's a great football player."
The best part about Allen? "He is so happy for the team."
"It's not 'he's going to get his and he's doing what he has to do,' but it's about the team," Stoops said. "It's about having success, and that's the way all these guys are."
---
Last night's win over Mississippi State was amazing, and if you're like me, the first thing you wanted to do when you woke up was relive it. Here are 10 of my favorite videos from Kentucky's 28-7 total domination of the No. 14 Bulldogs to keep the good times rolling.
When Mississippi State saw Benny Snell coming in and put in practically a whole new defense:
"Quick, quick, put in the Benny defense!" pic.twitter.com/ZENX4q3jFs

— Tyler Thompson (@MrsTylerKSR) September 23, 2018
And it still didn't work:
Benny's reaction when the touchdown call was confirmed:
Benny after his record tying touchdown is confirmed pic.twitter.com/wFZWONHSWh

— Tyler Thompson (@MrsTylerKSR) September 23, 2018
Mitch Barnhart in the fourth quarter:
We are all Mitch Barnhart here. pic.twitter.com/9VCAy6pM9j

— Tyler Thompson (@MrsTylerKSR) September 23, 2018
That was right before Tyrell Ajian's big pick.
Benny smiling at fans on the jumbotron:
Waking up with that 4-0 @UKFootball feeling! pic.twitter.com/0NXNj3YRLx

— KYwildcatsTV (@KYwildcatsTV) September 23, 2018
We are all @benny_snell too pic.twitter.com/dkynP5d7Ff

— Tyler Thompson (@MrsTylerKSR) September 23, 2018
Benny and Josh Allen embracing on the sideline:
When you see your bestie at the end of a very good night pic.twitter.com/O3Mjzr8hDY

— Tyler Thompson (@MrsTylerKSR) September 23, 2018
Stoops in the locker room afterwards:
? 4-0 pic.twitter.com/huyOgMAw52

— Kentucky Football (@UKFootball) September 23, 2018
Benny signing autographs and taking pictures with fans afterwards:
The #BBN loves Benny and Benny loves the #BBN. #SnellYeah

Posted by Kentucky Wildcats on Saturday, September 22, 2018
Kash Daniel on if he feels bad for Mississippi State:
Kash Daniel on if he feels sorry for Mississippi State's left tackles: "I didn't feel sorry for any of them. I hope they're all crying. I hope they're all slobbering. I hope their girlfriends broke up with them." @KashDaniel15 pic.twitter.com/rN13LIBv9E

— Tyler Thompson (@MrsTylerKSR) September 23, 2018
Savage.
The KSR Shop and Kentucky Branded are here to help you celebrate Kentucky's huge win against Mississippi State. Head to ShopKSR.com to receive up to 30% off anything blue or white. Now is the perfect time to stock up on KSR gear, UK tees, and more.
Go Cats.
[KSR Shop: 30% off blue/white sale]
Last night was a program-changing night for Kentucky, with their 28-7 victory over 14th ranked Mississippi State. So, what would be a better way to kick off your Sunday recovery day then reliving how great last night was? Before you head on into church or settle yourselves in for NFL football all day, relive the best moments from last night on this beautiful Sunday Morning.
Benny Snell Broke Randall Cobb's Record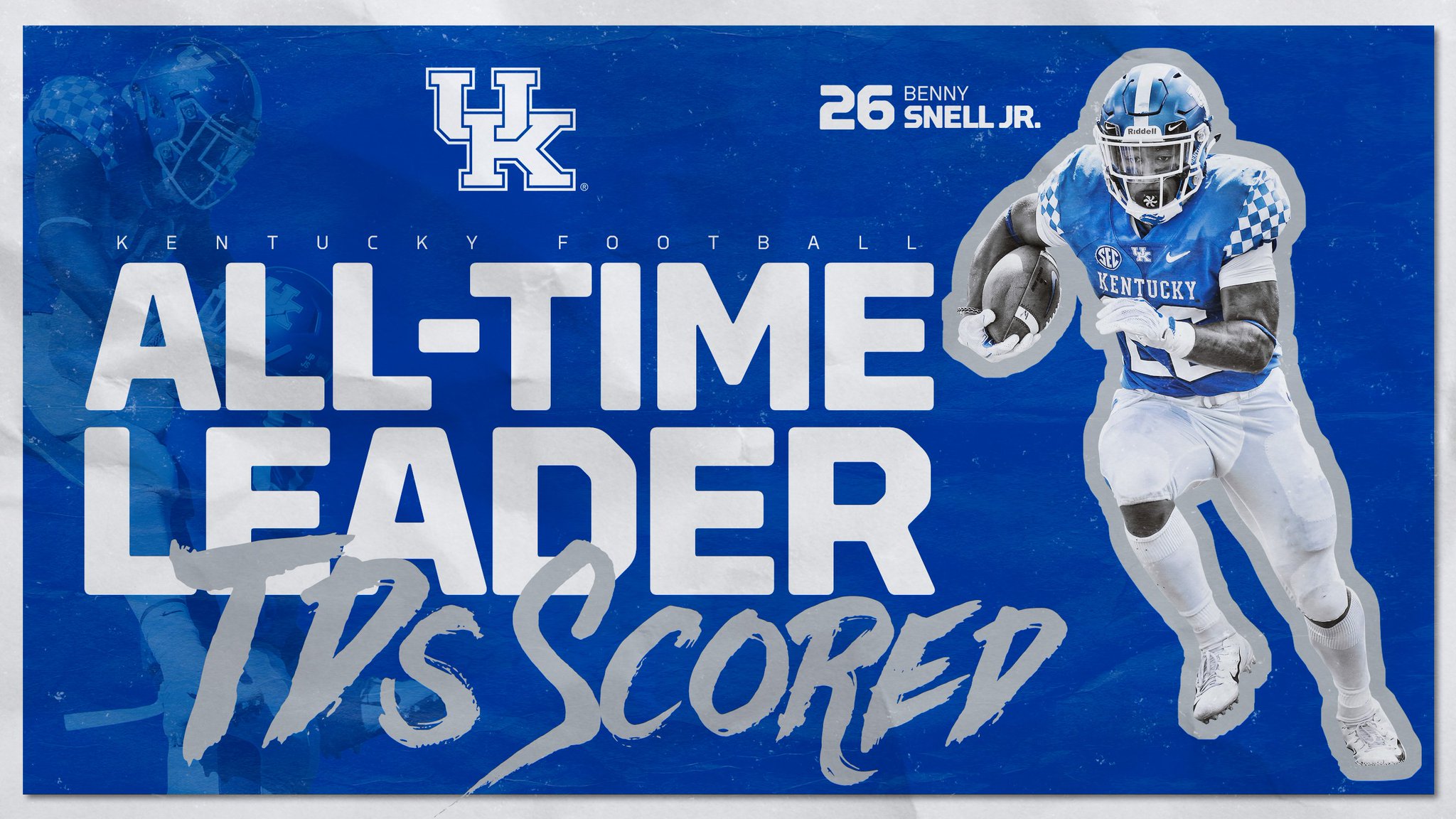 Coming into last night's game Randall Cobb held the record for most career touchdowns at UK with 37, and Benny Snell was creeping up on him with 35. After last night, Benny Snell shattered Cobb's record with four touchdowns, making Benny Snell the player with the most touchdowns in school history, with 39 and counting.
Benny's four touchdowns also tied his own record for most in a single game at UK. His first four-touchdown performance was against New Mexico State in 2016, his debut as a Wildcat
Benny Snell is knocking on the door for surpassing Rafael Little for third-most rushing yards in school history, as well, with 32 yards separating the two. He needs 872 yards to break the school record.
Dorian Baker and CJ Conrad made some Sunday plays
The BBN has been anxious to see something special happen with CJ Conrad and Dorian Baker returning from injury this season. While they both had been relatively quiet in the first three weeks, both of them made MASSIVE plays last night that was quite impressive. Those two catches looked like something you'd see on Sunday. Dorian even got two feet in bounds.
GREAT catch by Dorian Baker. pic.twitter.com/7tQ3tzIuFV

— Scott Charlton (@Scott_Charlton) September 23, 2018
AMAZING catch by CJ Conrad pic.twitter.com/jBjBOZG3xV

— Scott Charlton (@Scott_Charlton) September 23, 2018
KASH 3:16
Kash Daniel has embraced the role of this team's Stone Cold Steve Austin, and it's incredible. From saying he hopes all the Mississippi State's players are crying and their girlfriends break up with them, to telling the College Gameday crew to get new jobs, then thanking God for Benny Snell, and everything in between; Kash Daniel cut one of the greatest promos of all time. You should check it out:
Kentucky's Defense is legit
We knew this defense was going to be good, but I don't think anyone could have predicted this defense would be THAT good. Through four games this defense hasn't allowed a single point in the third quarter, which is a massive turn around from three or four years ago where it seemed like that Cats would always slip up in the third quarter. Consequently, that's the reason why Kentucky has some of their losses. But, this defense has held true.
Holding a Mississippi State offense that was averaging 587.7 yards per game to just 201 (only 53 in the 2nd half) is insane. The hype train for Nick Fitzgerald definitely got stopped in Lexington.
Watching the defense play so well has been gratifying, as it seems like we have watched it grow over time. We have made it through the growing pains, and it looks like the players, fans, and coaches are reaping the befits with this defense.
It's been a long time coming.
College Gameday….we see you
Ahem, Y'all got some 'splaining to do.
BBN did its part
Last night's atmosphere was fantastic, one of the best environments I've ever experienced in my 12 years of attending Kentucky football games. I'd put it up there with South Carolina in 2014 and Louisville from 2007. Even though we were just short of a sellout, the BBN showed up, and you guys were loud.
It changed the outcome of the game too, as evident by Mississippi State's numerous false start penalties. As Stoops said, it takes all of us, and the BBN was a critical factor in last nights game. Having crowds like this for every big game is crucial. A big tip of the cap to the BBN for sitting in the rain and making Kroger Field one 0f the best environments in the SEC.
Stripe out, maybe not the greatest success
Even though the fans were a great success, the stripe out…not so much. This is how it looked 10 minutes before kickoff with fans still getting to their seats.
We'll get 'em next time, Stripe Out. pic.twitter.com/4SZ3B3Gpf6

— Drew Franklin (@DrewFranklinKSR) September 22, 2018
To the BBN's credit, it is hard to color coordinate when you have to wear your rain jacket.
We want all the smoke…Literally
Before the start of the fourth quarter, the good folks at Kroger field decided to put on a firework show. Personally, I thought it was pretty cool, but the smoke decided to linger and let's just say the viewing pleasure for the first few plays of the fourth quarter weren't the best.
View from the press box pic.twitter.com/8lrhw2x50T

— Drew Franklin (@DrewFranklinKSR) September 23, 2018
It did, however, provide us this really badass picture of Josh Allen. Absolute specimen.
We are in uncharted territory
Kentucky will probably be ranked at some point today for the first time in 11 years (If they aren't I'm convinced there is some conspiracy), 4-0 for the first time in a decade, 2-0 in the SEC for the first time in three decades. Kentucky has beat back to back ranked opponents for the first time since 1997. Kentucky is 12-4 in their last 16 home games, the best stretch since 2006-08. Kentucky is 13-5 in their previous 18 games, best stretch since 1976-78.
If those stats don't say it for you, I will. We are in a new era of Kentucky football.
Kentucky seems to have talent that is better or at least just as good as every opponent on their schedule. A Heisman contending running back, a dual-threat Quarterback with a big arm, a stout defense, and a team that plays with pride and purpose. With two games remaining in the toughest half of UK's schedule, one being at home against a team the Cats have beaten the past four years.
This is all new to us; I'm not quite sure how to handle it. Dare I imagine the impossible? Dare I dream of Atlanta? Dare I fantasize of a nine-win season? Dare I say it, Kentucky is good at football.
Kentucky's win over Mississippi State opened the doors for a special 2018 season.  Mark Stoops already feels like they have a special team.
"I love this team, because of the way they prepare and go about their business," Stoops said. "We talked all week, it was going to start again in the trenches, physical, the more physical team was going to win. We talked all week about winning your one-on-one matchups wherever they were going to be…and that's what we did.
"Arguably one of the most complete games since I've been here in just appreciating the team's approach. There's nothing cocky about this team, but they absolutely expected to play like this and that's the way they prepared and that's the way they're going about their business and that's what I love about this team."
Kentucky's defense was dominant.  When they got three and outs, it fueled the offense to fight for extra yards.
"I think they feed off each other," said offensive coordinator Eddie Gran.  "They love each other.  There really is a nice chemistry there.
C.J. Conrad has never been a part of a team like this.
"This team is the closest team I've ever been a part of.  We all love each other.  Offense, defense, special teams, everyone loves each other.  You can really see it out there.  Everyone plays for each other."
Kash Daniel can see it too.  It's not just about the starters either.  This team is special because of the guys like Josh Allen, and the guys farther back in the depth chart like Tyrell Ajian.
"The camaraderie.  The trust love and believe in every single guy," Daniel said. "I mean, you look at what Ty (Ajian) did tonight.  he hasn't gotten his a lot.  He hasn't gotten a lot of reps, but when his name was called on, he came in and made one of the biggest plays of the game.  That just shows you that everybody — it doesn't matter if you're a starter, second string, no matter what — if your number gets called, be ready to play.  Ty came up huge for us and I couldn't be more proud of him."
The Wildcats are playing for each other and it's producing unprecedented results.
"We play real football now.  We're here," Josh Allen said.  "We want to let everyone know we're not going anywhere."
"Third and long, Fitzgerald drops back to pass, he's under pressure, he let's it fly and it sails high into the hands of…Tyrell Ajian?"
The defensive play of the game was made by somebody you probably forgot was on the Kentucky football team.  Redshirt freshman safety Tyrell Ajian broke just in time for the ball to fall right into his lap.
Ajian was highly-touted four-star recruit in the 2017 recruiting class, but has played primarily in a special teams role early in the season.  He did not expect to play significant snaps today until recently.
"I actually found out earlier yesterday," Ajian said.  "I didn't know all week."
Ajian was playing for the injured Jordan Griffin in certain packages that required an extra defensive back.  He was in the right place at the right time in the fourth quarter on a third and long.
"I just kind of broke on the receiver. The ball sailed high and I didn't have a choice but to catch it."
After he caught the ball, he had plenty of green grass in front of him.  Ajian earned enough yards to pave the way for Benny Snell to break away for a 36-yard touchdown run on the following play and put the game out of reach.
To upset the No. 14 team in the country, Kentucky need to make a few big plays.  They got one of the biggest from an unlikely source.
Listen to what Kentucky players and coaches had to say about Kentucky's 28-7 victory over the Mississippi State Bulldogs.
Head Coach Mark Stoops and Junior running back Benny Snell
Junior linebacker Kash Daniel
Senior cornerback Mike Edwards
Senior linebacker Josh Allen
Senior linebacker Jordan Jones
Sophomore quarterback Terry Wilson
True freshman safety Tyrell Ajian
Junior DT Calvin Taylor
Senior Tight End C.J. Conrad
Offensive Coordinator Eddie Gran
Nick Fitzgerald is going to have Josh Allen nightmares.  The Kentucky pass rusher could not be contained by Mississippi State.
"They couldn't block me." Allen said he knew it was going to be a good night right away.
"I thought they couldn't stop me after the first pass rush.  I knew it was going to be a long day for them.  I got their count right and that's all she wrote.  I was trying to get him every play."
He didn't get to Fitzgerald on every play, but at times it felt like it.  Mark Stoops tried to do whatever he could to put Allen in a position to attack Fitzgerald.
"I was making sure we were being able to rush him as much we could because it seemed like he was unstoppable," Stoops said.  "He's a dynamic player and he was very hard to block tonight. He's a great football player. "
Kentucky's senior outside linebacker had 6 tackles, two for loss, a quarterback hurry and a sack that pushed Mississippi State out of field goal range.  Those stats don't truly reflect Allen's impact on the game.  His speed rush on a third and long forced Fitzgerald to step up into the pocket and throw an interception.  On another third and long, Calvin Taylor reaped the rewards.
"He's got so much speed on the outside, they're setting real wide on him, so I got a one-on-one with the guard." When Taylor got that one-on-one, it resulted in a sack.
It was truly an incredible sight to see.  While Marcus Spears put the nation on notice, it's nothing new to his teammates.
"Just Josh being Josh," Kash Daniel said.  "I see that everyday in practice. That's nothing new to me.  I'm just like, 'Oh, Josh got a sack. Cool.' Just line up the next play."
Allen absolutely abused Miss. State's tackles.  Did Daniel feel sorry for them?
"I didn't feel sorry for any of them.  I hope they're all crying.  I hope they're all sobbing.  I hope all their girlfriends broke up with them.  I don't care about them at all."
Mike Edwards has no pity for any of the Cats' future opponents either.  Tonight was the first of many spectacular performances by the future first round draft pick.  He's simply unstoppable.
"Nobody in the country can block him.  No matter who you got, you can't block Josh," Edwards said.
Once again, College Gameday has some explaining to do. For the 2nd time in just four weeks, the entire panel of College Gameday picked Kentucky's opponent to beat them. In fact, Lee Corso said Mississippi State would win easily. Lee Corso also said Mississippi State would win big. Here's the proof:
Lee Corso says Mississippi State will win big today pic.twitter.com/p5lKOXDGIX

— Curtis Burch (@curtisburch) September 22, 2018
Desmond Howard even went as far as to say that Mississippi State's defense would shut down Benny Snell. By the way, Benny Snell ran for 165 yards and had four touchdowns. We have the receipts for those, as well:
.@DesmondHoward says the MSU defense will stop Benny Snell today pic.twitter.com/lqo34btNPl

— Curtis Burch (@curtisburch) September 22, 2018
Well, Kentucky players are tired of the disrespect.
Kash Daniel thinks that the Gameday crew needs to get a new gig because apparently, they aren't too good at picking teams.
Hey, @CollegeGameDay I think @KashDaniel15 is tired of the disrespect. pic.twitter.com/qgJRV944RQ

— Brent Wainscott (@BrentW_KSR) September 23, 2018
Kash even said it stays in the back of his mind that teams always pick Kentucky to lose no matter what, just because it's Kentucky football. And for Lee Corso, who said it was going to be an easy win for the Bulldogs tonight, in the words of Kash Daniel, "Lee it wasn't an easy win tonight brother. It was an easy win for us though."
Not only was Kash upset, but his running mate, Jordan ones, is questing what else does Kentucky have to do to get the respect from College Gameday and the rest of the country?
"I saw this picture on ESPN, and everybody picked Mississippi State. Same when we played Florida, and we keep proving people wrong, so I don't know what else we have to prove. It's a long season, and we're not done yet."
After the Florida game, Rece Davis came out and apologized to the BBN saying he would never disrespect Kentucky again, but what about the rest of the Gameday crew? Who knows if they will apologize, but one thing has been sure throughout the first four weeks; These Cats keep proving people wrong.
Hey, @OldTakesExposed do your thing.