For the next few weeks leading up until the start of the College Football season, I will be previewing different teams, players, and more from the SEC. This week I preview the players who will be the top Heisman Trophy candidates from the conference this season.
5. Benny Snell-Kentucky
This was a tough one. I had to pick between Benny Snell, Damien Harris, and D'Andre Swift for which SEC running back would make my top five.
I went with Snell because I think he has the easier path. Harris and Swift both have teammates within my top five who just happen to be quarterbacks. As a running back, it's already hard enough to beat out quarterbacks for the Heisman. Just imagine how hard it would be if a great quarterback was on your own team.
It works in Snell's advantage that Kentucky will field a quarterback that will most likely not post numbers like Alabama's or Georgia's quarterbacks will. Snell will often be the biggest reason that the Wildcats win football games this fall, and I think people will notice that.
Benny Snell, are you the best running back in the SEC? pic.twitter.com/jeQesAumBz

— Nick Roush (@RoushKSR) July 16, 2018
The reason why I have Snell at No. 5 is simple. I don't see Kentucky having a good enough season that will put Snell in Heisman contention. Realistically, the Wildcats would probably have to win at least nine regular season games for Snell to be in contention for the award and I don't see that happening.
Also, I don't see any running back from the SEC winning the Heisman this year with Jonathan Taylor from Wisconsin and Bryce Love from Stanford still out there. They will cancel out any chance Snell, Harris or Swift will have at the award simply because they will put up better stats on great teams.
4. Jake Fromm-Georgia
Fromm is my Darkhorse candidate for this award because I don't think anyone is talking about him when it comes to being in contention for the Heisman.
It seems like more people are putting hype behind D'Andre Swift which doesn't make much sense to me. Also, there is a considerable amount of hype behind freshman quarterback Justin Fields who joined the Bulldogs in the spring. Some suggest that he will be the starting quarterback by mid-season.
I think that is simply ludicrous. In my opinion, Fromm looked like an NFL quarterback against Alabama in the title game last season as a freshman. He is easily the starter on this team and will be so the entire season.
Forgive me if I'm ridiculously late to this party: But I'm just realizing that the 47-yard dime of a flea flicker Jake Fromm threw Terry Godwin against Mississippi State was thrown WITHOUT THE LACES OF THE BALL.

That boy is good, y'all. pic.twitter.com/UyoF2J1YaQ

— ????? ?????? (@LoganMBooker) February 1, 2018
Call it a hot take, but I think he will have a better season than Swift will have. The bulldogs have an incredibly easy schedule and with a whole season under his belt I think Fromm will have a big year.
Last season he threw for 2,615 yards while posting a 24-7 TD-INT ratio. I think he will easily clear over 3,000 yards and 30 touchdowns this year on a team that I think will win at least 11 regular season games. That's a Heisman contender.
3. Nick Fitzgerald-Mississippi State
There isn't much to say about Fitzgerald that hasn't already been said. He is one of the best quarterbacks in the conference and he might be the best overall leader in the entire country.
I wasn't buying the @HailStateFB hype this summer. After a full review of the Bulldogs, I am now.

-Nick Fitzgerald will be a Heisman contender
-Solid OL
-Skill group adds new pieces
-DL is one of best in CFB
-Two great senior safetieshttps://t.co/KYyfbGNBzb pic.twitter.com/2Fzv33f3oY

— Andrew Doughty (@Adoughty88) August 12, 2018
After suffering a horrific injury at the end of the season last year, Fitzgerald will attempt to bounce back in a big way in 2018. Mississippi State is already starting out the season ranked at No. 18 in the nation so there are in great position for a big year.
Outside of playing Auburn and Alabama, I think the Bulldogs should win their other 10 games. If Fitzgerald can improve on his 55% completion percentage and throw less interceptions, he will be squarely in the Heisman race.
Once you add in his rushing numbers, Fitzgerald tallied 2,766 yards and 29 total touchdowns last season. If he climbs over 3,000 total yards, improves that completion percentage, and defeats either Alabama or Auburn then I guarantee he will be in New York for the Heisman Trophy ceremony.
But that's a lot of "ifs" for a player coming off a major injury.
2. Tua Tagovailoa-Alabama
At this point, I think that Tua is a virtual lock to start the season as Alabama's starting quarterback. He is simply light years ahead of Hurts as a passer. If he does for some reason struggle early, the Crimson Tide's easy schedule will work out any growing pains Tua may have at the start of the season.
Tua Tagovailoa is the future? pic.twitter.com/zFDe7gMb7v

— College Town™ (@CollegeT0wn) August 19, 2018
Some people may consider Tua at No. 2 a bit of a reach on this list, but I believe that much in his arm talent, play making ability, and leadership qualities. I see so much Russell Wilson in Tua that it really is uncanny.
Alabama almost always has a player in New York for the ceremony, and I think this season Tua has the best chance at being the best player on the best team in the country.
The Crimson Tide should go undefeated once again unless they trip up against Auburn in the last game of the season. Combine that with Tua possibly having the best statistical season any quarterback has had in Saban's time in Tuscaloosa and you have yourself a Heisman Trophy contender.
1. Jarret Stidham-Auburn
Stidham is my pick for the SEC player with the best chance to win the Heisman because I think he has the clearest path to win the award.
Auburn's entire receiving core returns, and while they do lose 4 starters off the offensive line the Tigers still return 4 players who have started six or more games on the line. With halfback Kerryon Johnson departing, this offense is perfectly tailored for Stidham to have a huge season in the passing game.
Another huge plus is that Stidham will be playing on national television throughout the entire season. Voters will be consistently seeing Stidham airing it out in huge games as he plays Washington in his first game, Mississippi State at the halfway point, and Georgia and Alabama at the end of the season.
Yes, the schedule is not the easiest for the Tigers this year, but you don't have to win every single game to win the Heisman Trophy. If Stidham can put up huge numbers this season Auburn can easily drop two out of those four games and I think he easily ends up in New York.
The Tigers start the season ranked as the ninth best team in the country. If they can play their way into the playoff thanks in most part to a huge season from Stidham, then the former Baylor quarterback should win the Heisman trophy.
One week from today Kentucky will release the first depth chart of the 2018 season.  Normally an SEC Media Days tradition, this year the UK Media Guide did not feature a depth chart.  Instead of waiting another week, let's see what the depth chart will probably look like before the Cats take on Central Michigan.
OFFENSE
Quarterback
Terry Wilson
Gunnar Hoak
Both are still expected to play in the opener, but after Wilson stepped up in Saturday's scrimmage, the playmaking athlete will likely be the first to take snaps under center on September 1.
Running Back
Benny Snell
A.J. Rose OR Sihiem King
An excellent spring and summer from A.J. Rose has given Eddie Gran enough confidence to make Rose the No. 2 back behind Benny Snell, although King will still likely be used situationally.  Kavosiey Smoke will play sparingly before he reaches the four-game limit for redshirts.
Wide Receiver (X)
Dorian Baker
Ahmad Wagner
Wide Receiver (Y)
David Bouvier
Akeem Hayes
These two receivers have earned plenty of preseason praise from the practice fields.  Gran described Bouvier as the camp's MVP, while the tiny freshman (5'8″) has captured the attention of his peers.
Wide Receiver (F)
Lynn Bowden
Clevan Thoms
Wide Receiver (Z)
Tavin Richardson
Isaiah Epps OR Josh Ali
Richardson emerged as one of the most consistent wide receivers on the roster in the second half of the 2017 season after Dorian Baker was forced to miss an entire year.  Behind him there are a pair of deep-play threats who must prove they are the preferred deep-ball targets.
Tight End
C.J. Conrad
Justin Rigg
Kentucky will run a lot of sets featuring the two tight ends, with Conrad split out as a wide receiver more than ever before during his Kentucky tenure.  The highly-touted freshmen, Keaton Upshaw and Brenden Bates, should also see some action, although at least one will be restricted to just four games.
Left Tackle
Landon Young
Naasir Watkins
U.S. Army All-American Darrian Kinnard has been an excellent addition, but the Cats will contain him to just four games to keep his redshirt status.
Left Guard
Logan Stenberg
Luke Fortner
Center
Drake Jackson
Mason Wolfe
Right Guard
Bunchy Stallings
Sebastien Dolcine OR Austin Dotson
Right Tackle
"Big" George Asafo-Adjei
E.J. Price
 DEFENSE
Sam Linebacker
Jamar "Boogie" Watson
Jordan Wright
Josh Allen's former position, he flipped sides with Boogie to get into more pass rushing situations on third down.
Defensive Tackle
Adrian Middleton
Phil Hoskins
Nose Guard
Quinton Bohanna
Tymere DuBose OR Marquan McCall
If McCall gets into playing shape, he could knock the senior out of the rotation.
Alex Poythress has a new home in the NBA.
The former Kentucky Wildcat is now a member of the Atlanta Hawks, according to a Monday tweet from the organization. He signed a two-way contract, which means he'll be back and forth between the Hawks and the Hawks' G League affiliate, the Erie Bayhawks.
Poythress was on a similar deal with the Indiana Pacers last season; however, he was upgraded to a full regular season position with the Pacers in late December. Prior to becoming a regular on the Indiana bench, he averaged 20 points, 8.9 rebounds, 2.7 assists and 1.3 blocks in 24 minutes per game in seven starts in Fort Wayne. He appeared in 25 games with the Pacers in 2017-18.
In Atlanta, Poythress will be on the worst team in the NBA. It's bad for his NBA Playoffs dreams, but it could make for more opportunities to prove himself on a very mediocre roster. Hell, I bet most of you can't name two Atlanta Hawks who aren't named Trae Young right now. Go for it. See? You can't.
Anyway, congrats to Poythress (one of our favorites) on securing a spot this upcoming season.
University of Louisville tight ends coach Chris Klenakis was arrested early Sunday morning after being pulled over for reckless driving. Klenakis will face four charges after blowing a .165. He was pulled over and booked in Shelby County, and according to the police report nearly struck a wall that construction workers were working on at the time. The police report also states he had to be forcibly removed from his car after refusing to exit the vehicle. During his field sobriety test he wandered into oncoming traffic and just missed being hit by a truck. Along with the DUI he was also charged with reckless driving, wanton endangerment (1st degree) and possession of an open alcoholic beverage.
Klenakis joined UofL's staff in 2014 and was originally the offensive line coach before being moved to oversee the tight ends.
Klenakis' arraignment is scheduled for Tuesday at 1:30 p.m.
UPDATE- UofL has placed Klenakis on administrative leave.
To tip off CBS Sports' annual Candid Coaches series, Gary Parrish asked over 100 coaches who will be the best team in college basketball this year; considering all of the buzz in recent weeks, the answer might surprise you. Kansas came in first with 38 percent of the vote, followed by Kentucky at 18 percent and Duke at 15 percent.
| TEAM | VOTING |
| --- | --- |
| Kansas | 38 percent |
| Kentucky | 18 percent |
| Duke | 15 percent |
| Gonzaga | 11 percent |
| Tennessee | 9 percent |
| Virginia | 5 percent |
| Nevada | 2 percent |
| Villanova | 2 percent |
One coach said this (anonymously) of the Cats.
"I just got a chance to watch Kentucky [play exhibitions in the Bahamas]. It looks like their talent-level is off the charts. And I think the world of [John Calipari] as as basketball coach. I don't think he gets the credit he deserves. He gains notoriety in a lot of ways. But nobody talks about him as a top-level tactician."
Parrish believes Kansas and Kentucky are the safe picks over Duke right now thanks to — wait for it — experience, a rarity for the Cats in the Calipari era.
"Needless to say, the Wildcats have another stellar freshman class filled with five-star recruits. But the key, I think, is the likelihood that three of their top six players will be non-freshmen who have already averaged more than 9.0 points per game at the high-major level — among them Stanford transfer Reid Travis. The last time John Calipari had that — again, three non-freshmen on his roster who have already averaged more than 9.0 points per game at the high-major level — was in the 2011-12 season. The result was a national title."
Let's hope history repeats itself.
Cue up "One Shining Moment," because your University of Kentucky Wildcats are the winners of the NCAA's All-Time Starting Five tournament.
The Big Blue Nation carried Kentucky's starting five of John Wall, Tony Delk, Tayshaun Prince, Anthony Davis, and DeMarcus Cousins past Florida in the NCAA's Twitter poll with 58 percent of the online vote. The Gators were represented by Erving Walker, Bradley Beal, Chandler Parsons, Al Horford, and Joakim Noah.
*clears throat*
*Jim Nantz voice*

? The Kentucky Wildcats are your #MMBest5 National Champions! #BBN pic.twitter.com/SIooMq7rYT

— NCAA March Madness (@marchmadness) August 20, 2018
Here's Kentucky's path to the All-Time Starting Five title: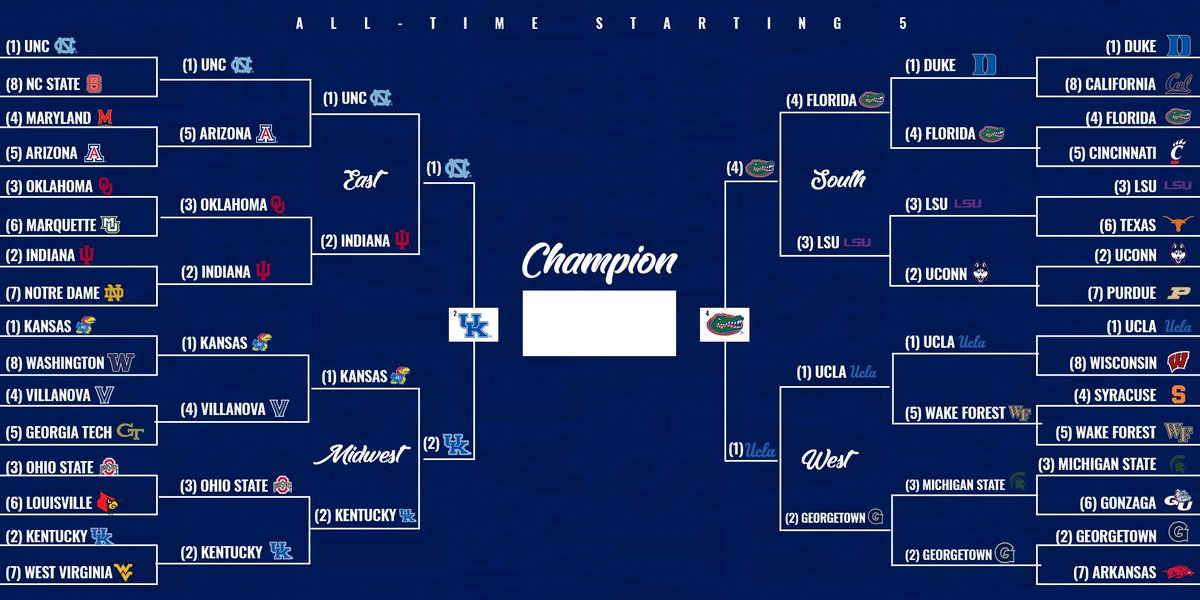 This one's for you, Tony and Anthony:
Which online poll are we dominating next?
The preseason AP College Football Poll is out and Kentucky received one vote, making them the 44th best team heading into the 2018 season in the eyes of the voters.
The Cats will host two ranked opponents this season: Georgia (No. 3) and Mississippi State (No. 18). Three other SEC foes received votes, but were just outside the Top 25: South Carolina (No. 26), Florida (No. 27), and Texas A&M (No. 33). Louisville did not receive a vote.
| | | | |
| --- | --- | --- | --- |
| RANK | TEAM | RECORD | POINTS |
| 1 | Alabama (42) | 0-0 | 1505 |
| 2 | Clemson (18) | 0-0 | 1476 |
| 3 | Georgia | 0-0 | 1350 |
| 4 | Wisconsin (1) | 0-0 | 1271 |
| 5 | Ohio State | 0-0 | 1256 |
| 6 | Washington | 0-0 | 1215 |
| 7 | Oklahoma | 0-0 | 1173 |
| 8 | Miami | 0-0 | 1027 |
| 9 | Auburn | 0-0 | 1013 |
| 10 | Penn State | 0-0 | 1012 |
| 11 | Michigan State | 0-0 | 877 |
| 12 | Notre Dame | 0-0 | 804 |
| 13 | Stanford | 0-0 | 778 |
| 14 | Michigan | 0-0 | 773 |
| 15 | USC | 0-0 | 543 |
| 16 | TCU | 0-0 | 533 |
| 17 | West Virginia | 0-0 | 511 |
| 18 | Mississippi State | 0-0 | 450 |
| 19 | Florida State | 0-0 | 384 |
| 20 | Virginia Tech | 0-0 | 351 |
| 21 | UCF | 0-0 | 312 |
| 22 | Boise State | 0-0 | 292 |
| 23 | Texas | 0-0 | 216 |
| 24 | Oregon | 0-0 | 148 |
| 25 | LSU | 0-0 | 106 |
Others receiving votes: South Carolina 96, Florida 68, Utah 60, Oklahoma State 51, Florida Atlantic 38, Arizona 28, NC State 22, Texas A&M 21, Boston College 18, Northwestern 13, Kansas State 10, Iowa State 8, Houston 6, Memphis 3, Iowa 2, Troy 2, Fresno State 1, Arkansas State 1, Kentucky 1
I see you there, Troy.
To beat Central Michigan on September 1, Kentucky must contain No. 5.
Running back Jonathan Ward is the Chippewas' most dangerous offensive weapon.  Last season he was a Second Team All-MAC selection after rushing for 1,017 yards, the third-highest mark in the MAC.  Ward averaged 5.7 yards per carry and scored ten touchdowns for the eight-win team.
Excellent in space, it's hard to catch Ward once he gets by the second level of the defense.  Last year he scored on plays of 79 and 54 yards, and in Saturday's scrimmage he went untouched on a 70-yard score.
Those numbers are great, but you're probably thinking to yourself, "It's just the MAC. Who cares how good this Ward guy was against a bunch of nobodies."  Pump those brakes.
Kentucky shared a common 2017 opponent with Central Michigan: Eastern Michigan.  In September, EMU held Benny Snell to only 75 yards rushing yards and one touchdown on 21 carries (3.6 yards per carry).  The Cats squeaked by EMU with a 24-20 win.  When CMU played Eastern Michigan a month later, Ward ran for a season-high 159 yards and two touchdowns on 19 carries (8.4 ypc) in a 42-30 victory.  This guy is the real deal.
As is with every highlight, watch these on mute.
What makes Ward even more dangerous is his pass-catching ability.  Last season he caught 48 passes (3.7 per game) for 470 yards (that's 9.8 yards per reception) and a touchdown.  With first-time starter   Tony Poljan under center, the Chippewas will lean on the junior running back to ignite the offense.  Kentucky must suffocate Ward before he can bust a big play for a score.
This will actually be the first time in the John Calipari era that UK will play a ranked opponent to open the season and just the 2nd time they have played a Power 5 school (2014, Maryland).  People remember Champions Classic games for the last few seasons but none of those actually opened the year for UK.  Usually, UK plays some sacrificial lamb to prep for those big games.  This year my assumption was the Bahamas was used as those preps.  But over the last 30 years, UK has played several big-time season openers, normally with success.  A look back at some of those memorable contests:
1983: #2 Kentucky 65, #6 Louisville 44 (Lexington)
-Believe it or not, these two teams actually opened the season in 1983-84 following the Dream Game loss in Knoxville the previous season.  This eventual Final Four team dominated from the start with Kenny Walker and the Twin Towers all having superb games.  Interesting note: One technical foul was called in this game on UL's Mark McSwain for what the box score calls "wrong uniform number".  Roger Ayers likely called it.
1988: #1 Duke 80, Kentucky 55 (Springfield)
-This was almost surely Kentucky's worst team in the last 75 years and a Final Four bound Duke team smashed the Cats.  Duke only led by 2 at the half but Danny Ferry was great overall, scoring 23 points.  Of note: this was also Christian Laettner's first college game.  He played only 6 minutes, scored 2 points on free throws and didn't attempt a shot.
1993: #2 Kentucky 78, #7 Louisville 70 (Lexington)
-First time the 2 teams opened the season in 10 years but with the same result.  The Cats buried 11 threes and Tony Delk scored 19 points during the comfortable win.
1995: #1 Kentucky 96, #14 Maryland 84 (Springfield)
-The national champs forced 26 turnovers but the story of the game was who was the top scorer in that game for UK?  I'll wait………it was none other than Mark Pope, who scored 26 points to lead the Cats.
1996: #20 Clemson 79, #2 Kentucky 71 (OT, Indianapolis)
-A shocking result to open a title defense.  Kentucky's cold shooting plus Clemson's hot doomed UK, and they still should have won the game.
2001, 2002, 2008: St. Johns, Western Kentucky, VMI
-All losses but more unexpected against unranked opponents.  None of these were "big-time" games but rather just memorable because of the results.