I hope all the dads out there had a great Father's Day! I returned from Canada last week after watching USA Basketball play a couple games north of the border. Tyrese Maxey, Cole Anthony and Matthew Hurt had a UK coach at all of their games over the last week and all three had amazing moments as the USA cruised to a gold medal. We'll talk about those three players, Keion Brooks Ashton Hagans, Kyky Tandy and Reid Travis.
Let's get to the notes.
Cole Anthony: Anthony put on a show for team USA over the last week and my biggest takeaway is how well Anthony would fit with Maxey at UK. When Maxey committed to Kentucky I knew that rival schools would negatively recruit against UK by saying guards shouldn't want to play with the ball-heavy Maxey, but Anthony and Maxey made it work perfectly for Bill Self last week. Anthony is a true point guard and as good as a distributor I've seen at his age. Maxey can easily play the point position, but he looked just as comfortable playing off the ball. That versatility will be great for John Calipari, but it showcases that any negativing recruiting against playing with Maxey can easily be picked apart by the tapes from last week.
And the good news is I think UK has a good chance at landing Anthony. I'm not sure if they're the leader as Anthony rarely ever talks recruiting, but UK's staff likes their position and Maxey is actually a plus. If UK isn't the leader my guess is they're top two. Those two kids are good friends and talk about playing together (although Maxey doesn't pressure Anthony). If you missed it Anthony said he'd love to play with Maxey in college (click here). Anthony wants to have the ball in his hands in college and be able to compete for a title. If the Cats were to add James Wiseman, Maxey, Brooks and Anthony, that's a super class good enough to compete for a title regardless of who would come back for UK. Take into consideration UK should have several returning players and they would likely be the title favorites.
Matthew Hurt: I was really  impressed with Hurt's game and while I would be surprised if he ended up at Kentucky he's definitely worth the time UK has put in recruiting him. Kansas is the favorite but UK watched every one of his games in Canada and will continue to watch him over the summer. Hurt will announce his college decision in November, take his official visits in September and October, and he will be cutting his list in July.
Expect UK to make the cut in the next month and the Cats are expected to get an official visit, but somehow the Cats will need to somehow jump the Jayhawks. Self did a great job coaching him in Canada and those two are already tight. Maybe visits will change things but the Cats are a little behind in my opinion.
Tyrese Maxey: UK fans are going to absolutely love this kid and I can't say it enough. He always plays with a smile on his face and supposedly he went out of his way to play in the gold medal game on Saturday after a nasty ankle sprain on Tuesday. Bill Self said after the injury he didn't expect to see Maxey back, but the UK commit did whatever he could to tolerate the pain and get out on the floor against Canada. That championship game was the only game he didn't play great in, but he has an excuse. But besides his fun nature on the floor and his toughness, he's an awesome basketball player. He's as good of a scorer as Calipari will have at the point guard position and like I mentioned his versatility will allow him to play the two and even the three if he had to (although I don't expect that to happen).
Follow him this summer at Peach Jam if you can and if you're in Texas try to watch him during his senior season. Maybe he'll play a high school game or two in Kentucky. But for so many fans that complain about not getting to know the team, you have well over a year to get to know Maxey. He will be a fan favorite.
Keion Brooks: Sometimes I'm repetitive and excuse me if I am here, but I expect Brooks to end up at Kentucky. I've heard nothing but great things about UK's chances with Brooks, but sometimes you can read between the lines. The Cats haven't offered another wing in the class of 2019 and it's pretty clear that Keldon Johnson will be a one-and-done player. If the Cats aren't panicking to bring in another three it tells us all we need to know about how they feel with Brooks.
Ashton Hagans: Hagans has arrived and that's great news for UK. However, I was a little surprised of his rankings in the class of 2018. They're slightly higher than I expected. I'm not sure if Hagans starts at the beginning of the season and I wouldn't expect him to start in the Bahamas, but the only point I wanted to make is that if Hagans is truly a top 15 player in the class of 2018 then the Cats are going to be absolutely stacked, with or without Reid Travis. I've been told the expectation for Hagans is that he may struggle in November and December, but come January or February he will be one of the better guards in the SEC. UK can be fine if Hagans takes his time, but if in the Bahamas he's clearly UK's best guard then this could be an insanely fun year.
Kyky Tandy: It was reported this week that Tandy hasn't heard from UK since his dad's comments. While it was interesting to hear that from Tandy, it shouldn't come as a surprise. I've never spoken with Tandy's father, and I've heard he's a good guy, but what did the family think would happen after those comments? Calipari doesn't like to play recruiting games and he definitely doesn't like to hear parents or players think they're entitled to playing time. I've heard nothing but great things about Kyky Tandy, but it's clear he's not going to end up at UK. It will be fun to watch the Kentuckian wherever he ends up because he's a phenomenal scorer.
Reid Travis: He will start his visit to UK on Tuesday and we still do not have a date set for Villanova. That's significant. Is Travis unsure if he wants to visit Villanova? Does Travis plan on committing to UK and only setting a Villanova visit if things don't go well in Lexington? I find it interesting we don't have a Villanova date set and I do take it as a positive for Kentucky. UK is the leader and something drastic will have to change for Travis to end up elsewhere. If he does visit Philly I still wouldn't panic. It would make things trickier to predict, but UK is still the team to beat. I expect by the time I do my Insider Notes next week Travis will be a Wildcat.
Oh, also: I haven't heard much about Wiseman or Carey. If I do I will post it. I still think UK leads for Wiseman and is in the hunt for Carey.
The PGA TOUR is coming to Central Kentucky for the 2018 Barbasol Championship July 16-22nd. Some of the best talent in all of golf will make their way to Champions at Keene Trace Golf Club seeking a piece of the championship's $3.5 million purse. 
Last year's tournament featured seven major winners including Davis Love III, Jim Furyk, Retief Goosen, Lee Janzen and Angel Cabrera. This year's field will have some players will special interest to Kentuckians. The tournament is providing sponsor exemptions to pro and Kentucky native Josh Teater as well as University of Kentucky stand-outs Cooper Musselman and Chip McDaniel who will begin their pro careers at the tournament.
Numerous volunteers are needed to put on this PGA TOUR event. Get signed up here- https://barbasolchampionshipky.com/volunteer/
Don't miss any of the fun in Central Kentucky this summer. You can purchase daily grounds passes, week-long grounds passes, and upgraded Man O' War Paddock tickets on https://www.ticketmaster.com/artist/2425864.
---
You can be a part of KSR's Top 10 Tweets by using hashtags like #KSR #BBN or #KSRtop10. You can also nominate tweets by mentioning them with the hashtag. If we like what we see, it could be posted the next day.
#10 Randy Chambers
Omaha, Nebraska in June. You take the best vacations.

— Randy Chambers (@RandallLeeChamb) June 18, 2018

Hey, who said Omaha isn't lovely in June
#9 Doug
@KySportsRadio – Tony, you've got a great voice for radio sports. Come away from the 'dark side' and join BBN

— Doug (@2011CATfan) June 18, 2018

We want you Tony!
#8 Lauren Danner
@KySportsRadio @ryanlemond @ShannonTheDude @tonyvanetti Loving KSR this morning!! Tony, Ryan & Shannon are killing it! Love you guys, and Go CATS! ???

— Lauren Danner (@Lauren_Dannr03) June 18, 2018

Matt who?
#7 Jeff
A national travel ban can't keep BBN from getting in. #CATSINCUBA @KySportsRadio pic.twitter.com/EmgEgVWo0k

— Jeff (@tucklada) June 18, 2018

Nice!!!
#6 Michael Spencer
I feel you on that. It's amazing how much better #ksr makes my morning. I'm glad I found it a few years. I'm so ready for football. Feeling optimistic again. Lol

— Michael Spencer (@bigmike201423) June 17, 2018

Thank you sir!
#5 Hunter Campbell
This is beautiful and you should read it. I have two wonderful boys, but the one thing missing from my Father's Day is my dad. The origin and timeline of my UK fanhood track almost exactly with @MrsTylerKSR and this brought back some great memories with him, and several tears. https://t.co/lDQDUZ1LsP

— Hunter Campbell (@HunterCampbell) June 17, 2018

If you haven't read Mrs. TT's father's day story yet,go read it now! But bring some tissues.
#4 Jared Limbuckets
— Jared Limbuckets (@JaredLimbach) June 18, 2018

He played football?
#3 Charlie Bartlett
Cannot wait to see the @KentuckyMBB roster especially once @2ReidTravis2 finalizes his decision to join #BBN. Going to be a special season. #strivefornine @KySportsRadio

— Charlie Bartlett (@CSB087) June 18, 2018

I'm too ready.
#2 DeadBugs80
@KySportsRadio well I tried. I got mine. pic.twitter.com/9mAn68Xdjo

— DeadBugs80 (@wesley_cornett) June 18, 2018

Nice!!
#1 Andrew Klump
Love hearing @tonyvanetti PREACH about the NBA to Louisville on @KySportsRadio. There are too many benefits for this city to overlook. Keep fighting the good fight, Tony. We can make it happen!

— Andrew Klump (@AndrewJKlump) June 18, 2018

Come on!!!!
Former Kentucky center Enes Kanter has always been an outspoken critic of Turkish President Recep Tayyip Erdogan. He onced called him the Hitler of this century.
That criticism only grew larger when he was detained in Romania in May of 2017 after his passport was "canceled" by the Turkish embassy.
Just a week later, Kanter was the subject of an arrest warrant issued by Turkey.
Though Kanter is in the United States and wouldn't dare return home, his family is in trouble back home. They had to disavow their son and his beliefs to try and get on Erdogan's good side, and even that wasn't enough. Now, the Turkish dictator has sentenced Kanter's father, Mehmet, to 15 years in prison for "membership in a terror group."
The New York Knicks center posted the following video on Twitter in response to the sentencing:
"Keep my family, innocent people, in your prayers," he said.
I will continue to keep fighting for Human Rights and Freedom of Speech
Justice and Democracy above all.I will stand for what I believe in.All I'm doing is trying to be voice of innocent people
Keep my family,innocent people in your prayers ?#DictatorErdogan ??@RT_Erdogan pic.twitter.com/i7kK3mwKND

— Enes Kanter (@Enes_Kanter) June 18, 2018
Kanter has declared himself "country-less," hoping to eventually become a citizen of the United States.
"Right now I am country-less," Kanter said, according to ESPN.com. "I am open to adoption definitely. I am going to try to become an American citizen. I have a green card. We will see if they can speed up the process a little bit. It would definitely be nice. Right now my next move is becoming an American citizen."
Unfortunately for Kanter, there isn't much he can do when it comes to his father. If he tries to help, the Turkish government will likely arrest and torture the former Wildcat.
Sad, sad news.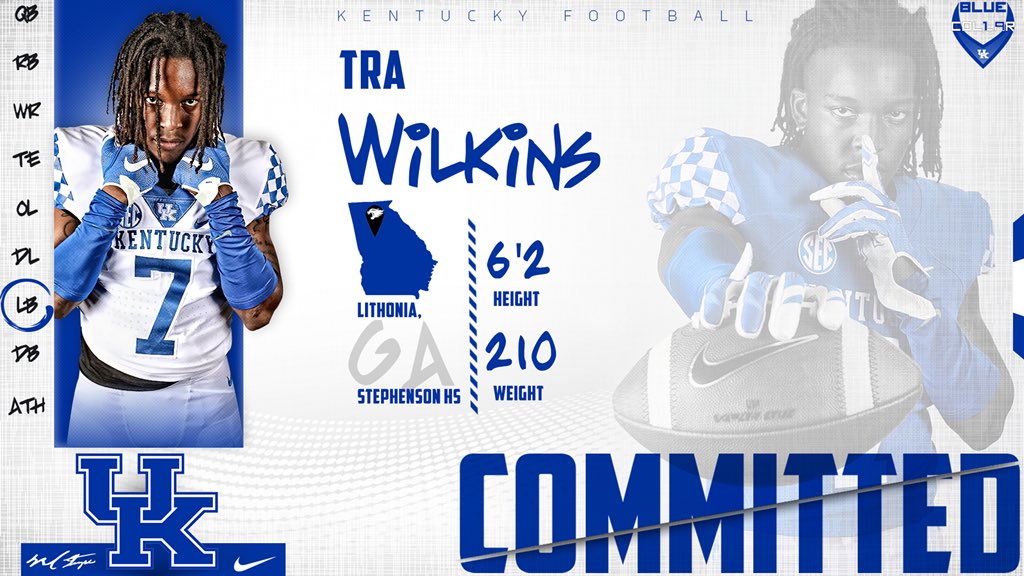 YAHTZEE! 2019 three-star linebacker Tra Wilkins has committed to Kentucky!
Wilkins, a 6-foot-2, 210-pound outside linebacker out of Lithonia, GA chose the Cats over Louisville, Alabama, Auburn, Florida, Ohio State, and Georgia, among other major programs.
Time To Turn It Up A Level With My Wildcat Family. It's Official????? #BBN pic.twitter.com/SAWNFa36p9

— T R A W I L K I N S (@Tra7_) June 19, 2018
Most recruiting analysts felt the Cats and the Cards were the top contenders, but Mark Stoops and company won out in the end.
Wilkins officially visited Kentucky last weekend, where the Wildcat coaching staff was able to seal the deal.
Lexington I'm On The Way #BBN ??? pic.twitter.com/3OQ0it8u9U

— T R A W I L K I N S (@Tra7_) June 10, 2018
He recorded 75 tackles, five sacks, and three forced fumbles as a junior.
You can check out his impressive highlight reel below:
Welcome home, Mr. Wilkins!
Matt's on vacation, which means the Sklar Brothers are about to return to your airwaves. Tomorrow morning, Randy and Jason Sklar will make their annual appearance on KSR, only a few weeks after the 25th anniversary of Conway Twitty's death. Coincidence? I think not.
Can't wait until then? Check out their podcast, View from the Cheap Seats, and their new stand-up special, "Hipster Ghosts," which is streaming on the Starz app. (Based on that title, they must have been in my neighborhood recently.)
Here's the guest host schedule for the next two weeks:
June 19: The Sklar Brothers
June 20: Matthew Mitchell
June 21: Vince Marrow and the Kentucky Football coaches
June 22: Nick Mingione
June 25: Jay Bilas
June 26: Pardon My Take
June 27: Jared Lorenzen
June 28: Kyle Tucker
June 29: Aaron Torres
…and today's podcast featuring Tony Vanetti, Ryan Lemond, and Shannon the Dude:
The USA U18 just dominated the competition in Canada and the USA U17 will look to do the same in Argentina later this month.
The Americans made their first cut on Monday and a slew of UK targets made the cut. But many fans will notice that UK's top target in 2019, James Wiseman, was absent from the 18-man list. Wiseman is injured and didn't practice all weekend. It's a non-serious groin injury that won't require Wiseman to miss too much time, but enough to keep him out over the weekend. In typical Wiseman fashion he still had to wow folks in attendance, even if he never picked up a basketball.
Wiseman measured in at over 7-feet, a 7-foot-6 wingspan and just over a 9-foot-3 standing reach. At his young age it may be safe to assume he's not finished growing and he will certainly continue to put on weight and muscle.
But other UK targets that were healthy did enough to make the initial cut. Here's a look (bold means UK has offered):
Vernon Carey (2019)
Scottie Barnes (2020)
Jeremy Roach (2020)
R.J. Hampton (2020)
Jalen Johnson (2020)
Zion Harmon (2021)
USA will make a final cut from 18 to 12 in the coming days before the team sets off for FIBA U17 World Cup in Argentina June 26th-July 8th. The Americans are an impressive 30-0 in the event. The thing I like about the U17 team is no college coaches are on the staff. It's coached by high school coaches and the head coach is Don Showalter (USA youth division coach).
UK is expected to have staff present in Argentina for the event. 
Two of the biggest superstars in Thursday's NBA Draft have signed endorsement deals with Puma.
Yes, that Puma.
Yes, the same Puma that hasn't signed a basketball player since 1998.
Walt Frazier was the face of the apparel company back in 1973, but since then, Vince Carter has been the only star basketball player to sport the brand. And Carter's deal with the apparel company lasted just one year.
Now, DeAndre Ayton and Marvin Bagley III will join forces to kickstart "Puma Hoops." Ex-Texas Tech guard Zhaire Smith has also signed with the brand.
So why now? Why would two college basketball superstars, both heavily associated with Nike (more on that later), opt for a brand with extremely limited basketball history? Well for one, rap superstar Jay-Z has been named president of basketball operations of the company.
Exclusive ??

JAY-Z joins Puma as president of basketball operations. https://t.co/GCyvr0aIII pic.twitter.com/2un9LT6sf9

— Complex Music (@ComplexMusic) June 18, 2018
And two, money. Lots and lots of money.
Nike is Nike. Adidas is Adidas. I've played in their circuits and stuff like that, but now it's a business. You don't want just product. You're not a kid anymore. You're really trying to get bank. That's about it. […]
I want to try to be the rookie coming in with his first signature shoe as early as possible. That's one of the goals I'll try to set. That's about it. That's just about me making my first shoe. I'm trying to work hard and get my first signature shoe out there.
As for Bagley III, he saw what Lonzo Ball did with Big Baller Brand and used it as inspiration. He wanted to go against the grain.
I love stuff like that—just being different, not being a follower and just being a leader any way I can. I remember when Lonzo and LaVar Ball first came out with Big Baller Brand and Lonzo's shoe, then LaMelo's shoe, everybody was bashing them for it and talking down on them for it. I kind of respected it, because it was different and it wasn't what everybody was doing.
If you'll remember, both Ayton and Bagley III were heavily involved with Nike in high school and college. They both played on the Nike EYBL circuit and followed it up by playing for Nike schools at the next level.
ESPN reported back in February that Arizona coach Sean Miller discussed paying $100,000 to ensure Ayton signed with the school.
FBI wiretaps intercepted telephone conversations between Arizona coach Sean Miller and Christian Dawkins, a key figure in the FBI's investigation into college basketball corruption, in which Miller discussed paying $100,000 to ensure star freshman Deandre Ayton signed with the Wildcats, sources familiar with the government's evidence told ESPN.
Beyond that, Ayton's recruitment was extremely bizarre. Despite begging for a Kentucky offer as the No. 1 overall recruit, Coach Cal didn't want to touch him with a ten-foot pole. Other schools were hesitant to get involved, as well.
As for Bagley III, Nike was extremely invested in the elite prospect out of Arizona for years. The apparel company sponsored the Phoenix Phamily, Bagley III's club team coached and directed by his father, Marvin Bagley Jr.
The Oregonian investigated a loophole found by the Bagley family and countless individuals across the nation year after year where AAU programs and apparel brands are able to funnel money to top recruits' families.
Bagley Jr. coaches and directs the club program. Nike legally funds the program and pays its staff whatever they want. Money lands in the hands of elite prospects. Easy.
According to the report, Bagley Jr. and his wife filed for bankruptcy in 2008 with a combined family income of just over $44,000.
Though specific numbers weren't released, tax forms confirmed the family listed a home in Southern California in 2012 that one local real estate broker said could range anywhere from $750,000 to $1.5 million. Bagley III was also enrolled in a private school with a tuition cost of $36,250 per year.
Quite a financial jump in such little time, eh?
The report found that it's "common knowledge" apparel companies indirectly pays these families and athletes, and there's nothing anyone can do about it. It's a legal loophole.
Journalist and author George Dohrmann wrote a scathing account of youth basketball after spending eight years with a Southern California club team. "If a dad is coaching an AAU team that is sponsored by one of the big shoe companies, that is plainly just a way for the shoe company to dump a bunch of money in the lap of the parent of the young star," he said.

"Everybody knows that, right? It's a joke."
We hear about apparel companies steering prospects to schools and signing them after college every year. Half the time, a recruit's apparel affiliation indicates how strong a school feels about their chances. Remember the Harrison Twins and their relationship with Under Armour? Fans thought it was a foregone conclusion they would attend Maryland due to the UA connection, and nothing more.
Unfortunately for Nike, all of their hard work with Ayton and Bagley III over the years has been for nothing. Puma Hoops is back in business.
Ashton Hagans is officially a member of Kentucky's class of 2018, and the recruiting services have finalized their rankings to reflect that.
247 Sports released their final list early yesterday afternoon, with Hagans coming in as the No. 2 point guard in the nation and No. 12 overall. Vanderbilt's Darius Garland was the only point guard in the nation ranked ahead of the newest Wildcat.
EJ Montgomery leads the Cats at No. 6 overall on 247 Sports, followed by Hagans at No. 12, Keldon Johnson at No. 18, Immanuel Quickley at No. 19, and Tyler Herro at No. 38.
Kentucky sits just behind Duke at No. 2 in the team rankings, with the Blue Devils leading the Cats 71.06 to 70.29. The average player rating for each team comes in at 99.63 for Duke and 99.37 for Kentucky.
Though he's ranked just a hair lower at No. 13 overall, Rivals.com lists Hagans as the top point guard in the class, ahead of Duke's Tre Jones, Garland, and Florida's Andrew Nembhard, among others.
Montgomery is Kentucky's top signee at No. 11 overall, followed by Hagans at No. 13, Johnson at No. 15, Quickley at No. 22, and Herro at No. 36.
Though they have the same number of four and five-star signees with identical player averages at 4.8, Duke sits nearly 1,000 points ahead of Kentucky in Rivals' team rankings.
ESPN has Hagans rated the lowest out of all of the recruiting services at No. 20 overall and the No. 3 point guard in the nation behind Darius Garland and Tre Jones.
Johnson leads the Cats at No. 7 overall, followed by Montgomery at No. 14, Hagans at No. 20, Quickley at No. 25, and Herro at No. 30.
Unsurprisingly, Duke's RJ Barrett, Zion Williamson, and Cam Reddish went 1-2-3 in the overall ratings, followed by Jones at No. 17. They hold a slight lead over the Cats in the team ratings.
We'll see how that works out for them on Nov. 6, especially if Reid Travis joins the team this week, as expected.
Jarred Vanderbilt's decision to stay in the draft was a complicated one; return to school and risk reinjury or stay in the draft and pray a team takes a chance on you? John Calipari said that's exactly the dilemma Vanderbilt faced, and of the five players going out for the draft, he sought his advice the most.
"That was our conversation," Calipari said. "The whole conversation. Let me say this, of all the kids, he's the one that kept calling and saying, 'Cal, tell me what you think.' Then, we had to talk about what's out there, what opportunities, what are teams saying. Can you get a two-year deal? Because at the end of the day, he's been injured and now it becomes, okay, what happens if next season, you can't play right away or whatever? He was great about it. I think we talked through every scenario."
Calipari is confident Vanderbilt will be drafted because his numbers were so ridiculous; in just 17 minutes per game, he averaged 7.9 rebounds, the most of any player on Kentucky's roster. Per 36 minutes, a popular NBA analytic, he averaged 16.6 rebounds.
"I'm hearing late first round somewhere, or early to the middle of the second round," Cal said of where he thinks Vanderbilt will go Thursday night. "I will tell you that his analytics — all of those teams are looking at the analytics stuff — in those 14 games, were off the chart. NBA motor, goes after balls, feel for the game, quick twitch, can pass it, can bounce it. Gotta get better shooting but my guess is he'll be gone before the late second. There are some teams in the late first round and into the early, middle second [that are interested], so I think he'll be gone."
ESPN agrees. Over the weekend, they posted their Analytics model of the top players in the Draft and Vanderbilt ranked 22nd. According to the model, Vanderbilt has a 25% chance of being an NBA starter and a 41% chance of being a role player. In today's NBA, that's enough for a team to take a chance on him.
The Philadelphia 76ers have the tenth pick in Thursday's draft, and tomorrow, they're bringing in Kevin Knox for another look. Knox worked out for the Sixers in a group workout on Friday and tomorrow, he'll work out for the team in an individual setting.
"They are really interested in me," Knox told reporters on Friday. "They love my game. They love the way that I can shoot the ball. That's something they really like what I can do – shoot a lot of threes.  My versatility, being able to take guys off the dribble, is something that will complement very well with Ben Simmons and Joel Embiid."
On today's NBA Draft teleconference, John Calipari vowed that teams that pass on Knox will regret it.
"I will tell you that Kevin Knox, there will be teams that pass on him and people are going to say, two years from now, why would we have passed on him? He's the youngest player in this draft. He's mentally mature, he's got a great drive and will within his body, but physically, his body is not there yet. So, you're getting a 6'10" scorer who's tougher than you think, but has a ways to go, because he's going to mature physically."
Speaking of Knox, his tweet earlier today almost broke the Big Blue internet:
KENTUCKY has John Wall
KENTUCKY has Anthony Davis
KENTUCKY has Demarcus Cousins
KENTUCKY has Devin Booker
KENTUCKY has Kat
KENTUCKY has RUPP
KENTUCKY has John Calipari
KENTUCKY has 17 Final Fours
KENTUCKY has 8 championships
KENTUCKY IS THE BEST SCHOOL IN THE COUNTRY https://t.co/JEh5tWJAB0

— Kev (@KevKnox) June 18, 2018
I almost feel bad for Butler. That was embarrassing.
Frances Ledford, the widow of legendary Kentucky basketball broadcaster Cawood Ledford, has passed away at the age of 90. According to the Herald-Leader, she died Sunday night in Harlan, where the two lived after his retirement.
In an interview with the Herald Leader, JMI Vice President of Operations Kim Ramsey recalled this sweet memory of Frances waiting for Cawood to come home from basketball road trips.
"She never would go to bed until he came home," Ramsey said. "She'd sit in a love seat in the front room and wait for him."
Funeral services are tentatively scheduled for Thursday in Harlan. In lieu of flowers, donations can be made to the Cawood Ledford Boys and Girls Club in Harlan or to a project to set up a room named for Cawood Ledford at the public library in Harlan.