The University of Kentucky hockey poster has been a hot item going all the way back to the 1998-99 season when Ashley Judd was the first to pose next to the team's schedule. The poster has since seen other gorgeous Kentuckians such as actress Rebecca Gayheart, Miss USA 2006 Tara Conner, country music star Laura Bell Bundy, and many others who are very easy on the eyes.
A new version of the calendar was unveiled today and it features Kindly Myers, an extremely popular bikini model and fan of the Wildcats, in the UK hockey jersey.
Posters will be available for sale at home games and will eventually be for sale online. They are $10 unsigned or $25 for a signed copy.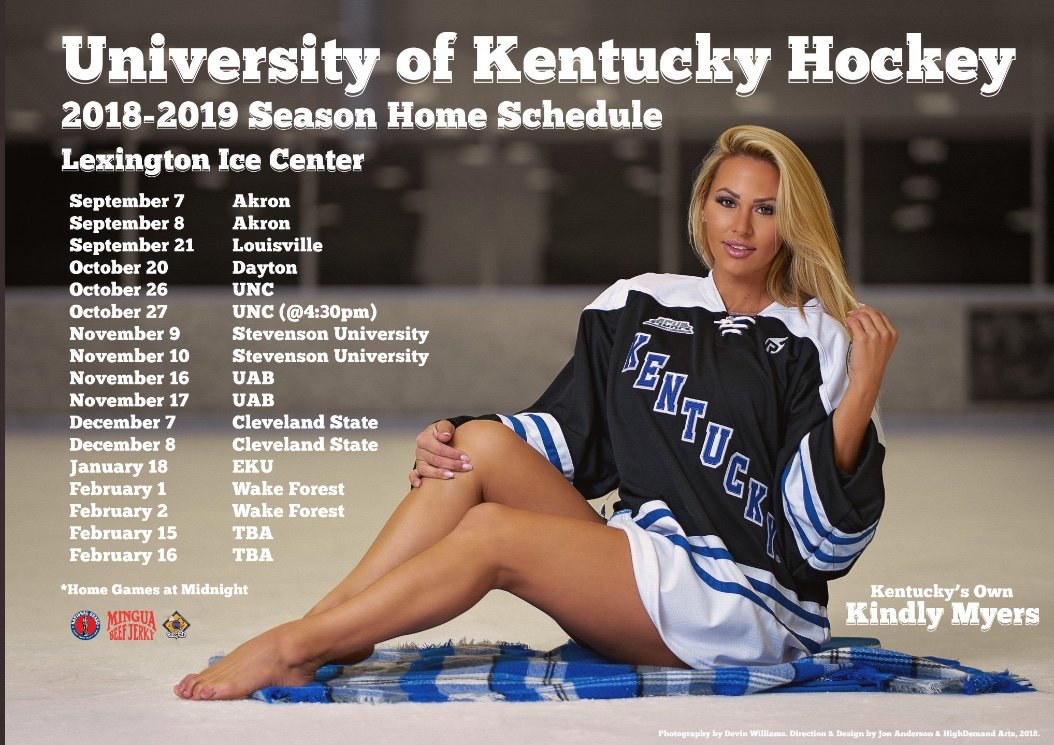 To celebrate the release of the new calendar, here are some of the many other times Kindly has represented UK:
Today's KSR show at the UK football practice facility was jam packed with football content as Matt Jones and Ryan Lemond interviewed several of the biggest names around the Kentucky program.
You can find a ton of the stuff throughout the pages of Kentucky-Sports-Radio-dot-com, but for those looking for the audio in one convenient place, well here ya go…
Mark Stoops:
Freddie Maggard and Vince Marrow:
Benny Snell:
C.J. Conrad:
Kash Daniel:
An All-American and Mr. Football, Paintsville's Kash Daniel left Eastern Kentucky with high expectations.  He does not intend on disappointing any of those who helped him get to where he is today.
Shortly after he signed to play football at the University of Kentucky, people from his hometown asked what he was going to do with the opportunity.
"We expect to go to four bowl games, back to back to back to back," he recalled this morning on KSR.  "We've come close to winning two and this year that's going to be our big hump to get more than seven wins and finally get that bowl loss off our back."
In his first two years at Kentucky, Daniel played sparingly on special teams as he learned behind Courtney Love.  He's put in the hard work.  Now he's prepared to make Eastern Kentucky proud.
"I feel like sometimes I got the whole Appalachian mountains on my back.  It's not a bad thing to me because I want to make everybody back home proud.  That's what drives me everyday to keep up, keep going and do this day in and day out."
Daniel will be the middle linebacker of an SEC defense this fall.  Being the heart and soul of Kentucky's defense is an honor, one he could could not accomplish without the help from others.
"When you look at where I come from, it's just a deal for me where I feel like I owe it to the people of Appalachia, the people of Eastern Kentucky.  They believe in me.  They believe in what I do here and they continuously support me.  If I don't come out and do my best everyday in practice. If I don't give it my all in the weight room.  If I don't give it my all in the classroom or the meeting room, everybody that's ever done anything for me or wanted me to succeed, it's basically a slap in the face to them."
Kash is thankful for those who pushed him to be great.  Now he wants to inspire others to follow in his footsteps.
"I want to show everybody that no matter where you come from, no matter what size school you play at, if you do the right things and work hard, anything is possible."
Listen to the entire interview:
Mark Stoops made a special guest appearance on Kentucky Sports Radio during a break in Week 3 of his team's fall football camp.
As always, Stoops was very candid and transparent to the show in his comments; although, he did not reveal any new information as to who the starting quarterback will be in 11 days. (Sorry.) He did, however, say, "I've thought about it, but I haven't made a decision on it as far as when and how I'll make that public."
Stoops also raved about his team's veteran leadership in a year that, for the first time, the best players are also its best leaders.
"We've been more consistent," Stoops told the show. "I've been impressed; in particular, some of those guys on the offensive side of the ball with Benny, CJ and all the O linemen. All those guys are leaders and want to do the right thing all of the time, so they've been impressive. Same with the quarterbacks."
Overall, he sees his best football team since he's been at the University of Kentucky. But only time will tell if his best roster will translate to the Cats' best record in his six seasons in Lexington.
"Without a doubt, we're a stronger football team this year," Stoops said, proudly. "Whether we play better or whether we win those games, that's why we play them. But we're a better team this year than we've ever been. And as I say all the time, we should be. How it translates to wins and losses, that's why we gotta go play because I can't just say that.
"We have a great opportunity. I like this football team. But until you go play, you don't know exactly what we have."
11 days until we see it on the field.
Listen to Stoops' entire interview:
Ahead of the 2018 Kentucky football season, it feels different around the Joe Craft Football Training Center.  From afar, it's hard to put your finger on what it exactly is, but for guys within the facility like C.J. Conrad, the difference is obvious.
"I just think what's different about this year and year's past, I think our best players are our leaders this year," Conrad said this morning on KSR.  "We had guys who could go big time.  Josh Allen is one of the best linebackers in the country.  Benny Snell is one of the best running backs in the country.  Mike Edwards is one of the best safeties in the country.  The list goes on.  I don't think you could say that in the past.  These guys are legit.
"These guys are getting national attention and they're also the leaders of our team.  I don't know, there's just something to be said about that.  When these younger guys come in, they read about these guys and all of a sudden they're doing things right.  It just makes the program want to do things right because you see where they're at and you want to aspire to be them."
Head coach Mark Stoops can see how the leaders impact others everyday in practice.
"It makes a very big difference," Stoops said.  "They have to hold each other to a higher standard. We've been more consistent.  I've been impressed, in particular with some of those guys on the offensive side of the ball."
Consistency is key.  It's also been the Cats' biggest problem in the past.  To address it, players like Conrad and Benny Snell have urged the team to not let up, even after an excellent performance, like what happened in Saturday's scrimmage.
"Going into practice yesterday I told the offense, 'You know the defense is upset.  They got their pep talk.  Let's beat them again, and again,'" Conrad said.  "That's been the thing in the past, one day the offense wins and the next day the defense wins, because they're mad about yesterday and the offense doesn't bring it as much.  I want to have that consistency on a daily basis because that's what it takes to win in the SEC."
Kentucky's best players have the right work ethic, but exactly how good are these guys?  Entering his fourth year, Conrad has seen many come and go, but they cannot compare to what's on the Cats' roster in 2018.
"This is definitely the most talent I've been around and the most developed; the most mature in general.  Those guys playing as freshmen and sophomores are now juniors and seniors. We've seen what guys were doing in the past that just wasn't getting it done."
So far, Stoops believes this team is getting it done, however, that doesn't mean you're going to win every game.  Preparation has put them in a position to succeed.  Now UK's talented leaders must take what they've done on the practice field and execute on Saturdays.
"I feel like these guys have really done a lot to put us in a position, but as I told them yesterday, there's not some magical switch where you just hit and say, 'We're ready to play.'  You have to make that happen," Stoops said.
"Guys can't get comfortable, just because there's some experience and some guys have been around.  That's a recipe for disaster to just think that we're going to turn it on and think that we're going to play well.  We have to play with our hair on fire each and every play."
Hear all of Conrad's comments below:
The Kentucky football team will open the academic school year with an unexpected addition.
UK announced outside linebacker Ashtan Pierre has arrived on campus and will enroll in classes this fall.  Pierre will practice with the team, but will not play as a redshirt.
A three-star recruit from Pompano Beach, Florida, Pierre initially chose Kentucky over Oklahoma and others.  Mark Stoops announced at SEC Media Days that he did not expect Pierre on campus this fall due to an academic situation, but those plans have apparently changed.
The defensive line has been one of Kentucky's weakest units in recent years, but according to Vince Marrow, that's about to change in a big way. On KSR this morning, Marrow said pro scouts who have attended practice believe Kentucky's defensive line has just as much talent as Alabama or Ohio State's.
"This is my sixth year here and this is probably the most talent we've had on the D-Line as a group since I've been here. Every NFL team has been through here already. There have been a lot of pro scouts in here and they say we have just as much talent as Alabama and Ohio State, prospect wise."
The most impressive of the bunch? True sophomore nose guard Quinton Bohanna, whom one scout told Marrow he would draft right now.
"I tell you what, the big boy in the middle? He's a future stud. Man, he is. He's a grown man. I had someone on the field the other day — a couple of scouts were looking at some of our guys that are seniors — he said, 'I'll take 95 right now. Right now.'"
In the past, Kentucky's had standouts on the defensive line like Bud Dupree or Za'Darius Smith; Marrow said the unit's talent from top to bottom this year will make a world of difference.
"I think that we have at least seven to eight good, quality defensive lineman that can play this year in the SEC," Marrow said. "We haven't had that before. We had Bud, we had Z, but you've gotta have a group of guys that can go in a rotation and come in and finish this thing out."
"Their bodies look different," Marrow added, praising the strength and conditioning staff. "They look like dudes we used to go against six years ago when we first got here. We didn't have them guys. Now we've got them guys."
This Kentucky football team carries heavier expectations on its shoulders this fall.  They are not shying away from the pressure, at all.
With plenty of talent returning, fans have already seen many of these guys make plays on Saturday, but Benny Snell vows this year will be different.  The Kentucky running back shared this message to Big Blue Nation on Kentucky Sports Radio:
"To the BBN fans, from this team you are going to see us win more games.  You are going to see a fight out of this Lexington team that you haven't seen before.  This team is a lot closer. We're a lot (more) mature and we're executing when we're in-between those white lines, every game.  I can promise you that."
Snell, the self-proclaimed best running back in the SEC, will carry even higher expectations for himself this fall.  What are those exactly?
"You're going see him run.  You're going to see him get his heart out and I'm going to lead this offense to victories," Snell said.  "Rumble young man, rumble."
Eleven days till kickoff.
This morning on KSR, Mark Stoops reiterated he hasn't decided which quarterback will start vs. Central Michigan, Terry Wilson or Gunnar Hoak, but senior tight end CJ Conrad said Wilson's speed could give Kentucky an extra dimension this fall.
"He throws it a lot better than people think he does and he's extremely athletic," Conrad said of Wilson, who reportedly shined in Saturday's scrimmage. "If he was our quarterback at the time, he could be the fastest player on the field. He's that fast. He's extremely fast. That's what I told my dad, if Terry is the quarterback, he would be the fastest on the field. He's really fast. But he also throws it. He makes really good decisions. He's not sporadic or anything. Overall, just a good head on his shoulders, good kid."
Conrad also doled out plenty of praise for Hoak, who he said always makes the smart plays.
"He's been here the longest, knows the offense extremely well. Gunnar has a nice touch on his passes. He's not one of those guys that's going to zip it in there, but he has a nice touch. He's smart. He makes all the smart throws. He knows what he's doing. He's a quiet leader, sort of like Stephen [Johnson]."
Danny Clark is behind Wilson and Hoak in the race, but Conrad said the redshirt freshman's future at Kentucky is bright.
"He can sling it. He's the complete opposite of Gunnar. If there's a tight window, he's going to throw it. He's also pretty athletic, runs pretty well."
Sadly, we don't have a ton of highlights of Terry at UK yet, so until we do, watch him burn up the turf at Garden City last year:
If you grew up wanting to be a Wildcat, now's your chance.
UK is hosting mascot tryouts this Thursday, August 23, in the gymnastics room at the Seaton Center on campus. Students interested in trying out will need to show up in athletic clothes with an unofficial transcript in hand for the 5 p.m. tryout.
It may not be that childhood dream of sinking a three-pointer at the buzzer to beat Louisville in Rupp Arena, but let's be honest: you were never good at basketball and this is your only shot at running out onto the Rupp Arena floor in front of 22,000 fans. So give it a try if you think you're qualified.
Washed up adults who aren't students at UK, this isn't for you. Sorry.
Go Cats.