Good morning! It's officially SEC Tournament week!
In just a few short days, Big Blue Nation will descend upon Nashville for five long days of SEC Tournament basketball action. The fun will begin Wednesday evening — although nobody will be there except the few people who truly appreciate SEC basketball at all skill levels — when the tournament gives us two clashes of conference titans: (13) Georgia vs. (12) Missouri and (14) Vanderbilt vs. (11) Texas A&M. That's must-see basketball IMO.
And if you find yourself in Nashville extra early for the tournament, Chris Tomlin and I will be filming a television piece outside Bridgestone Arena on Wednesday, a little before noonish. We'd love to have some UK fans in the shot so come find us if you're in the Music City at that hour.
But before we start packing, there is some website reading and writing to be done.
Where will Kentucky be ranked today?
Kentucky should move up two places in this week's college basketball rankings, presumably ahead of Tennessee (lost to Auburn) and Duke (lost to UNC). That would put UK back at fourth in the poll, its place for two straight weeks before dropping the game at Tennessee. Gonzaga, Virginia and North Carolina will hold down the top three places for a second straight week. The entire poll will come out around lunchtime.
Kentucky now projected as a No. 1 seed.
With help from Duke and Tennessee, your University of Kentucky Wildcats are now projected as the top seed in the South Region (Louisville!) by both CBSSports.com and Joe Lunardi over at ESPN.com. Duke had been the South's No. 1 seed for the last several weeks, but with the loss to the Tar Heels, the Blue Devils dropped to the No. 2 line, though still in Louisville. We've debated this many times on KSR and I realize I'm outnumbered, by I don't hate this scenario. I'll take on all comers if the game is played 75 miles from Rupp Arena.
John Calipari to answer questions on SEC coaches teleconference today.
Coach Cal will make a final appearance on the league's coaches teleconference to preview his team's trip to Nashville. Cal is slotted for an 11:35 am start time and we'll have a recap of all of his comments here on Kentucky-Sports-Radio-dot-com.
UK Baseball swept its weekend series with Middle Tennessee.
After Kentucky posted a shutout in the first Sunday game, UK's Ryan Shinn hit a two-run, walk-off home run to cap a doubleheader and series sweep of the visiting Blue Raiders of Middle Tennessee on Sunday. It was the first walk-off home run in almost three years for the program, and the first in the new Kentucky Proud Park (obviously).
The Cats (11-4) are home Tuesday afternoon for another one against SIU-Edwardsville at 4 pm. You should go.
Trinity won the 2019 Whitaker Bank KHSAA Boys' Sweet Sixteen.
Congratulations to Trinity on its Sunday afternoon victory in Rupp Arena to clinch the 2019 high school state championship. The Shamrocks beat Scott County, 50-40.
Next year it will be Madisonville.
Get to KSBar and Grille for The Hammer Championship Week Challenge.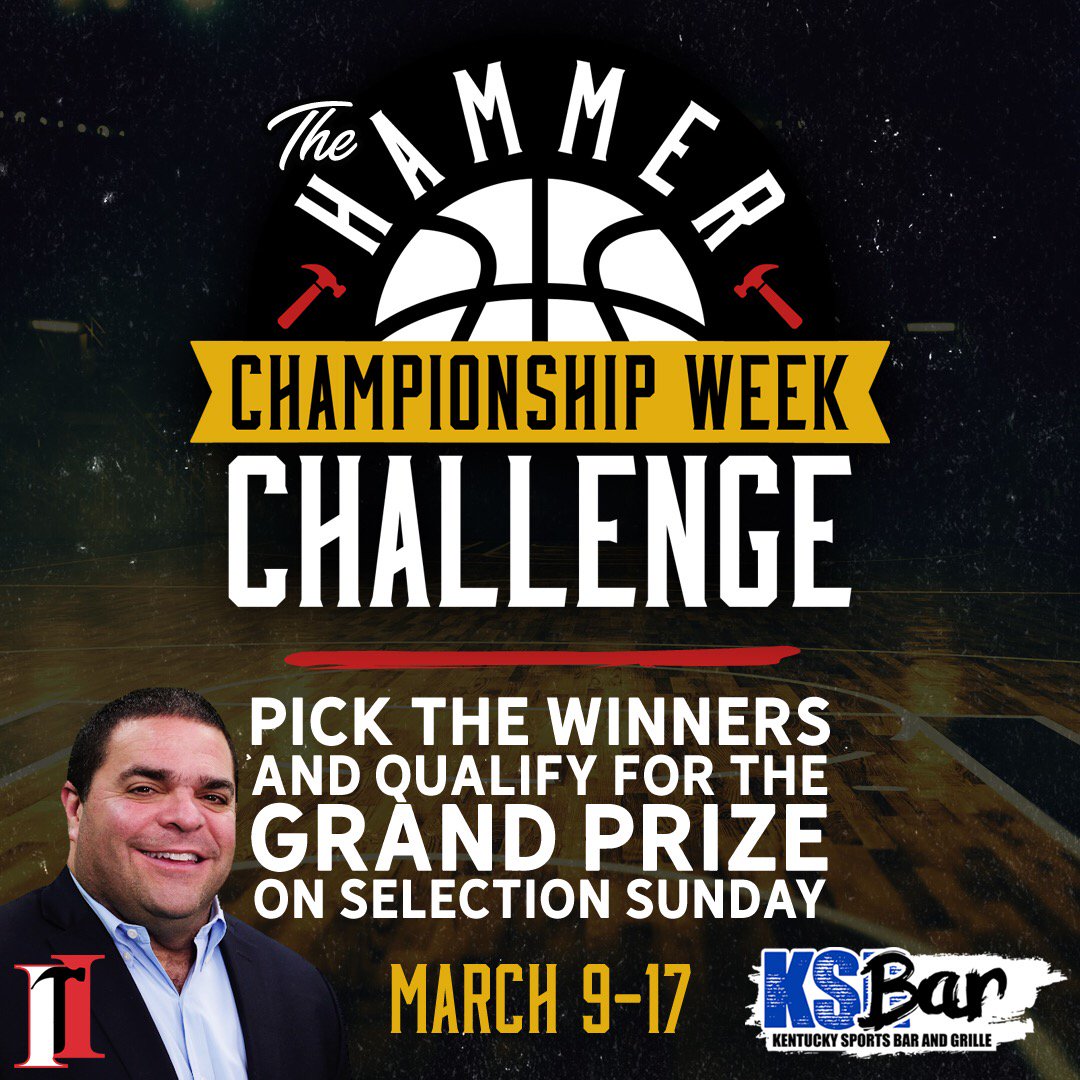 Stop by KSBar and Grille in Lexington to make your predictions for the conference tournament games this week. If your picks are among the best, you'll be entered to win the grand prize on Selection Sunday.
Also at KSBar and Grille: This week's TRIVIA IS TONIGHT, not Wednesday. We'll be in Nashville on Wednesday.
Go Cats.