After a long week of work, school, and cold weather, the day has finally come to make it all better. The #SnellYeahTour is officially here, where the Big Blue Nation has the opportunity to meet the all-time leading rusher in Kentucky football history, Benny Snell!
Here's how it's going to work at KSBar tonight…
Benny Snell's Signing Tour begins at KSBar and Grille
The official event is set for 6-8 p.m., where Snell will sign autographs and take pictures with fans.
For those going, a signature from Snell will cost $30 per item signed. You are more than welcome to bring your own items to get signed (no limit on signatures) or purchase Snell Yeah merchandise (t-shirts, towels and wristbands) to use that night. Don't have anything to get signed and/or don't want to purchase something there? An 8×10 photo will be provided with the cost of the signature, although photos are not included if something else is signed.
Want to beat the line? Head to KSBar and Grille at any point today to pick up a numbered ticket to reserve your spot in line. If you can't make it over today to hold your place, you're more than welcome to show up whenever you can this evening. The Kentucky star running back will be there waiting for you when you arrive.
Not able to make it to KSBar tonight for the signing experience? Here's a look at the entire #SnellYeahTour, which makes five separate stops in five different cities throughout the weekend. At least one of them should do the trick: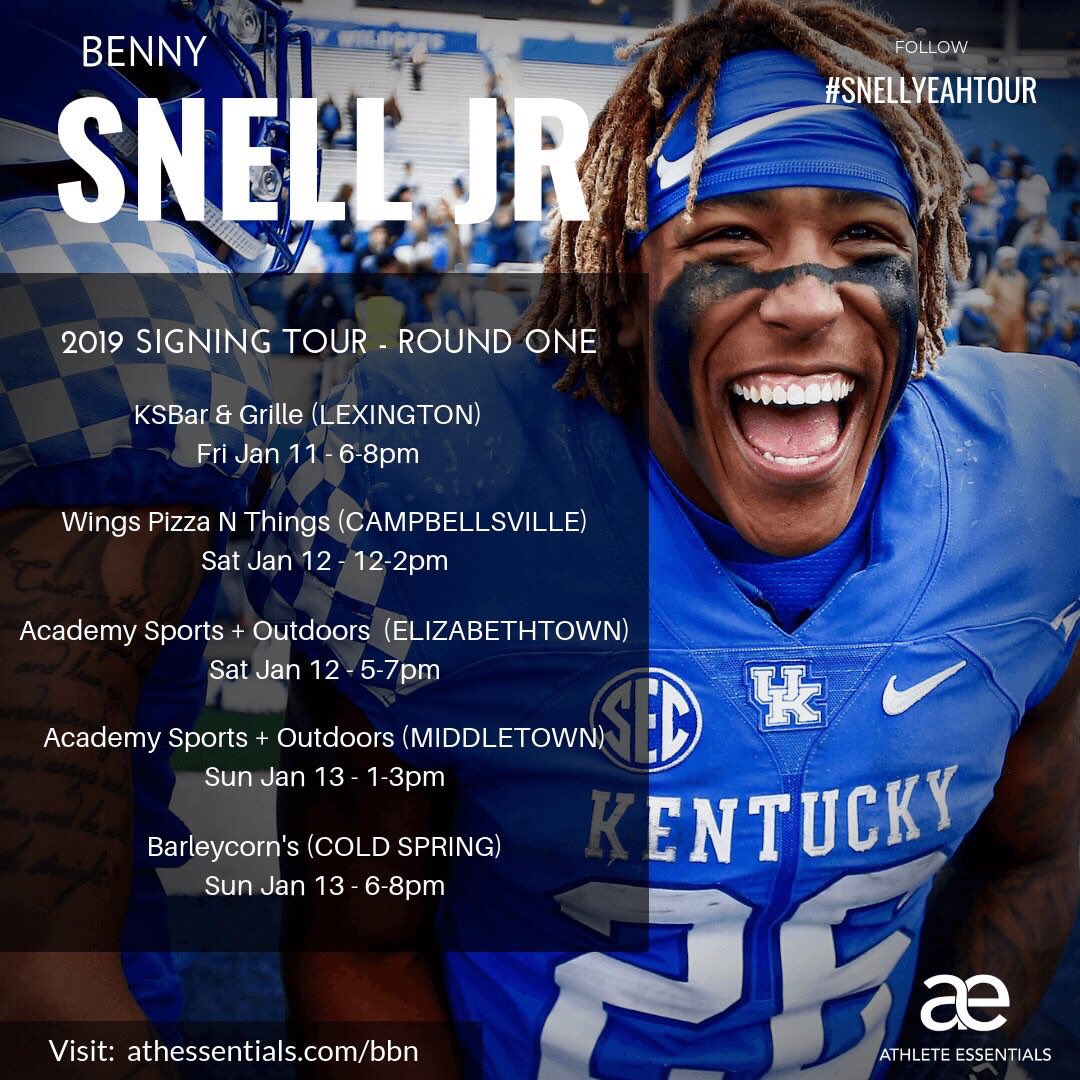 Eddie Gran returns to Kentucky
After a day of controversy, Kentucky offensive coordinator Eddie Gran announced he would be turning down an offer from Georgia to stay in Lexington.
I'm all in, #BBN! Let's do this !

— Eddie Gran (@CoachGran) January 10, 2019
Not everyone agrees with every play call or necessarily enjoyed the look or total production of the offense at times, but maintaining that stability and foundation under a team that just went 10-3 for the program's biggest season since 1977 is massive.
I wrote about the significance of his return here:
Eddie Gran returning to Kentucky is a major win for the football program
Welcome back, Mr. Gran.
Josh Allen listed as No. 4 player in college football
We all know Kentucky linebacker Josh Allen was one of the most dominant players in all of college football, with a top-three NFL Draft selection more likely than not expected in April.
Yesterday, Pro Football Focus released their annual 101 best college football players in 2018, and Allen came in at No. 4 overall.
Here was the description:
This one is easy: Josh Allen got home with a pressure on 23.4% of his pass-rush snaps this season – the best mark of any defensive player who rushed the passer at least 200 times this year. He tallied 57 pressures on just 244 pass-rushes and his outstanding pass-rush productivity of 30.3 was 3.5 percentage points higher than the next closest player. He was far and away the best pass-rusher this season regardless of position but that's not even the half of what he did well. He dropped back in coverage with great success (81.9 grade) and made 51 total defensive stops and missed just four tackles out of 69 attempts. All in all, Allen's performance not only cemented him as the best edge defender this season, but it also vaulted him up draft boards and should make him more than a recognizable figure come April.
The former Wildcat sits behind only Quinnen Williams of Alabama (No. 1), Kyler Murray of Oklahoma (No. 2), and Christian Wilkins of Clemson (No. 3).
Allen was the lone Kentucky player on the list, meaning star running back Benny Snell did not make the cut.
For the entire list, you can head here.
Kentucky women's basketball defeats Tennessee in Knoxville
For the first time since January of 2014, the No. 16 Kentucky women's basketball squad took down the dreaded No. 13 Tennessee Volunteers in Knoxville by a final score of 73-71.
Senior guard Maci Morris finished with 27 points on 10-16 shooting (4-6 from three), while junior forward Ogechi Anyagaligbo scored a UK career high 13 points (6-7 shooting), three rebounds and one steal. Junior guard Jaida Roper also added 10 points, three assists, and one steal, including a huge three-pointer with just :55 remaining to push the Kentucky lead to five and ultimately seal the victory.
You can check out KSR's recap below:
UK Hoops Holds on to Beat No. 13 Tennessee Despite Injuries and Foul Trouble
The Wildcats' next game will be at home in Memorial Coliseum, as they take on the Ole Miss Rebels on Sunday at 1 p.m.
Enes Kanter misses practice after eating seven cheeseburgers
On Wednesday night, former Kentucky center Enes Kanter posted a video on Twitter highlighting his "cheat day," where he consumed three triple-patty cheeseburgers with egg, four additional single burgers, and a side of fries.
Cheat Day ? pic.twitter.com/w5lUI8s6Wl

— Enes Kanter (@Enes_Kanter) January 10, 2019
The very next day, Kanter actually missed practice for the New York Knicks due to an undisclosed illness.
Enes Kanter was here at practice but left because of illness. Really.

— Steve Popper (@StevePopper) January 10, 2019
Through some superb investigative journalism, Sports Illustrated determined Kanter's meal was at Elevation Burger in Rye Brook, New York, a restaurant with a calorie tracker for their food items on their online menu.
He says he has three triple burgers with fried egg, which must have been a custom order. The menu includes a double burger with egg at 890 calories, so let's say the triple is about 1100 calories. Then he's got what looks like two "paleo burgers," which are 505 calories each. It looks like the two other burgers are just a single patty, which clocks in at 330 calories each. And then there's the fries, 520 calories.

That's a total of roughly 5,500 calories, nearly three times what the average person is supposed to consume in a day.
Now it's obvious Kanter, a 6-foot-11, 250-pound center, burns a ton of calories every day and he could certainly afford a cheat day or two. And he very well could have been sick from something else.
Put two and two together with, though, and it seems a little too fishy to be just a coincidence.
KSR Football Podcast is BACK
After a long wait, the KSR Football Podcast is back for one final show to close out college football season.
Nick Roush, Drew Franklin, Charles Walker, and Austin MacGinnis each break down Kentucky's victory in the Citrus Bowl and recap the team's historic 10-3 season.
Give it a listen here:
KSR Radio is LIVE in an hour
The KSR crew is LIVE this morning in Corbin at the Corbin Arena from 10 a.m. to 12 p.m. with tickets to give away.
CORBIN: KSR Radio will be LIVE tomorrow morning from the Corbin Arena. 10-Noon with tickets from @GOTCTickets

Come join us!

— Matt Jones (@KySportsRadio) January 11, 2019
Let's get this party started.