No, not the Florida boys who play for Florida. The Florida boys who play for Kentucky. There are currently 16 players on UK's roster from the Sunshine State, 14 of which have joined the team during Mark Stoops' tenure. Who are they? All of them except punter Bryan Kirshe posed for the picture above on Media Day, and here's a roster to help you match numbers with names:
A little behind-the-scenes story for you: on Media Day, the coaches wanted some of the players to group up for pictures by state, so the Kentucky boys took one together, the Ohio boys, and the Florida boys. Apparently the Florida boys got so rowdy during their picture that Tony Neely had to step in and calm them down, which is the story behind this hilarious shot:
That's just further proof that Florida boys have swagger, something JoJo Kemp's showed in spades the past few days. In fact, that's a great segue to the news…
JoJo Kemp's comments are now hanging in the Florida locker room
On Tuesday, the always gregarious JoJo Kemp made some interesting comments about the upcoming game, telling reporters that he has friends on the Florida team, and that he can't wait to rub UK's victory in their faces on Saturday. Here's the full quote, because context is important:
"I'm familiar with a lot of those guys. I went through whole high school being on the recruiting list, going to the games every Saturday, every home game, staying down there every weekend. So I'm familiar with a lot of guys, hang out with those guys. A couple of my teammates actually went to Florida, so I'm familiar with a lot of those guys. It's going to be fun walking out with a victory and rubbing in their faces."
JoJo being JoJo, he laughed after he said that, but it didn't take long for his comments to travel south. On Wednesday, Florida linebacker Mike Taylor taunted JoJo for "talkin' shit but your Kentucky's 3rd string back," although Kemp is actually Kentucky's first string back alongside Braylon Heard, and, you know, not to go there, but *you're. A few hours later, we found out someone made a poster of Kemp's comments that now hangs in the Florida locker room: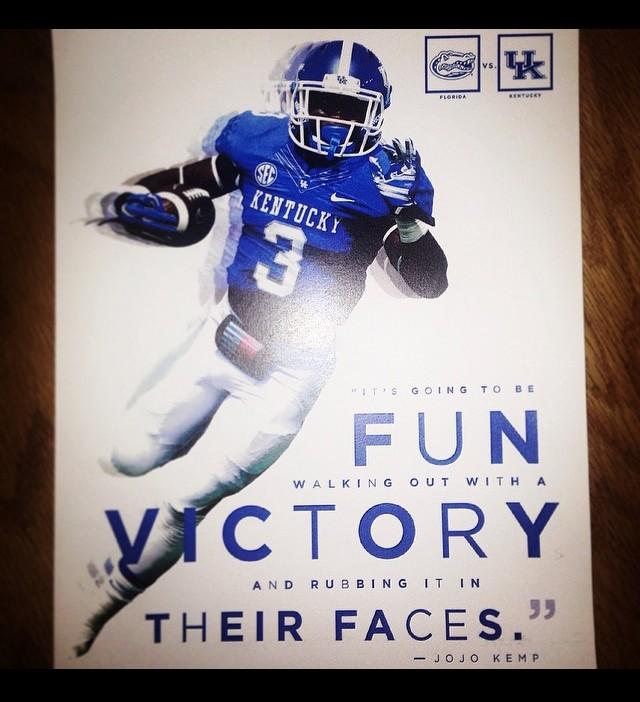 Well, so much for a trap game, right? As you can imagine, Mark Stoops was not happy. In fact…
Mark Stoops was furious about JoJo's comments
During the SEC teleconference Wednesday morning, Mark Stoops said he was "furious" and "outraged" about Kemp's comments. Stoops said that while he understood that Kemp was simply trying to tease his friends on Florida's roster, he ended up insulting all of Florida's players, which he learned was a big no-no from his time at South Florida, Miami, and Florida State.
"I know the great pride of the players in that locker room at Florida; I've been all through Florida. I've been at Miami, South Florida and Florida State. I know personally quite a few of those players and the pride that they have, and one thing – it's not very smart to try to challenge their pride before you play them. Believe me, I know them."
Giving other teams bulletin board material is never wise, but as a fan of a team that's been considered the doormat of the SEC for most of my life, I like JoJo's confidence. And, as many people have pointed out, when was the last time UK football gave other teams bulletin board material? Usually they just shake their heads and laugh at this stuff. The fact that someone (maybe Joker's former photoshop intern?) took the time to put it on a poster for the locker room shows that the Cats are making some noise. And if the Cats win on Saturday, JoJo has earned himself a spot in UK lore.
Braylon Heard practiced in full pads
How about some news about the actual game? There was a little bit of encouraging news Wednesday night when reporters saw Braylon Heard walk off the field in full pads. Until now, Braylon hasn't been able to practice due to an ankle injury and if he can go on Saturday, that's huge news for the Cats. Mark Stoops will address the media Thursday after practice, which is hopefully when we'll get a real update on his status.
"SEC Nation" is coming to Lexington for the South Carolina game
"SEC Nation" is the SEC Network's version of "College Gameday," and on Wednesday, we found out they're coming to Lexington on October 4 for UK's game against South Carolina. The show airs from 10 a.m. to noon and features a cast of Joe Tessitore, Tim Tebow, Marcus Spears, Paul Finebaum and Kaylee Hartung. Last week's was in Nashville for Vandy/Ole Miss at LP Field, and I know the BBN will bring more people out than Vandy did. I cringed as I drove by the set it was so bad. 
Calipari visited Doral Moore and Udoka Azubuike on Wednesday
After checking in on Malik Newman and Jaylen Brown on Tuesday, John Calipari flew to Florida to see 7-foot center Doral Moore and 2016 center Udoka Azubuike. Moore, considered the 10th best center in the 2015 class, was scheduled to visit UK a few weeks ago, but backed out. Many thought he would commit during that trip, so it will be interesting to hear what comes out of his visit with Cal. According to Chris Fisher, Calipari also saw the nation's number one center in 2016, Udoka Azubuike, in Jacksonville, Florida.
Here's the rest of Calipari's in-home visit schedule:
Thursday, September 11: Brandon Ingram (Kinston, NC), Caleb Swanigan (Fort Wayne, IN), Henry Ellenson (Rice Lake, WI)
Friday, September 12: Charles Matthews (Chicago, IL)
Saturday, September 13: Stephen Zimmerman (Las Vegas, NV)
Wednesday, September 17: Carlton Bragg (Cleveland, OH)
Thursday, September 18: Isaiah Briscoe (Newark, NJ)
Calipari tells Malik Newman Drake may visit for Big Blue Madness
Some big news broke late Wednesday night when Malik Newman told The Clarion-Ledger that John Calipari said during his in-home visit on Tuesday that Drake may attend Big Blue Madness. Newman has yet to schedule an official visit to Kentucky, and admitted that Drake being at Big Blue Madness would make it "a really good event to go to." Jaylen Brown, Brandon Ingram, Stephen Zimmerman, and Carlton Bragg are all already scheduled to take official visits to Kentucky that weekend, and while most of those guys aren't going to make decisions until the spring, bringing in Drake on the program's biggest night would be a huge coup for Cal, and to an 18-year-old kid, pretty damn impressive.
This is what Julius Randle looks like in the new NBA2K
…and it is frighteningly lifelike. Video games sure have come a long way since Zelda.
Matt and Ryan will be live at Salsarita's in Louisville in the morning
That's the Salsarita's in Middletown at 12915 Shelbyville Road. This is the first Louisville remote the gang's had in a while, so come on out and enjoy the fun and delicious Mexican food.