If there were run rules in baseball, they definitely would have been applied today, as Kentucky suffered the sweep in the Lone Star State, losing to Texas Tech 19-4.
It has been a disappointing weekend for the Bat Cats. Kentucky struggled, blowing two leads in the first two games of the series. But today was the worst of them all, as the Cats didn't hold the lead one time in this ball game. Big innings have been the backbreaker for Kentucky in this series, giving up two six-run innings in the first two games – today was no different. Only this time, Texas Tech seemingly hung a crooked number in every inning. Having yet another six-run inning in the 3rd, a four-run inning in the 4th, a three-run inning in the 6th and, to cap it all off, a four-run inning in the 7th; Kentucky's pitching was no match for the Red Raiders.
Kentucky sent eight pitchers to the mound today to try to figure out an answer for this Red Raider lineup, but none of them prevailed. Starter and losing pitcher Dillion Marsh only went two innings, giving up six runs in his short time on the mound this afternoon. He also walked five batters in and surrendered six hits before being pulled. The collective effort from the bullpen didn't provide any relief either, as they surrendered 13 hits and walked seven more batters as a whole. One bright spot out of the bullpen was Tyler Burchett, who made his debut in the blue and white this afternoon. In his first appearance, he only surrendered one walk to carry the limping Cats to the finish line.
Texas Tech's right fielder had himself a day with a whopping seven RBIs off three hits. He got the bulk of his RBI's on a three-run blast in the big 3rd inning for the Red Raiders. Brian Klein also contributed big numbers for the Red Raiders; he had four hits and four RBIs on the day.
On the offensive side for the Cats, Jaren Shelby was a bright spot, as he was responsible for three runs in today's contest. The Lexington native went for two RBIs on two hits, and he scored a run as well.
Ryan Shinn kept his on-base hot streak up as he reached base in all three at-bats he had this afternoon, but the way he got on base was very unconventional. Shinn was hit by the pitch in all three of his at-bats. If you thought his day sounded fishy, get this: Texas Tech pitchers hit Kentucky batters seven times in this contest. I'm not sure if that's some sort of record, but if I were a betting man, I'd say it was pretty close.
On the bright side of things, Kentucky will debut their new, state of the art Kentucky Proud Ballpark Tuesday at 4:00 pm as they take on EKU. You should be able to make it to Kentucky Proud Park's debut on Tuesday after all: Kentucky baseball has provided you with an excuse from work.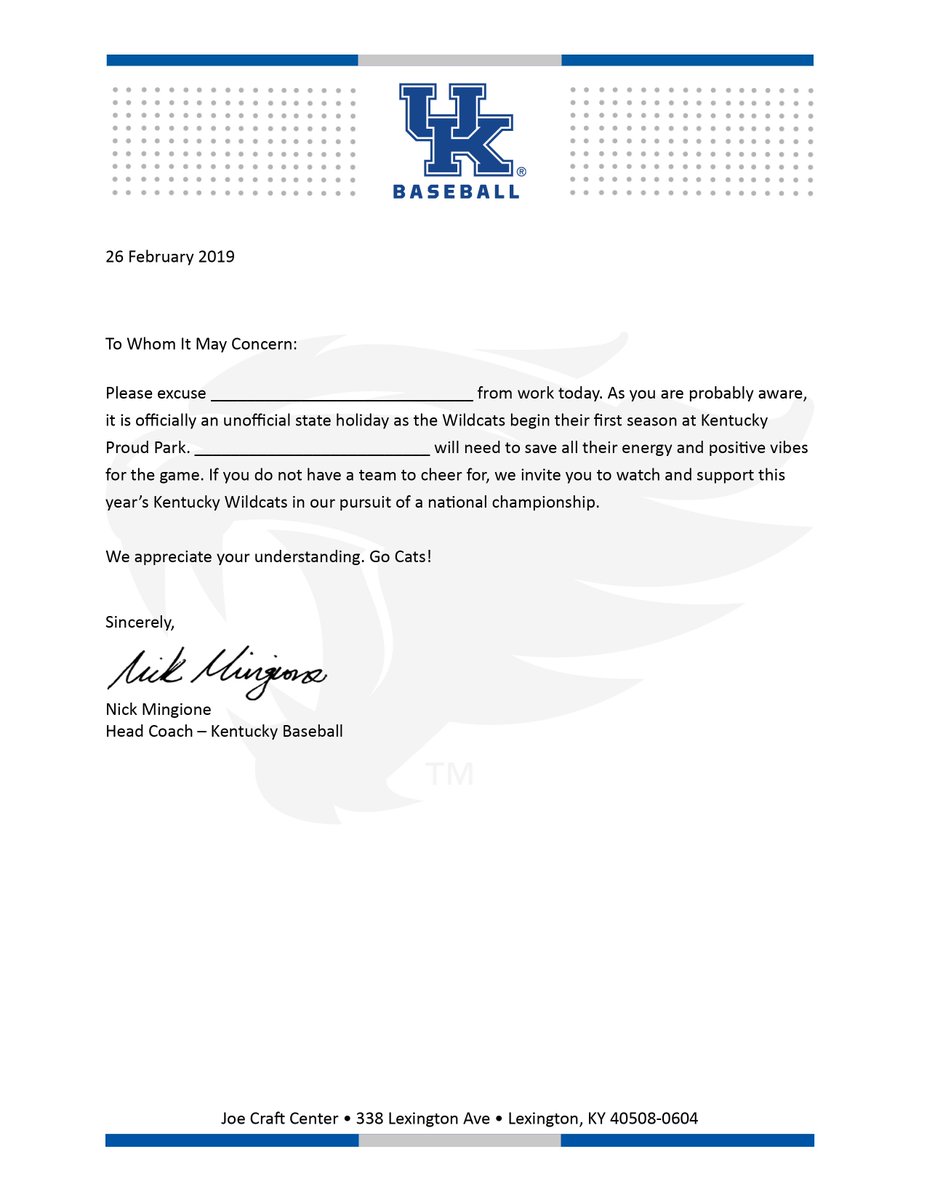 But, in the unfortunate circumstance you can't make it to the game, you can watch the Cats attempt to stay above .500 and get back to their winning ways on SEC Network+ or tune in on 98.5 FM Lexington.
Forecasts say it will be a beautiful day for February baseball, with it being sunny and temperatures sitting in the 50s.
Go Cats.
---