Kentucky added another talented football player to its 2019 recruiting class this afternoon when J.J. Weaver committed to UK.  The festive ceremony taught me a few things about Kentucky's next pass rusher and came with a few surprises, like…
1. Jared Casey was in the Building
That's gotta be a good sign, right?  The Ballard linebacker could end up playing on the opposite side of Weaver at Kentucky.  When asked about Casey, Weaver would not tip his cap on any inside scoop, but did say: "You saw that he de-committed to Oregon.  You know that means." We'll find out if Casey will join J.J. at UK next Thursday.
2. The Big Dog Barks
Weaver was quickly convinced Kentucky was the place to be.  "It felt like home.  When I took my official visit there, I knew it."
He liked what he heard from Coach Stoops, but Vince Marrow sealed the deal (of course).
"He's the realest person I've ever met.  He kept it real, he kept 100 with me and told me everything I needed to know."
3. Family Matters
Staying close to home was a must.  Six years ago he moved with his mother and father from South Florida to Louisville.  He could have returned home and played for Miami in front of his extended family, but J.J. couldn't leave his parents.
"It's just my mom and my dad.  That's it.  Everybody else is back home in South Florida, so being close to my mom means everything in the world."
4. Talented Family
Over the summer Weaver will be in the gym working to play right away.  The person standing in his way is his cousin, Jordan Wright.  Waiting behind Josh Allen, the redshirt freshman outside linebacker had four tackles this year.  Next year Wright and Weaver will fulfill a life-long dream.
"We've been talking about this since we were kids," Weaver said.
5. No Early Enrollment
Many recruits finish high school early to get on campus in time for spring practice.  Weaver will wait until the summer.  Many wanted him to leave Moore to play for a bigger high school program, but he refused.  He did it his own way.  Now he'll finish his own way, with the people that helped him reach this point.
6. The Six-Fingered Blessing
It was my journalistic duty to ask Weaver about his extra appendage.  It was probably not the best delivery of a question: "What do you do with a sixth finger?"  Still, Weaver was polite enough to answer the question he gets asked often.
"I was blessed.  God blessed me with it.  Everybody asks me about it.  I used to be so ashamed of it.  I used to hide in my closet because I was different, and I didn't know how to feel as a young'un.  But now I'm 19, today's my birthday, and it means a lot to me.  Six fingers?  God blessed me with a gift."
7. TWO CLAPS!
Weaver's announcement shared many of the same qualities you see in other ceremonies: a video, speeches from coaches and a grainy live stream.  What made Weaver's announcement the most fun I've ever had at a football recruiting announcement were the entertaining coaches.  Sure, they got a little emotional at times, but they told funny stories and got the crowd hyped with, "TWO CLAPS!"
8. What Kind of Player is JJ?
"He stops the run on the way to the passer," Moore head coach Rob Reader said.  "He's excellent in terms of getting upfield.  His first tape is explosive.  He's got such a long reach, so he's able to keep offensive linemen off of him.  He drew so much attention with double teams and triple teams.  It helped other guys on the team have some success and he's fine with that.  He really just cared about winning this year."
Weaver was willing to do whatever it took to win.  At one point that meant lining up in the backfield as a tailback.  Yes, a 6'6″ tailback.  That is a sight I would like to see.
9. An Emotional Party
Weaver held the announcement on his 19th birthday.  Like any birthday party, there was cake, balloons and streamers.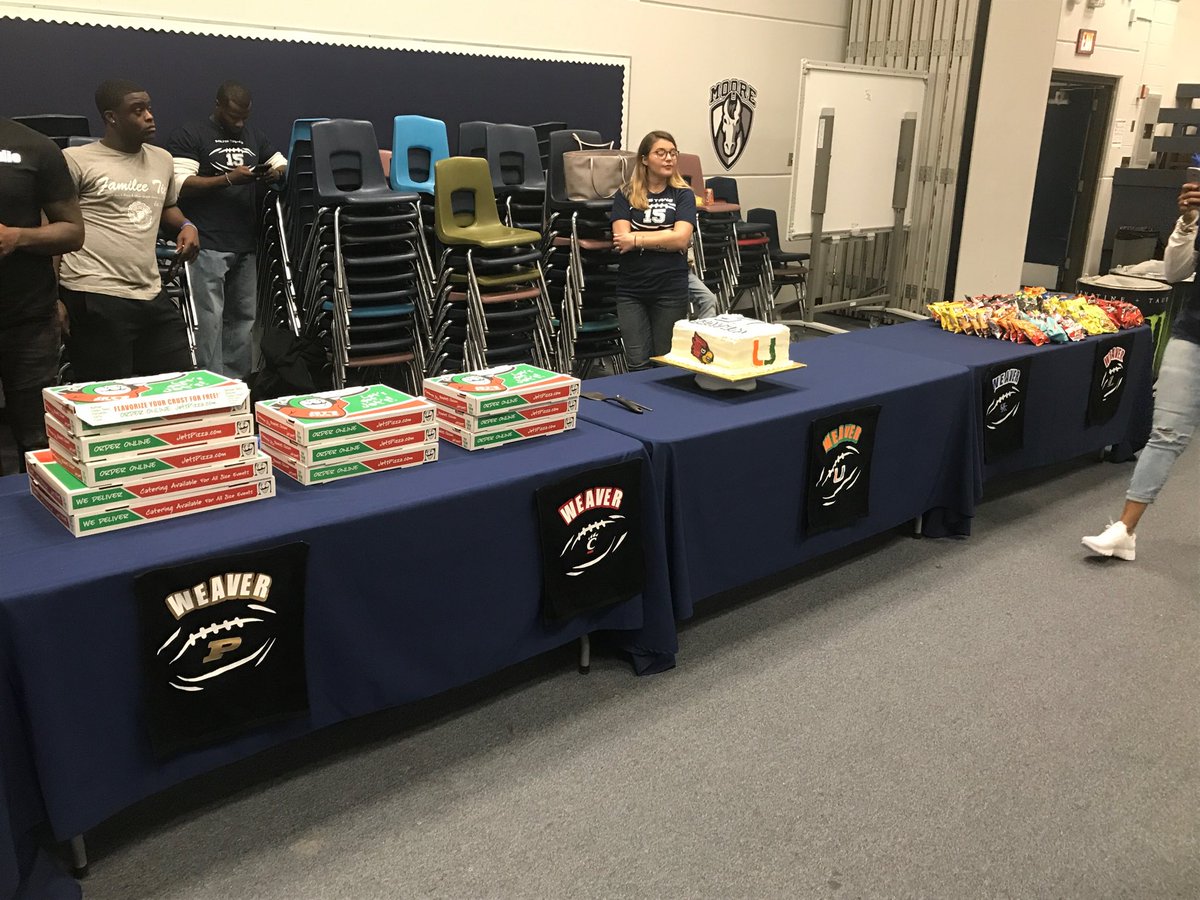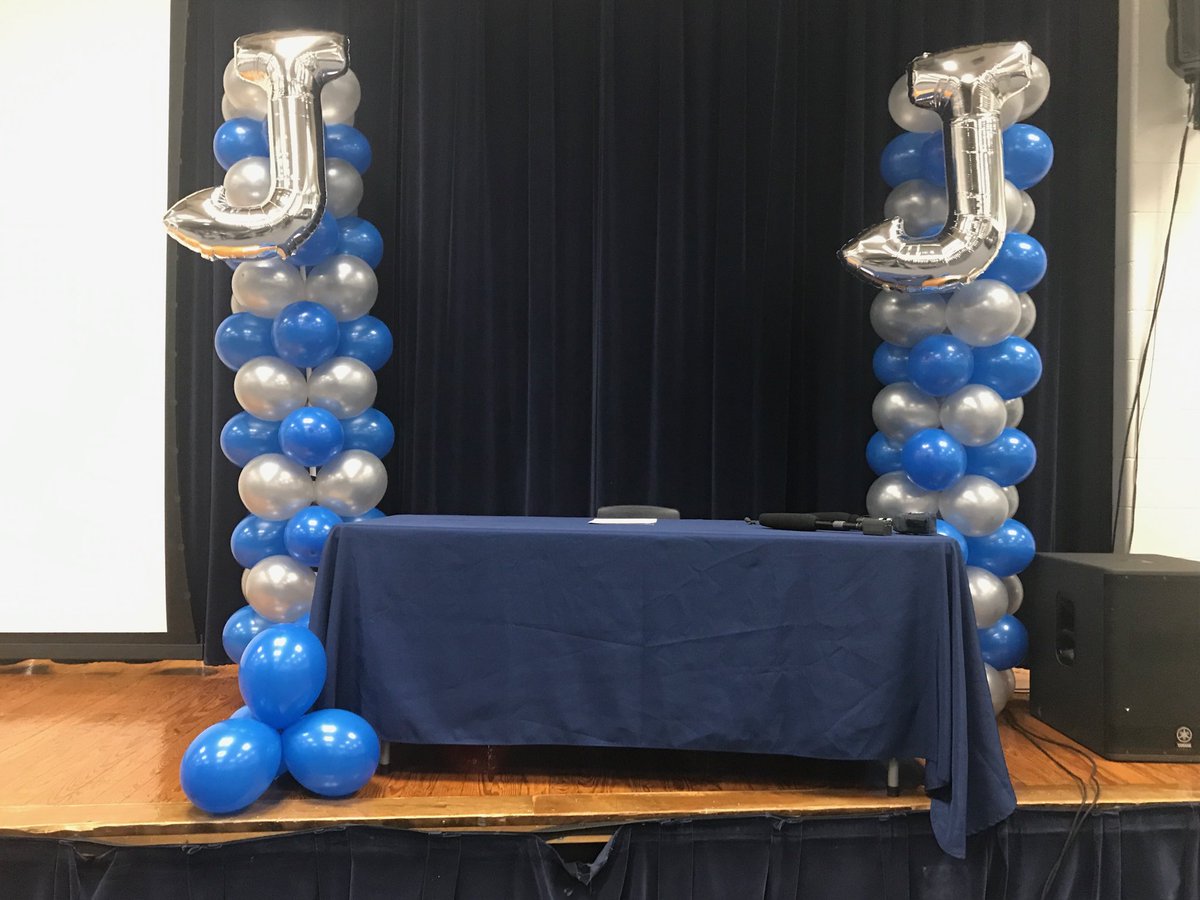 It took him some time to get through his announcement.  He was quite choked up when he thanked his parents and coaches for helping him get to this day.  Once he got some encouragement from the crowd, Weaver was prepared to put on the Kentucky blue and unleash balloons and streamers all over the auditorium floor.
10. He's So Excited
Weaver was overwhelmed with a sense of relief that this process has ended and excited to start a new chapter in his life.  Well, that's how I would translate this exclamation.
When the Yahtzee! hits pic.twitter.com/pE6necCB1O

— Nick Roush (@RoushKSR) November 30, 2018