It was quite a busy night in the Bluegrass for the Kentucky football team.  The Cats picked up not one, but two commitments for Mark Stoops' defense.
The first of the night came from a Jay Ward, a three-star cornerback who chose UK over West Virginia, UCF, Iowa State and others.  The third commitment from the state of Georgia in the 2019 recruiting class, Rich Brooks' old recruiting stomping grounds are bringing elite athletes back to the Commonwealth.  Ward attends Colquitt County High School, the former home of running back Sihiem King, and is coached by Rush Probst, the man who became famous leading Hoover High on MTV's "Two a Days."
Speaking of Hoover High, that's where Kentucky (kinda) found the second commitment of the night.  Defensive lineman Taures Payne completed high school football in Hoover before transferring to Northwest Mississippi C.C.  A 6'4″ 265-pound defensive lineman from Hoover and a Mississippi JUCO is all you need to know that he will be a stud (because Miss. JUCO defensive linemen are the best and most reliable recruits from the JUCO ranks).
The Cats' 2019 football class now features ten commitments.  That number should continue to grow in the coming weeks.
Relive Draft Night
The dust is still settling after a wild and crazy NBA Draft.  Wenyen found a Summer League home in Sacramento, Kevin Knox was introduced to the New York media, Jarred Vanderbilt was riding a scooter in Denver and much more.
We do what we do to win championships. But it's also about nights like these. Take a few minutes and watch this and see why. To see a young man and his family's dreams come true, it makes us work a little harder and dream a little bigger. #DreamBig #NBADraft #WhoWantsToBeNext pic.twitter.com/1sNNDyp30F

— Kentucky Basketball (@KentuckyMBB) June 22, 2018
One of Cal's Best is in Town
Kentucky Wildcats never hesitate to return to reunite with their coaches on UK's campus.  That rule is not exclusive to UK players.  Dejuan Wagner, Calipari's first "one and done" who averaged 20 points per game at Memphis, is in Lexington this weekend for Cal's Father-Son Camp.
A Name from UofL's Past Resurfaces
And no, it's actually not a scandalous woman.  Remember Akoy Agau?  He was a forward at the end of Rick Pitino's bench four years ago that opted to transfer to Georgetown.  After a few years there and at SMU, he is returning to UofL as a grad transfer to play for Chris Mack.  There are unorthodox college basketball paths, and then there's this.
Who Won, Skip or Skip?
Embrace Debate.
Skip contradicts himself so much you can make a video of skip debating with himself ??? pic.twitter.com/FkYJ14HC2Z

— Rashid™ (@Bettyx2_) June 21, 2018
John Calipari is arguably the top recruiter in college basketball, but his emphasis on signing high-character athletes at Kentucky year in and year out is just as impressive. If there are major red flags with a prospect's character or personality, the Wildcat head coach will cut off contact immediately and let another coach deal with the baggage, no matter how talented they may be.
This afternoon, Coach Cal proved yet again he signed a class of stellar recruits both on and off the floor.
I've been coaching at a Special Olympics basketball camp this week, where athletes have been working each day to prepare for a final championship game held this afternoon. To start the day, we warmed up and began our morning drill session, the same schedule we had gone through all week long. Nothing different.
And in walked Kentucky assistant coach Joel Justus with his two prized signees, Immanuel Quickley and Keldon Johnson, to surprise the campers.
Almost immediately, they jumped in and asked what they could do to help. We introduced them to the campers, who then welcomed the Wildcats with hugs and high-fives. They followed it up with some individual attention in the drills, several fun games and activities, and some on-court help during a small walkthrough scrimmage to prepare for the big game scheduled after lunch.
During the exhibition game, they helped direct traffic on the court, assisted the campers with dribbling, passing, and shooting, and lifted their spirits on the sideline during timeouts. No matter the age of the camper or the challenges they faced, they did their best to make sure each individual had the time of their lives.
After the scrimmage, they took pictures, talked to campers, and shot around with them for as long as they wanted. They stayed for several hours, and probably would've stuck around longer if we asked them to.
"Our guys were super excited to come out and to be around the kids," said UK assistant coach Joel Justus. "Immanuel and Keldon both jumped right at the opportunity to come out. They wanted to be involved and it was a lot of fun to watch them interact with the campers. We're just so blessed here at Kentucky and they're extremely blessed as individuals. It was a fun day all around."
No television cameras or interviewers. No spotlight for attention. Just lending a hand to some awesome kids for the day.
Check out some of KSR's highlights from the fun afternoon:
To put the icing on the cake, Kentucky legend Jack "Goose" Givens also came to help out this week, who gave the campers a motivational speech and worked with them on drills on Wednesday morning.
He talked about his time at Kentucky, playing in the NBA, and the keys to success in basketball.
Take a look:
This is a special, special program.
Go Cats.

The one and only Big Mick is a meaty masterpiece in its own right. Composed of two quarter-pound patties* of never-fresh, frozen, mostly beef raised close to the processing plant. Only McDowell's has the frosted beef and processed cheese to give you a major reason for the afternoon trip to the secret bathroom only you and Debra know about on the 9th floor that is under construction.

---
You can be a part of McDowell's KSR Top 10 Tweets by using hashtags like #KSR #BBN or #KSRtop10. You can also nominate tweets by mentioning them with the hashtag. If we like what we see, it could be posted the next day.
If you are interested in sponsoring KSR's Top 10 Tweets, please contact us at Via Email.
#10 Preston Benedict
Ten straight years Coach Cal had a pick in the top 8. This year, Knox goes 9. Hot Seat? #BBN

— Preston Benedict (@pBenny7) June 22, 2018

Uh ohhhhh
#9 Michael Rhoades
Yessss @WenyenGabriel ! Let's go! Show the NBA what u got! #BBn https://t.co/0Cxb4DpOIx

— Michael Rhoades (@Rhoadesy14) June 22, 2018

Congrats Wenyen!
#8 John Gossage
Knocked it out of the park today Coach! Great job!

— John Gossage (@gossagefarms) June 22, 2018

He did so well!
#7 Clay Brown
@KySportsRadio https://t.co/k8NHjS95sN

— Clay Brown (@Tigresauce) June 22, 2018

Oh wow.
#6 Shaun Johnston
Listening to @Coach_Mingione on @KySportsRadio just solidifies how awesome he is and how glad I am he's here running @UKBaseball #motivationmondays #uk #bbn #weareuk #batcats

— Shaun Johnston (@sjohnston20) June 22, 2018

I am too!
#5 Terri Basham
Let's help Coach get to his goal!!! #KSR

— Terri Basham (@curlyone62) June 22, 2018

The KSR fans always come through!
#4 Michael Spencer
Well one thing is for sure, you can't go wrong with sticking #KSR. THEY ARE A BLAST OF FUN

— Michael Spencer (@bigmike201423) June 22, 2018

We are a blast of fun!
#3 Eric Brown
@Coach_Mingione great job hosting today #ksr. Best guest host in the history of @ksr

— Eric Brown (@Ericbrown_Rap) June 22, 2018

In the history? That's high praise.
#2 Lady Unicorn of PRP
I have listened to the @SklarBrothers when they were the guest hosts on @KySportsRadio about 3 times. It was so damn funny! Can't wait for @PardonMyTake day on #KSR

— Lady Unicorny of PRP ?? (@Hpwatrous08) June 22, 2018

I can't wait either!
#1 David
I'm in #BBN and I can tell you @LAClippers that u got a great dude in @shaiglalex he will be a star and we will be supporting @LAClippers

— David (@dcharles25) June 22, 2018

Yeah they do!
Want to meet the 2018-19 Kentucky Wildcats? John Calipari wants to give the Big Blue Nation that opportunity this weekend.
As part of UK's Big Blue Caravan, Coach Cal and the entire basketball roster will be making train stops in Midway and Lexington on their way home from Satellite Camp in Frankfort. The stops will take place this Sunday to take photos and sign autographs with fans.
Complimentary posters will also be available to fans while supplies last.
Their first stop in Midway will be made at Darlin Jean's (2014 N. Gratz Street) at 5:30 p.m. The second stop in Lexington will be at the Central Kentucky Line outside of Rupp Arena (133 Buchanan Street) at approximately 7:00 p.m.
#BBN, I want to invite all of our fans to meet our team on Sunday as make a couple of pit-stops on the way back from our Satellite Camp in Frankfort! https://t.co/OaLHcvybNV pic.twitter.com/Q4i9mPYwSu

— John Calipari (@UKCoachCalipari) June 23, 2018
We'll be out there to greet fans, sign autographs and take pictures at both spots. Complimentary posters will also be available to fans while supplies last. Hope to see everyone out there.

— John Calipari (@UKCoachCalipari) June 23, 2018
Coach Cal said he's excited for fans to meet Ashton Hagans and Reid Travis now that they are officially on campus:
"These Satellite Camps have been a blast for both us and the Big Blue Nation because our fans have had the opportunity to get up close with our players," Calipari said. "The only problem is, until now, we haven't had our full team. With Ashton (Hagans) and Reid (Travis) here, I wanted to give our fans an opportunity on the way back from camp to meet these guys. It's a special group that I think our fans are really going to love. I hope BBN can come out, meet our players and take a few pictures. Everyone is welcome."
If you're interested in the Satellite Camp, which will take place from 1 to 4 p.m. at Franklin High School, it's not too late to register. Fans can sign up by visiting ukathletics.com/camps.
Go Cats.
How about yet another Yahtzee to close out your Friday night?
2019 JUCO defensive end Taures Payne has committed to Kentucky!
Congratulations to my brother @4PFPAYNE on committing to The University of Kentucky! I'm proud of you dawg it's only up from here! #JucoProducts pic.twitter.com/fh0OnOW5B6

— Ricooo™? ? (@_Tisdalekid_22) June 22, 2018
Justin Rowland of Rivals.com confirmed the news, who also added Payne will have two years of eligibility remaining by the time he gets on campus:
BREAKING: Cats Illustrated can confirm that JUCO defensive lineman Taures Payne has committed to Kentucky. Two years to play two. Visited today https://t.co/cNRff5kh18

— Justin Rowland (@RowlandRIVALS) June 23, 2018
Payne, a 6-foot-4, 265-pound defensive end out of Northwest Mississippi Community College, committed to Kentucky over Central Florida, Maryland, and Houston, among others. The Cats offered Payne back in April.
Blessed to receive my first offer from @UKFootball and @CoachSchlarman #BBN??? #GoBigBlue pic.twitter.com/y70lMOxVWq

— Taures Payne (@4PFPAYNE) April 17, 2018
The newest Wildcat finished with 33 tackles, six tackles for loss, and 2.5 sacks last season for the Rangers.
Watch his highlights from last season:
Welcome home, Taures!
Earlier today, former Kentucky forward Wenyen Gabriel announced on Twitter he was "Coming to SAC!" with an image of him in front of a Sacramento Kings backdrop.
Coming to SAC!? @SacramentoKings pic.twitter.com/5Zrek22f2k

— UPM?N™ (@WenyenGabriel) June 22, 2018
Most assumed it meant he would play with the Kings for summer league, but no one knew for certain or the extent of the signing.
Now, Sacramento reporter Sean Cunningham is reporting Gabriel has officially joined the summer league roster, but whether he will stay with the team or not afterward has yet to be determined.
Kentucky's Wenyen Gabriel will be part of the Sacramento Kings summer league roster, according to sources. Beyond that remains to be seen.

— Sean Cunningham (@SeanCunningham) June 22, 2018
Gabriel worked out for the Kings back on May 21.
We saw Derek Willis do the same with the Detroit Pistons last offseason, and he eventually played with the team's G-League affiliate throughout the entire year. Today it was announced he has joined the New Orleans Pelicans for the Summer League.
Now, Gabriel will have to carve out his role in the summer league and hopefully earn a spot at training camp.
Best of luck, Wenyen.
We all know Terry "Touchdown" Wilson has some wheels, but we haven't seen it in action much yet in his time at Kentucky. He had a few impressive runs in the Spring Game, but with the quarterback no-contact rule, it was just a small taste of what we might be seeing this season if he earns the starting job.
This afternoon, Kentucky cornerback Lonnie Johnson released a video that should get fans excited. Really excited.
Wilson raced another Wildcat on the track at Nutter Field House and absolutely destroyed him.
@TerryTouchdown3 with the wheels huh ? pic.twitter.com/L4HEAcfT5W

— 4/7 (@Lonnie30johnson) June 22, 2018
Benny Snell's reaction says it all. This kid is going to be special with the ball in his hands.
As for the other Wildcats, they're all putting in ridiculous work this summer to prepare for the upcoming season. The official Kentucky football account sent out the following video this afternoon:
It starts here ??? #GetUp pic.twitter.com/1DNUgMJ9hg

— Kentucky Football (@UKFootball) June 22, 2018
And the work is clearly showing:
#FlexFriday ???? pic.twitter.com/TbfeeGGMyW

— Kentucky Football (@UKFootball) June 22, 2018
Is it football season yet?
Congratulations. You made it halfway through Matt's vacation, which means we've got another great week of guest hosts coming your way, starting with the venerable Jay Bilas on Monday:
June 25: Jay Bilas
June 26: Pardon My Take
June 27: Jared Lorenzen
June 28: Kyle Tucker
June 29: Aaron Torres
If you missed today's show featuring Nick Mingione, do yourself a favor and go back and listen on podcast. Per usual, the UK Baseball coach's enthusiasm was infectious, even during the sometimes brutal Gong Game. What's that? You'll have to listen to the podcast to find out…
How about a Yahtzee to start the weekend? 2019 three-star cornerback Jay Ward just committed to Kentucky.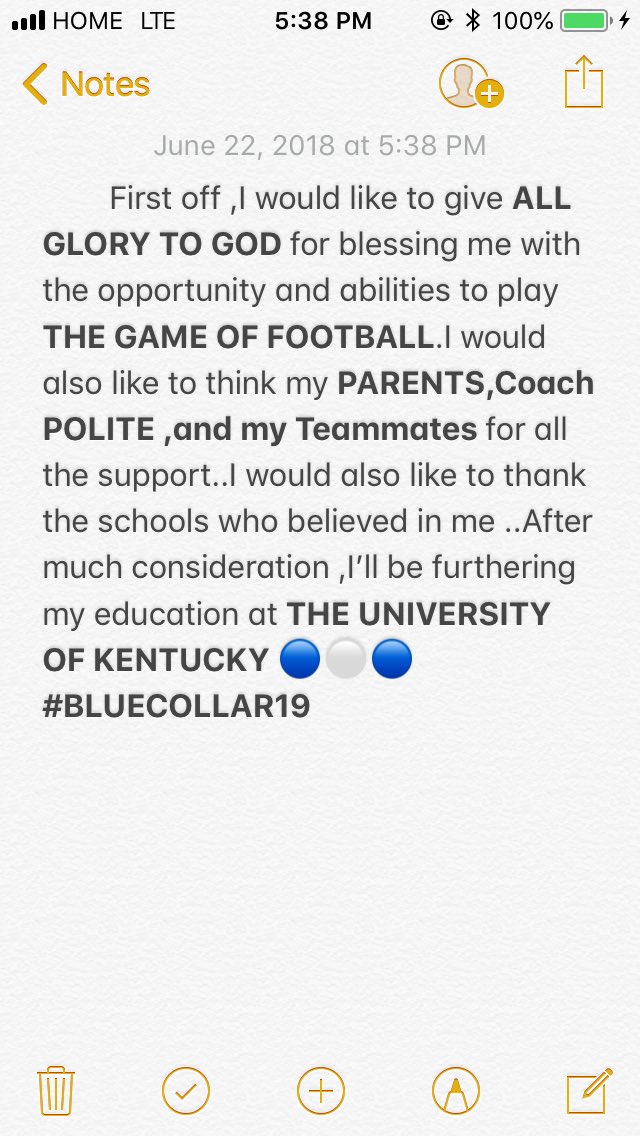 C O M M I T T E D …… Respect My Decision ? #BBN @therealkwat @_Elite3 pic.twitter.com/SnP1DlUiVJ

— JAY WARD (@JWARD_4) June 22, 2018
The 6'2″ 180 lbs. Moultrie, Georgia native held offers from Iowa State, Marshall, Southern Miss, UCF, West Virginia, Western Kentucky, and several others. He received an offer from Kentucky back on January 23, and visited unofficially on February 24.
Ward is Kentucky's ninth commitment in the 2019 class, joining safety Moses Douglass, outside linebacker Kadarius McDaniel, dual quarterback Nik Scalzo, athlete Marquez Bembry, outside linebacker Tra Wilkins, cornerback Jalen Geiger, offensive tackle Jake Pope, and offensive guard Eli Cox.
Watch him work:
Tyrese Maxey's impressive performance this spring did not go unnoticed. ESPN's new 2019 recruiting rankings are out and the future Kentucky guard jumped seven spots to No. 7, while fellow Kentucky commit D.J. Jeffries slipped from No. 17 to No. 19.
| | | | |
| --- | --- | --- | --- |
| RK | Player | Position | School |
| 1 | James Wiseman | PF | Uncommitted |
| 2 | Vernon Carey Jr. | C | Uncommitted |
| 3 | Cole Anthony | PG | Uncommitted |
| 4 | Jaden McDaniels | SF | Uncommitted |
| 5 | Isaiah Stewart | C | Uncommitted |
| 6 | Matthew Hurt | PF | Uncommitted |
| 7 | Tyrese Maxey | SG | KENTUCKY |
| 8 | Josh Green | SG | Uncommitted |
| 9 | Bryan Antoine | SG | Uncommitted |
| 10 | Scottie Lewis | SF | Uncommitted |
| 11 | Jalen Lecque | PG | Uncommitted |
| 12 | Precious Achiuwa | SF | Uncommitted |
| 13 | Onyeka Okongwu | C | USC |
| 14 | Khalil Whitney | SF | Uncommitted |
| 15 | Trayce Jackson-Davis | C | Uncommitted |
| 16 | Isaiah Mobley | PF | USC |
| 17 | Trendon Watford | PF | Uncommitted |
| 18 | Wendell Moore | SF | Uncommitted |
| 19 | D.J. Jeffries | SF | KENTUCKY |
| 20 | Armando Bacot | C | Uncommitted |
Maxey sprained his ankle last week during the FIBA Americas U18 Championships, but played through the pain in the final game to help Team USA win the gold medal. Everyone who's watched Maxey can't stop raving about him, including our own TJ Walker, so let's enjoy some highlights, shall we?
If you're more in the mood to read, here's TJ's interview with him from last week:
Q&A: Tyrese Maxey talks Calipari, reclassification and Cole Anthony
Three former University of Kentucky Wildcats will be inducted into the Kentucky Pro Football Hall of Fame.  Tonight Wesley Woodyard, Guy Morriss and Tommy Bell will be honored at the Lexington Opera House.
Woodyard will be inducted into the Hall of Fame while he's still playing.  Entering his fifth season with the Tennessee Titans and his tenth year overall, last year he was a finalist for the Walter Payton Man of the Year Award.  Also a member of the UK Athletics Hall of Fame, Woodyard helped the Cats win a pair of Music City Bowls under Rich Brooks and has been named a team captain at every level of football.
Morriss is most well-known for turning a two-win team into a seven-game winner with Jared Lorenzen back in 2002, but the former UK head coach is being honored tomorrow for his accolades in the NFL.  A 15-year veteran, he played on the offensive line in New England and started at center in Super XV for the Eagles.  Morris briefly returned to the local high school ranks but had to put down the whistle as to battle Alzheimer's.
Tommy Bell has an undergraduate and law degree from UK.  He participated in UK radio broadcasts, served on the athletics board and Board of Trustees.  Tomorrow night's recognition is for his 15 years as an NFL referee.  A two-time Super Bowl participant, Bell is the only person to ever officiate a Super Bowl and an NCAA Final Four.
Four current Wildcats — Benny Snell, C.J. Conrad, Josh Allen and Darius West — will also be honored during the ceremony as members of the All-Commonwealth Team.  Tickets for the 7:00 p.m. ceremony are still available at http://kyprofootballhof.org/.