Kentucky star running back Benny Snell is no stranger to shattering records. He's done it in each of the three seasons he's been a Wildcat, with the achievements getting more and more impressive by the year.
As a freshman, Snell tied the Kentucky record for most rushing touchdowns in a single game with four, matching the likes of Sonny Collins, Artose Pinner, Moe Williams, and Rodger Bird. It was one heck of a coming out party for a no-name three-star rookie back out of Ohio.
His sophomore year, Snell broke the Kentucky single-season touchdown record with 19 scores, passing Williams and his 17 scores in 1995. He also shattered the career rushing touchdown record, finishing his second season with 32 touchdowns to pass Collins and Williams at 26 total. He also gave the Cats their first back-to-back 1000-yard rusher in over a decade.
As a junior, Snell broke Randall Cobb's all-time record of 37 total touchdowns, sitting pretty at 40 career scores (and counting). He has jumped onto the scene as one of the most impressive players in all of college football.
So it begs the question: What's next for the Heisman-contending running back?
First up, a historical group of SEC talents and their touchdown numbers.
Tomorrow against Texas A&M, Snell can pass (or tie) some elite players such as Anthony Dixon, Mark Ingram, Derrick Henry, Shaun Alexander, and Darren McFadden. He needs two scores to at least tie each of those individuals, three to break them all.
Looking ahead, Snell needs just nine more touchdowns to tie Herschel Walker's record for most rushing scores by a running back, ten to break it. If he reaches that mark, he'll pass names such as Kevin Faulk, Carnell Williams, Nick Chubb, and Bo Jackson. He'll also break a tie with Leonard Fournette at 40.
The all-time SEC rushing touchdown leader is Tim Tebow at 57, meaning Snell would need 18 more scores in eight more games this season to break the record. It's highly unlikely, but if he does, you might as well have Snell's name engraved in that Heisman trophy. Or he can stick around for another year to shatter the record, whatever works…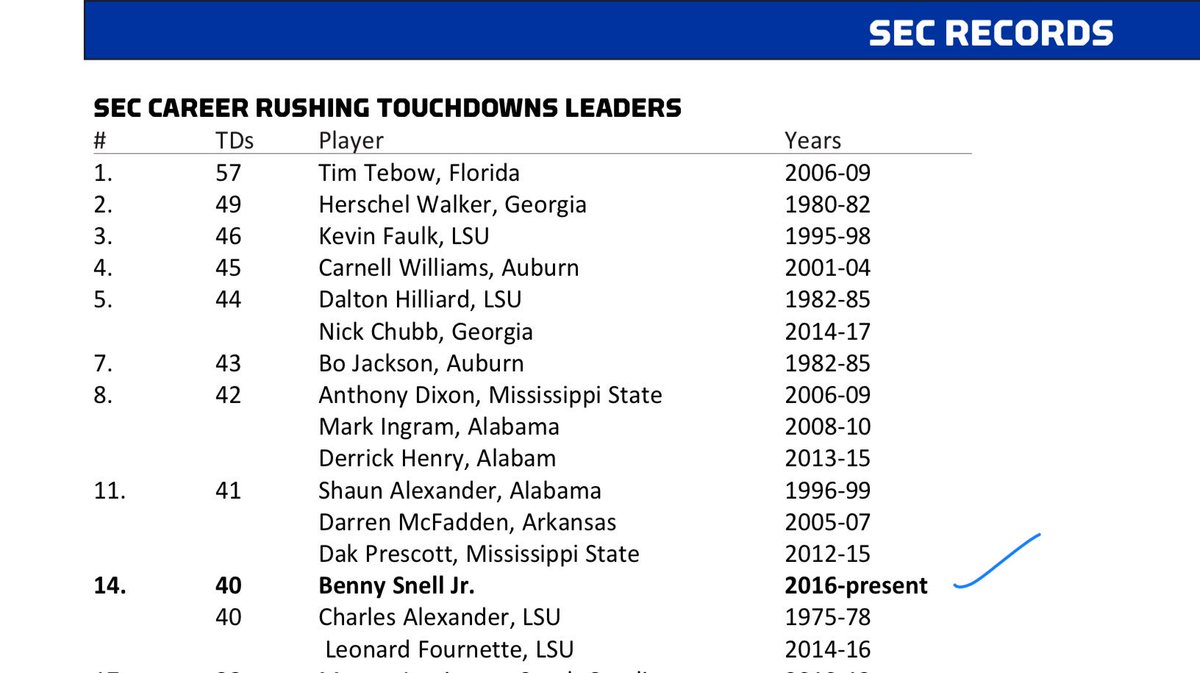 The next (and only) big Kentucky record Snell has left to break is Sonny Collins' rushing record of 3,835 career yards. With 3,063 career yards, Snell needs just 773 more yards to become the all-time Wildcat leader. With an average of 127.8 rushing yards per game to this point, the star back should break the record in six games against Middle Tennessee State.
Moe Williams is sitting at No. 2 on the all-time rushing leaderboard with 3,333 career yards, meaning Snell only needs 271 more yards to surpass him. At the latest, the Wildcat back should have that topped in three weeks.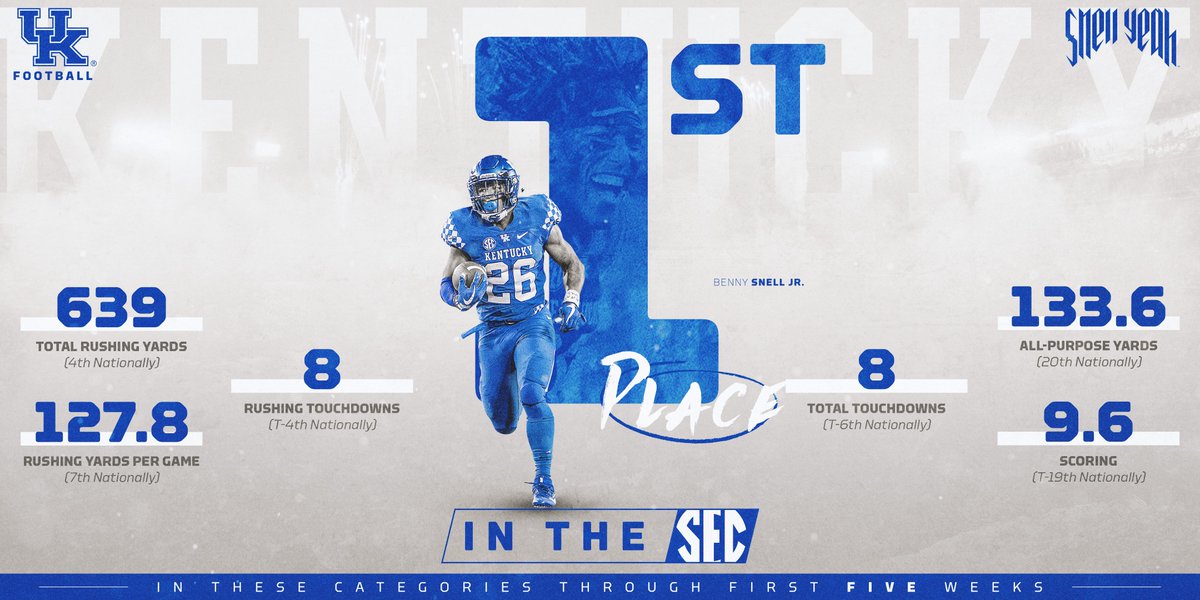 Between total touchdowns and yards, there won't be any Kentucky records left to break in the very near future. Then, Snell can focus on the SEC and NCAA records.
#Snell4Heisman