Back at UK Media Day, Kentucky head coach Mark Stoops entered his press conference teary-eyed and choked up. Almost instantly, you knew the first few words out of his mouth were going to be heartbreaking.
He first announced starting defensive lineman Josh Paschal had been diagnosed with malignant melanoma in his foot. Stoops followed it up by saying offensive line coach John Schlarman was dealing with a "very serious" illness, that would later be announced as cancer. Two punches to the gut, back-to-back.
We later found out the team breaks huddles with "JP on three" and they dedicate each practice and game performance to both Paschal and Schlarman.
On Saturday, the Cats gave them one heck of a dedication, and the team celebrated accordingly.
Following Kentucky's streak-ending victory over Florida, Stoops had the immediate opportunity to show his appreciation for Schlarman, giving him the game ball in the locker room.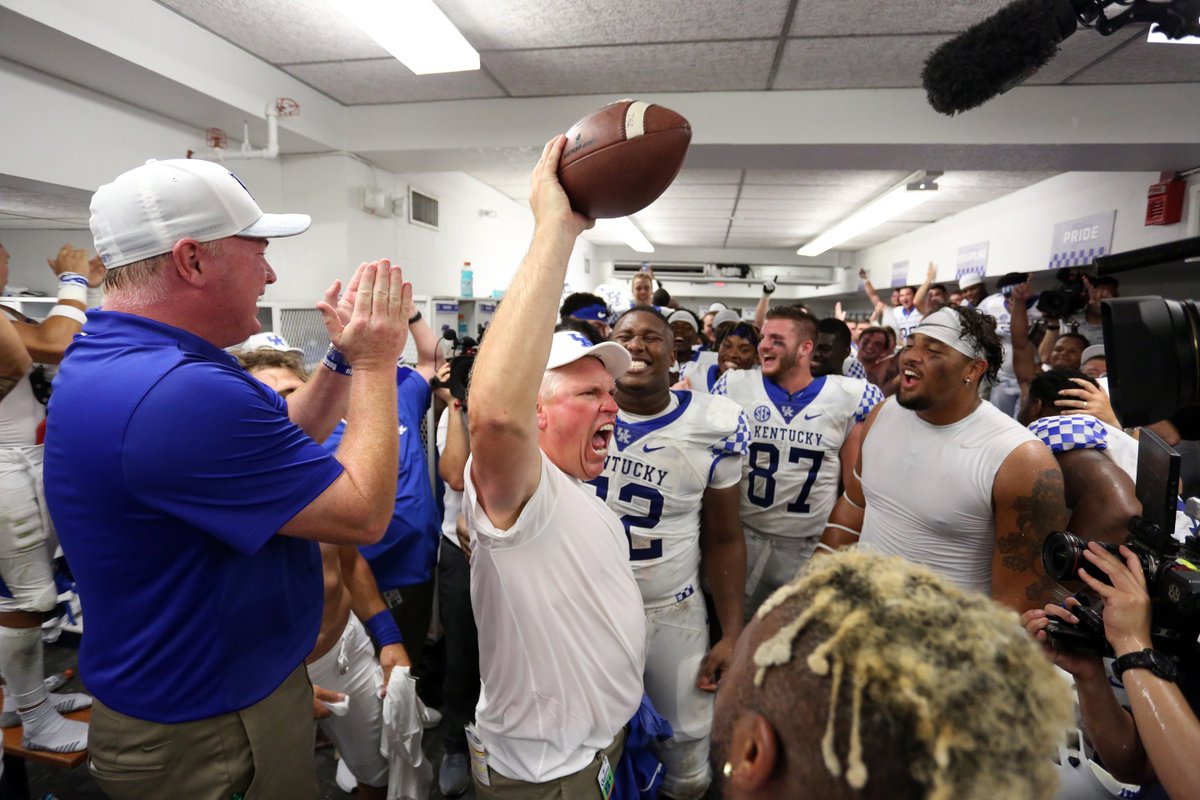 Paschal wasn't able to be there to celebrate with his teammates, but he expressed his excitement on Twitter:
MY BROTHERS!!!!!!!!!!!!!!! #BBN

— Joshua Paschal (@JPaschalx) September 9, 2018
Today, Stoops finally found a way to celebrate with Paschal and show his appreciation, giving him a game ball at the team meeting:
All the feels ?

The winning game ball from our win over Florida was presented to sophomore LB @JPaschalx today by @UKCoachStoops. Paschal was diagnosed with melanoma in August and is currently undergoing treatment.#JPon3 pic.twitter.com/n9CV2AY2x1

— Kentucky Football (@UKFootball) September 10, 2018
The Kentucky head coach talked about both game balls in his weekly press conference this afternoon, calling it a "special moment."
"Josh will get his today. We have a team meeting this afternoon," he said. "John, it was a special moment, because as I was talking to the team there was a lot of people you could single out or lot of different groups. There was the defensive line, offensive line, Benny, Terry, a lot of guys played a good football game. But, the tone was set by the offensive line, I always include the tight ends in that."
The players recognize just how special it is for Schlarman to go through chemo treatments and still make it to practice each day without missing a step. It helps them overcome each of their adversities.
"With what John is going through, the way he's handling this, the way he's handling adversity in his life is something that we all respect and for his players to perform the way they did, and the way they care about him just says a lot. I just thought it was fitting to recognize John and all of our players really felt good about doing that. John is a special guy, very talented but also a great example of how you handle the adversity in your life," he said.
#JPon3
#SchlarmanStrong