The University of Louisville is now the only program in college basketball history to vacate a national championship.
Following the NCAA's decision to uphold their ruling, the program must vacate all games in which ineligible players participated, so 123 regular season wins and 15 NCAA tournament wins, as well as individual records and stats from those seasons (even for the players not involved, which seems unfair). As a result, they must remove all mentions of their 2012 Final Four appearance and 2013 National Championship.
"From here, we will officially remove the formal recognitions from our facilities, but not from our minds," Interim Athletic Director Vince Tyra said.
"We believe the NCAA is simply wrong to have made this decision," Interim President Greg Postel said, citing the lack of precedent.
UofL must also pay the NCAA a $600,000 fine, which is well under Dan Dakich's original report of $15 million from last month. Here is Postel's statement on the ruling:
If the banner must come down, does that mean Pitino's tattoo must come off as well?
"How's it feelin' coach?"

Rick: No comment. pic.twitter.com/LOnBsVOaJP

— Busted Coverage (@bustedcoverage) February 20, 2018
UPDATE: KSR was able to obtain this live look at Rick Pitino's computer screen.
The news is now official. Head to ShopKSR.com to check out the great selection of KSR and UK gear including some brand new t-shirts.
The day has finally come: the NCAA has denied UofL's appeal, meaning the program will have to vacate all wins in which ineligible players participated from 2011-2015, including their 2013 NCAA Championship.
Louisville must vacate men's basketball records in which student-athletes competed while ineligible during the 2011-12 through 2014-15 academic years according to a decision issued by the NCAA Division I Infractions Appeals Committee. The appeals committee also upheld the NCAA Division I Committee on Infractions penalty that requires the university to return to the NCAA money received through conference revenue sharing for its appearances in the 2012, 2013, 2014 and 2015 NCAA Division I Men's Basketball Championships.

In the Committee on Infractions' decision, the panel found that a former Louisville director of basketball operations acted unethically when he committed serious violations by arranging striptease dances and sex acts for prospects, student-athletes and others, and did not cooperate with the investigation. The violations in the case resulted in some men's basketball student-athletes competing while ineligible.

In its appeal, the university argued the vacation of records and financial penalty should be set aside because they are excessive. The university contended that the penalties were based on participation of student-athletes who were not culpable in the violations, received negligible benefits as a result, and for whom reinstatement would likely have been granted.
The Committee on Infractions responded to the appeal by stating the penalties were appropriate due to the serious, intentional and numerous violations orchestrated by a university staff member for nearly four years. It further argued that student-athletes do not have to be culpable for the vacation penalty to be appropriate, and because the serious nature of the violations resulted in the participation of ineligible student-athletes, the vacation of records penalty was appropriate.

In its review of the case, the appeals committee found that because of the serious and intentional violations with direct involvement of a university staff member, the Committee on Infractions panel was within its legislated authority to prescribe the vacation of records and financial penalty. The appeals committee stated when student-athletes participate while ineligible, these types of penalties are appropriate. It also did not find the university's argument about what could have happened during the reinstatement process compelling, stating there is no guarantee regarding the reinstatement process.

The members of the Infractions Appeals Committee who heard this case were Jack Friedenthal, professor emeritus at George Washington; W. Anthony Jenkins, attorney in private practice; Patti Ohlendorf, vice president for legal affairs at Texas; and David Williams, committee chair and vice chancellor for athletics and university affairs and athletics director at Vanderbilt.
More coming from the UofL press conference, which starts now.
UofL Interim President Greg Postel has called a press conference to make a "major announcement" involving the athletic program beginning at 12:05 p.m. Watch below courtesy of Mike Peak:
Buckle up, friends. According to various reports, University of Louisville Interim President Greg Postel has called a press conference for 12:05 p.m. today for a "major announcement." According to Jeff Greer, Interim Athletic Director Vince Tyra will join him.
The press conference is "newsworthy material," one source tells me. Interim Louisville president Greg Postel and interim AD Vince Tyra holding it together on campus.

— Jeff Greer (@jeffgreer_cj) February 20, 2018
Oh boy! Get your popcorn ready…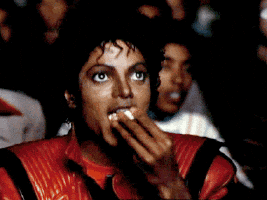 Shoutout to KSR reader Thomas, who tipped us off to an online auction of what appears to be Tom Jurich's furniture and UofL memorabilia. Two hundred fifty-one items went up for sale on the auction site EBTH.com, many of them personalized with Jurich's name. For instance, you could own this print of Papa John's Cardinal Stadium, which was given to Jurich by Bobby Petrino and includes this personal message:
"Tom, thanks for making our first year so special. – Bobby Petrino"
Or this lithograph of the inaugural game at Papa John's Cardinal Stadium between Louisville and Kentucky, signed by John L. Smith:
How about one of Jurich's many UofL pullovers?
This glass plate commemorating UofL Women's Basketball's appearance in the 1999-2000 C-USA Tournament has yet to be bid on!
How random is this boxer butler table?
That would look lovely next to this T. Jurich Colorado State Roundball Club directors chair:
Other items include bowl game watches, beds, rugs, artwork, clothes, and stuffed animals. All of it can be yours if the price is right. The auction ends on February 12.
Tom Jurich wants his settlement from the University of Louisville.  It was moving a little too slow, so his lawyers went to a third party for help.  That's where this story gets weird.
According to Tim Sullivan of the Courier Journal, the fired UofL athletic director's legal team met with Steve Pitt, Governor Matt Bevin's general counsel, to expedite stalled settlement talks with the university.
Neither side wished to comment on the matter publicly.  However, Pitt told the C-J "there could be a role" for his side in the mediation process.
Why should the Governor be involved?  It's a plan so crazy, it just might work.
This past year, the Louisville football program began construction on a 10,000-seat addition to the 55,000-seat Papa John's Cardinal Stadium with a hefty price tag of $63.25 million.
Former athletic director Tom Jurich made the decision for the bigger and brighter stadium renovation, but according to the latest release by WDRB news, the University of Louisville is going to be regretting that decision for a long time.
In WDRB's report, the Louisville football program saw a dramatic drop in average attendance, even with Heisman-winning quarterback Lamar Jackson behind center.
Officially, Louisville's average per-game attendance fell to 46,160 in 2017, from 54,065 in 2016.

But those "announced" figures don't tell the whole story. They are merely estimates, according to athletics department spokesman Kenny Klein, that include not only fans at the game but also non-ticketed people such as concession workers, security and media, and – paradoxically – "no shows."

The number of ticketed patrons coming to games was much lower, and dropped even more sharply last season than the official "announced" attendance, according to figures obtained under the Kentucky Open Records Act.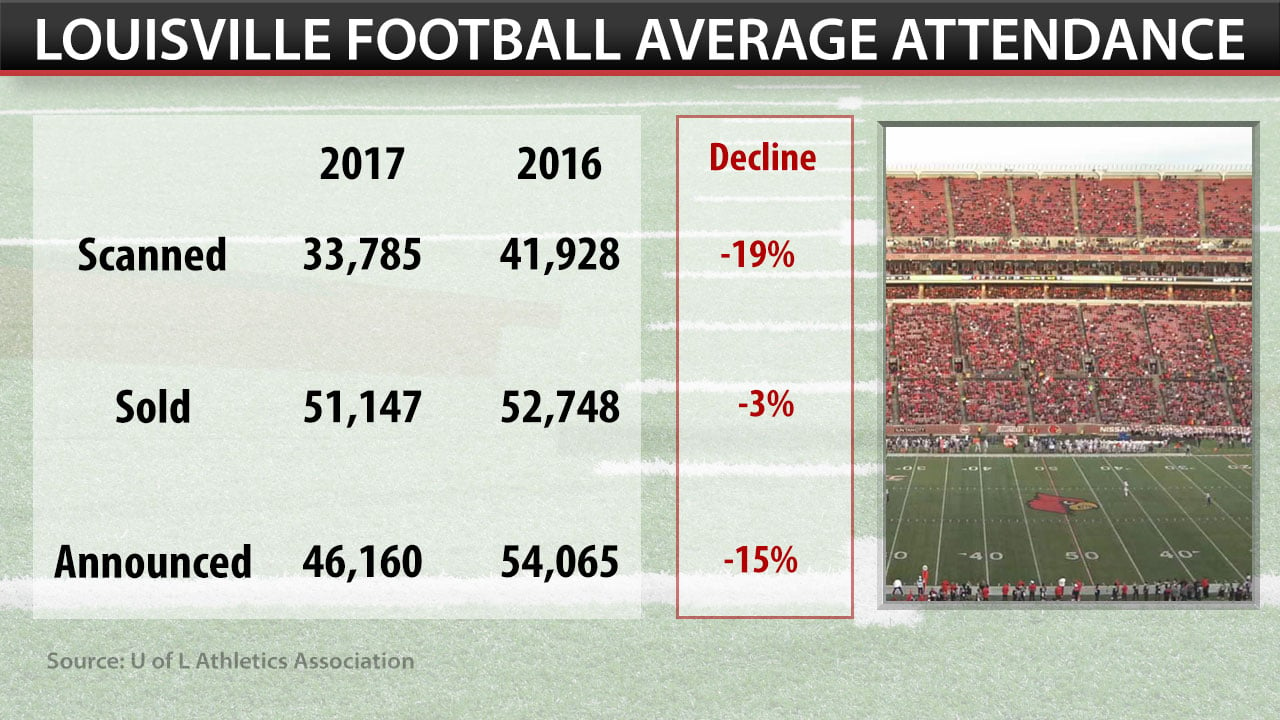 Louisville interim AD Vince Tyra said the empty seats are certainly unsettling, but they're going to work with what they have.
"I know the expansion is going on and I see empty seats; it's the obvious question," Tyra said. "But, am I going to go back and try to undo the stadium (construction) and tear it back down? No. We're going to take it from here. It's a situation we have and we're going to figure out how to create business and marketing plan around what we have."
For a school that saw a $2.8 million loss in basketball season ticket sales this season, the decline in attendance for football certainly isn't good news for the athletic department.
UofL interim president Dr. Greg Postel said the basketball ticket sales are a massive disappointment, and the lack of public fan trust is understandable.
"The public trust in the University of Louisville, sadly, was shaken, over the last several years and I've seen abundant evidence of this.  There's no one reason, it's a variety of factors, but it's the truth," Postel explained.
I'm heartbroken. Really. I am.
Head on over to WDRB to read the entire report of UofL football's attendance issues.
Today in Louisville drama: UofL is parting ways with Mark Jurich, the son of ousted athletic director Tom Jurich, as part of a department "restructuring," per interim athletic director Vince Tyra.
"Mark is very talented and we sincerely appreciate the strong effort and performance that he has contributed to Cardinal Athletics from his time as a student-athlete through the valuable work he has accomplished as a member of our administrative staff," Tyra said in a statement. "As we move forward, we will be restructuring leadership positions within our department and creating efficiencies among our senior staff."
While the university did not specify whether Jurich resigned or if he was fired, Howie Lindsey insists it's the latter:
Correction: Mark Jurich was fired.

— Howie Lindsey (@howielindsey) February 2, 2018
The younger Jurich served as the senior associate athletics director in charge of development and the Cardinal Athletic Fund, which raised money for the athletics department, specifically the $63 million expansion of Papa John's Cardinal Stadium and the football practice complex, the $45 million expansion of the baseball and softball stadium, and several other facilities. Jurich, a former Cardinals baseball star, has been on the UofL staff since retiring from professional baseball nine years ago.
According to the Courier-Journal's Jeff Greer, two other high-ranking employees are also out: associate athletic director of marketing Julianne Waldron and associate athletic director of human resources Kim Maffett.
Just another Friday at University-6.
Tom Jurich's split with the University of Louisville was a messy one, and it might get even messier.
The Courier-Journal is reporting a private detective agency has been hired to look into Jurich's time at UofL, likely to dig up anything new to further paint Jurich in a negative light. The agency, Kentucky Special Investigative Unit, called the C-J seeking information on "any allegations of sexual harassment between Jurich and females involved with the University," it says in the C-J's report.
UofL president Greg Postel denies any involvement in the hiring of the agency:
Postel said Saturday that the hiring of a private detective was not his doing. Stoll Keenon Ogden, the law firm representing the university in the Jurich matter, declined to comment on whether it was funding the investigation, citing attorney-client privilege.

"Due to the fact that this is an ongoing investigation, we are bound by law to maintain our client's confidentiality," Kentucky Special Investigative Unit director Steve Thomas said. "No comment."

Though Jurich's attorney, Sheryl Snyder, called it "irregular" to engage a private investigator in a breach-of-contract dispute, the move is consistent with the millions of dollars at stake and university's surprisingly aggressive strategy with a long-prized employee. [The Courier-Journal]
Do Jurich and UofL have a potential court battle ahead?
It will be an explosive one, if that is the case.
Someone has hired a private detective to investigate former Louisville AD Tom Jurich